Only of relevance to TV: Jaitley on Lalit Modi row
July 02, 2015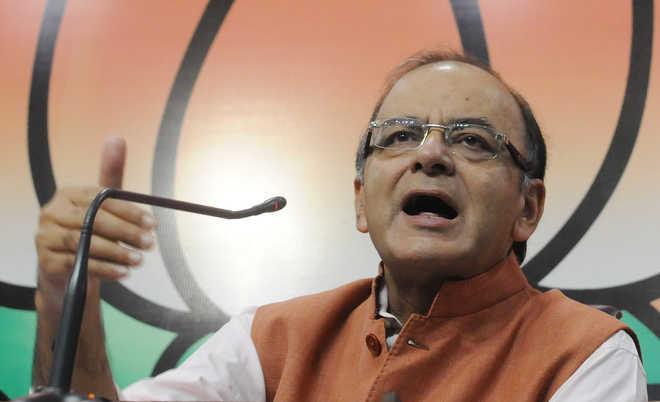 New Delhi
 Finance Minister Arun Jaitley on Thursday scoffed at questions on former IPL chief Lalit Modi's tweets naming him, saying some people were relevant only for television channels.
Asked for his comment on Modi's attempt to implicate him in the matter, Jaitley told media persons following a cabinet briefing: "Some people may be of relevance to television channels, (but) they have no relevance as far as the government of India is concerned."
Jaitley asserted that if the controversy is used to disrupt proceedings in parliament during the monsoon session, it will only end up exposing the "anti-growth" mindset of the opposition.
Almost immediately after Jaitley's media briefing ended, Modi retaliated with another tweet aimed specifically at the minister.
"Why media afraid to ask @arunjaitley the Q I have so patiently put to him and so politely," Modi tweeted around noon India time on Thursday.
On Thursday, the former Indian Premier League (IPL) chief continued his barrage of tweets and targeted another BJP leader Sudhanshu Mittal, asking him to reveal his relations with a man named Vivek Nagpal, and threatened to reveal his "rags to riches story" in the coming days.
Modi, who is facing a number of probes related to alleged financial irregularities in India, raised questions over Mittal's relationship with Nagpal.
"Breaking news: world exclusive bought to u by #LALITGATE wants to know @SudhanshuBJP what is your relationship with Vivek Nagpal," he again posted.
Mittal hit back at Modi's tweets.
"@LalitKModi I had enough wealth then also unlike ur failed 'empire'. Proud to b a tentwala unlike u who only touted. Looser u r jealousa," Mittal tweeted.
A day earlier, Modi had tweeted about a number of top leaders including Congress leader Rajeev Shukla and BJP's Varun Gandhi.
"My query to the ED: Do you have the courage to call BJP's #ArunJaitley or #RajeevShukla from INC-Congress even today?" he tweeted.
Commenting on Modi's tweets, the Congress said the controversy was "ridiculous".
"This is ridiculous and an effort to divert attention. I don't think anybody will give it importance. This does not even deserve attention. He is trying to divert attention from the Modi-gate scandal," Congress leader P.C. Chacko told media persons.
Earlier, calling himself a whistle-blower, Modi also said he was not a "fugitive".
"Happy to play a role of whistle-blower, I did nothing wrong. I am not a fugitive. I do have a clear conscience," he said.
On Wednesday, Modi alleged that Varun Gandhi had met him in London a few years ago and wanted to "settle everything" with his aunt, Congress chief Sonia Gandhi, in exchange for money.
Although Varun Gandhi accepted meeting Modi, he denied striking any kind of deal with him.
Modi continued his attack on Varun Gandhi late on Wednesday and asked him to reply why he came to see him in London.
IANS