Dhirubhai Ambani and Digital Revolution
July 06, 2015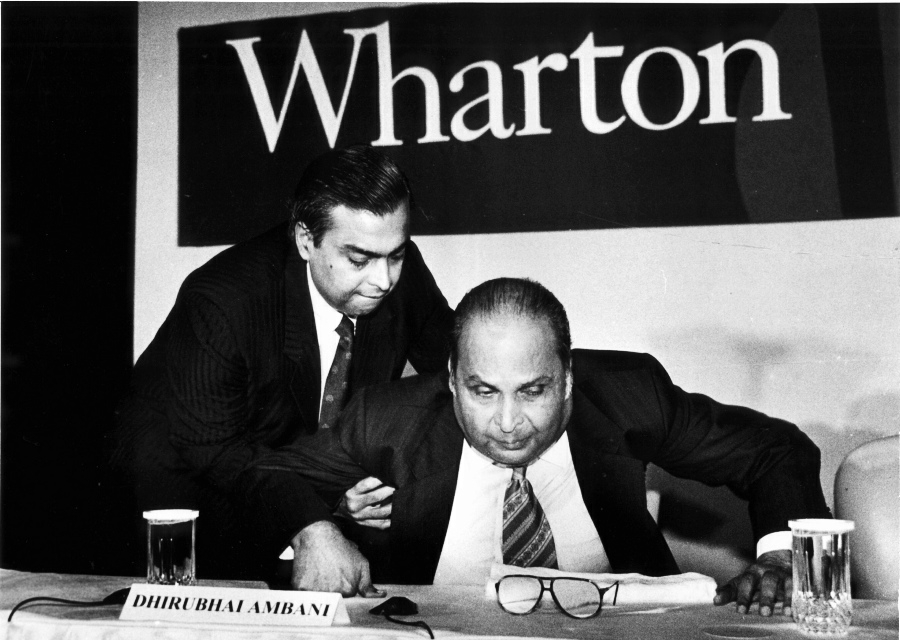 By Parimal Nathwani
Dhirubhai Ambani is famous as a great industrialist, propagator of polyester in the country, king of stock market and mogul of petrochemical and refining. He was also a visionary who could think much ahead of his time. He encouraged use of digital technology available in his time for internal communication of his empire, between industrial complexes and headquarters of the company, technology licensors and project contractors. Not only that, he always insisted on using latest digital technology in technical areas like process control, environment monitoring and water – use timer and automation.
When Reliance Industries Ltd's chairman and managing director Shri Mukeshbhai Ambani announced, at Annual General Meeting of the company at Mumbai on June 12, 2015, about providing 4G LTE mobile phones at less than Rs4000/-, it was quite natural that memories of Reliance's Founder Chairman Dhirubhai Ambani came alive. Dhirubhai Ambani's dream project Reliance Infocomm brought about telecom revolution in India. At that time it was a mere day dream for the common people like vegetable vendors and scrap vendor to talk on mobile phone, but Dhirubhai made it a reality.
Earlier when Reliance was planning to venture into telecom sector, Dhirubhai clearly said that technology is useful only when people can talk over mobile phone at cost of a postcard. At time when Reliance entered into telecom sector, other telecom operators used to charge around Rs10/- to Rs15/- per minute. Not only outgoing calls but incoming calls were also chargeable. In such situation, Reliance fulfilled Dhirubhai's dream.
At present, mobile telecom companies are charging exorbitant rates for high-speed wireless and wired broadband services. In such situation, Reliance Industries Ltd, through its subsidiary Reliance Jio Infocomm, is once again set to provide high-speed seamless internet connectivity at affordable rates and bring out digital revolution in India with 4G LTE technology.
In 2002, Reliance Infocomm surprised everyone by providing mobile telecom service at lower call per minute and cheaper mobile handsets. Now, there is no doubt that 4G (Fourth Generation Internet) will take everyone by surprise by affordable price and high-speed because everyone is eager and excited about it. Currently 20 MB game takes almost 3 minutes, which will be cut down to just 25 seconds with 4G. One needs to wait for 55 minutes for downloading a film, which will be reduced to just 14 minutes with 4G technology.
Reliance's founder chairman Dhirubhai used to say that the success of the young entrepreneur will be the key to India's transformation in the new millennium. According to Shri Mukeshbhai Ambani's speech at the AGM, digital currency, digital commerce, digital education, digital healthcare, e-governance, the Internet of things and Smart Cities are ripe for hundreds of thousands of entrepreneurial ventures. Collectively, Jio and Jio-enabled entrepreneurs can sow the seeds of a whole new digital economy, leading to a phase of unprecedented growth, empowerment, employment and prosperity for our nation.
At a time when Reliance Jio has taken up a mammoth task of connecting the whole country using digital medium, it is not out of context to say on his death anniversary July 6, 2015 that Dhirubhai's dream of Digital India is taking shape. Recently at a function where India's Prime Minister Shri Narendra Modi launched Digital Revolution, RIL's CMD Shri Mukeshbhai Ambani announced to invest Rs. 2.50 lakh crore in next five years in this sector and create employment opportunity for more than 5 lakh people eventually. What could be better tribute than this to Dhirubhai Ambani, who himself insisted on use of latest digital technology, on his 13th death anniversary?

(Mr. Parimal Nathwani is Group President of Corporate Affairs at Reliance Industries Ltd and Member of Rajya Sabha.)