OBC Ekta Manch holds Maha-dharna, says – sharing of 27% quota with Patels unacceptable
August 23, 2015
Ahmedabad
Vehemently opposing the demand of Patel community in Gujarat to include them in the Other Backward Classes (OBC) for reservation benefits, the OBC ekta manch (OBC unity front), an outfit of 146 castes under the category in the state, today held a massive maha-dharna (sit in) near RTO circle of the city.
The 'anamant bachao' (save reservation) maha-dharna led by the Thakor Kshatriya Sena (TKS) showed up just two days before the much hyped mega-rally (Kranti rally) of the Patidar Ananmat Aandolan Samiti (the Patel community outfit) in Ahmedabad in which they have claimed to gather over 25 lakh people to show their strength.
President of TKS, Alpesh Thakor today claimed that the OBC communities were quite concerned about the ongoing Patel agitation. 'We don't want anyone to be included in our 27 percent quota,' he said.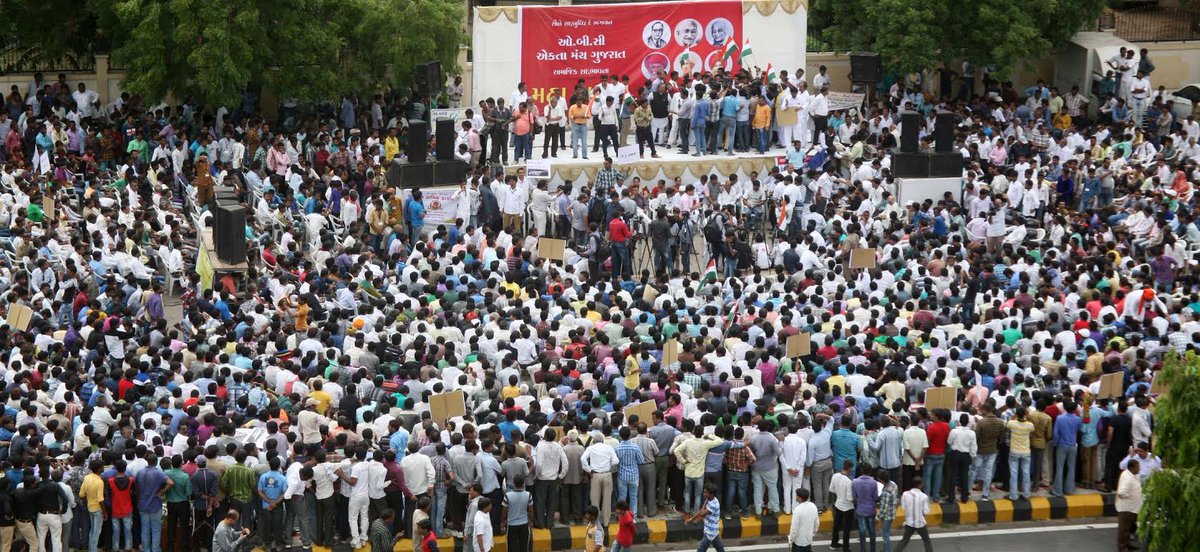 Questioning the pro-reservation stance of Patel community, another leader of the outfit Babu Vaghela said, '50 percent of the cabinet ministers are Patels. They even have representation in the union government. In Gujarat almost 50 percent jobs are also with patidars (patels). They are leaders in the industry and education sectors. How can they be put at par with us.'
The OBC leaders opposed any new inclusion in their quota under the category, but however, did not object to any other arrangement for Patels.

Meanwhile, the Kshatriya community demanding reservation on economic grounds also took out a big motor rally in nearby Sanand town today. Wearing their traditional saffron turban hundreds of the community members were also holding placards in support of their demand during the rally with a large number of motorcycles and few open jeeps. They later handed over a memorandum to the Mamlatdar.
The Patidar Anamat Aandolan Samiti on the other hand also took out a rally in Naroda area of the city as part of their preparations for the August 25 Kranti rally.
A similar rally was also held in Rajkot today.
In another development, Anavil Brahmin community in south Gujarat held good-size indoor meeting to seek reservation.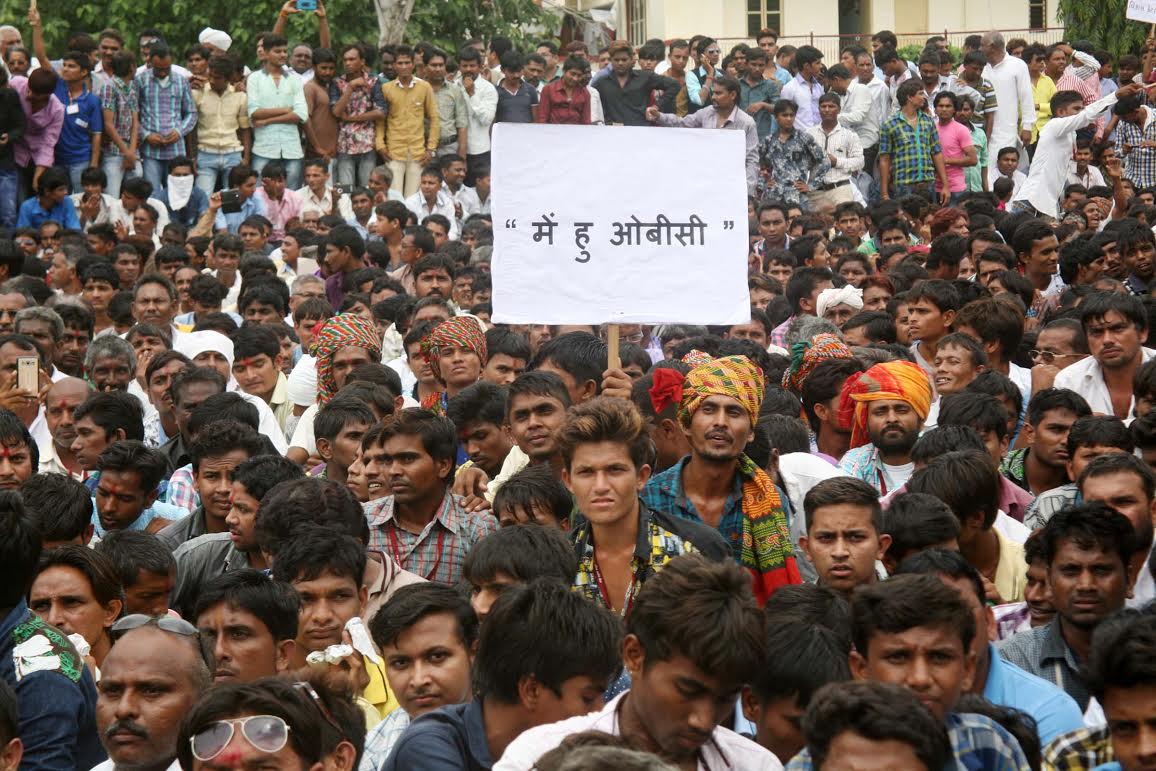 PTI report:
Ahmedabad
Thousands of Other Backward Class communities' members held a rally here today to counter the agitation of the Patel community which is demanding OBC status and threatened to "uproot" the Gujarat government if it bows to the demand of the Patels.
'Gujarat Kshatriya-Thakor Sena' president Alpesh Thakor in his address took a dig at Patel leaders who had earlier threatened the state government to face consequences in the 2017 Assembly elections if their demands were not met.
"We strongly condemn the way in which Patels are pressurising the government to get reservation by threatening to uproot government in 2017. I want to warn this government that don't take our patience for granted," Thakor said.
"Patels are just 12 per cent while OBCs, SCs and STs are 78 per cent of state's population. If Patels will be given even one per cent reservation, this government may no longer remain in power in this year itself, forget about 2017," he warned.
Thakor who is spearheading the movement to bring all the 146 OBC communities of the state under one roof to counter the ongoing agitation by Patel community demanding reservation slammed the state government for forming a seven-member committee of ministers to listen to the demands of various communities, like Patels, Brahmins and Kshatriyas, who are agitating to get reservation under OBC quota.
"I am doubtful about government's intentions. This may be a part of a larger conspiracy to remove the reservation in the long run, which is also demanded by Patels and other general castes. I want to warn this government to refrain from such activity," said Thakor
The rally was organised near Sabarmati Ashram in the city today, where at least 10,000 members of different OBC communities gathered to listen to their leaders.
Today's rally by OBCs was organised in the wake of the proposed mega-rally of Patels to be held in the city on August 25, where at least 20 lakh Patel community members are expected to participate as a show of their strength.
The Patels are demanding reservation in government jobs and education under OBC quota. Patels are numerically a strong community in Gujarat and are backing the BJP for the last 25 years. .
Apart from OBCs, large number of Scheduled Caste and Scheduled Tribe members and leaders of several other backward castes from across the state attended the rally today.
Thakor alleged that Patel leaders are providing misleading information about reservation system.
"Patels claim that due to reservation, an OBC student with just 40 per cent marks becomes a doctor, while a Patel student with 80 per cent fails to secure berth in MBBS. I want to challenge them to show a single instance where an OBC with 40 per cent marks secured admission in medical college," he said.
Now the OBC community has realised that who are their real enemies, he said.
"These general castes projected Muslims as our enemies and incited OBCs to fight against them. But now we have learnt that Muslims are also OBCs. They are among us. We have now realised that our actual enemies are those who want to snatch our right of reservation," he said.
Thakor shared the stage with several other OBC, dalit and tribal leaders, including Gujarat president of Chaudhari community Bharat Chaudhari, Koli-Patel community leader Arjun Koli-Patel, Rabari community leader Teja Desai and tribal leader Romel Sutaria among others.
In his speech, Chaudhari called for a statewide agitation if the government bows to the demands of Patels.
He also downplayed the claim of Patel leaders that they can make or break any government.
"Patels claim that they can make or break any government, as they are 12 per cent of population. But, they forget that we are 78 per cent. We can do the same. What will happen if all the OBCs come on road? It will be impossible for this government to be in power if it goes against us," warned Chaudhari.