Marathi film 'Court' to represent India at Oscars
September 23, 2015
Mumbai
Debutant Chaitanya Tamhane's National award-winning Marathi film "Court", a poignant commentary on India's judicial system, has been selected to officially represent the country in the Best Foreign Film category at the 88th Oscars next year.
"'Court' has been selected as the official entry to the Oscars. There were 30 films in the running this year," Supran Sen, secretary general of the Film Federation of India (FFI), told PTI today.
Tamhane's independent, low-budget but gripping drama recieved widespread praise from the critics, who hailed it as one of the best movies to emerge out of the country in recent times.
Film's actress Geetanjali Kulkarni called the selection a "huge honour".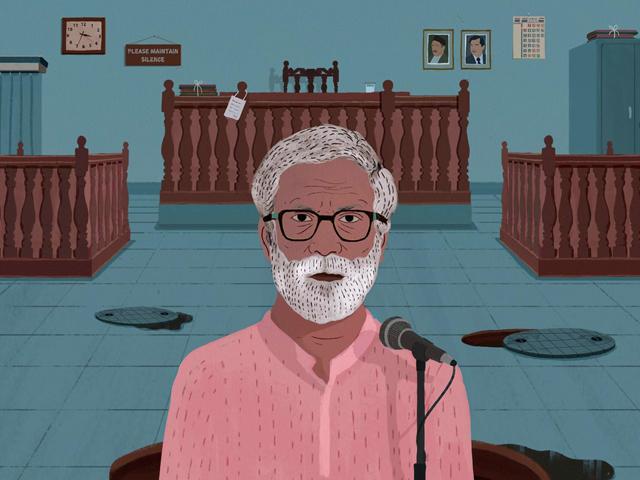 "It is an incredible and unbelievable achievement. We wanted it so we are very happy. It is a team of newcomers and first time directors and producers. It is really encouraging and promising.
"It feels good that our first film got unanimous praise nationally and internationally. It is also a good sign that a National award win was considered while selecting a movie for Oscars," Geetanjali told PTI.
"Court" was also named the Best Picture at the National film awards this year, besides winning 17 international honours after being premiered at the Venice International Film Festival last year.
The drama unfolds through an aging folk singer, who is tried for abetment to suicide in a court. The film, inspired by the real life story of folk singer Jiten Marandi, who got embroiled in a criminal case after a bomb blast, critiques the justice delivery system, its chaos and delays, which affect the common man's freedom.
India has never won an Oscar in the best foreign film category. The last Indian film that made it to the final five list was Ashutosh Gowariker's "Lagaan".
"Mother India" and "Salaam Bombay" are the other two Indian films to have made it to the top five.
Tamhane said the movie's acceptance has continued to surprise him but he never hoped that it will be selected as an Oscar entry.
"At every juncture of the film's journey, we have felt that it has given us more than we could ever imagine. Once again, this has come as a genuine surprise to both Vivek (Gomber) and me.
"Ever since we started making the film, we kept our expectations low. Especially in this case, since these results tend to be so unpredictable, it just felt like a wise thing to not expect too much. Now that it has actually happened, we would like to thank the jury for their decision and everyone who has supported the film so far," he said.
PTI