Vadodara based Neopolitan Pizza inks MoU with Indian Oil
October 09, 2015
Correspondent, Ahmedabad/Vadodara
The Indian oil corporation (IOC), the largest public sector petroleum company of the country, today signed a Memorandum of Understanding (MoU) with Vadodara based quick service restaurant and pizzeria chain NeoPolitan to start its food points on the petrol pumps of the company situated along the highways in Gujarat.
Following the agreement, IOC will grant permission to Neopolitan Pizza, listed on the NSE-SME Emerge Platform, to set up the pizza outlets at select Retail locations to be managed by the later.
On the occasion of singing of the MoU, Mr. Sajniv Kakkad, Deputy GM, Retail Sales, IOC Gujarat said that it was a part of the broader plan of the oil major to provide various facilities at its retail outlets along the highways.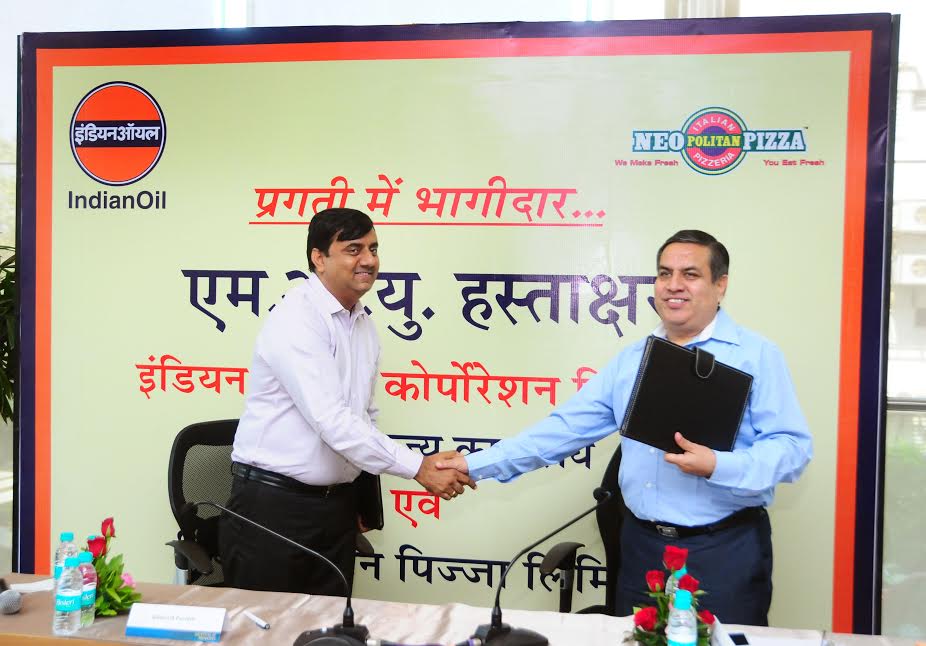 'We have chosen Neo Politan because it has local flavour. Of the 1,270 IOC outlets in Gujarat, almost 55% are situated on highways. The food points along the highways are proving to be a success because of the rising trend of the people specially the younger lot to go there for an outing', he said adding that a successful pilot project of the food point has already been experimented on a petrol pump.
Neopolitan has presently 26 pizza restaurants to its portfolio of which 20 are in Gujarat and the tie up with IOCL will
facilitate and expedite their further expansion plan of setting 25 outlets in near future.
The Pizza chain CMD Mr. Mukund Purohit said that initially a total of 20 outlets will be started and the expansion will follow.
– DeshGujarat