Nitish's allegations on meat export from Gujarat baseless: Sitaraman
October 11, 2015
New Delhi
On Bihar Chief Minister Nitish Kumar's allegations over meat export from Gujarat, Union Minister Nirmala Sitaraman has put record straight.
Sitaraman has in her ministry's official communication shared following facts:
–Nitish Kumar has alleged that beef export has gone up by 15.4% during Shri Narendra Modi's first year as Prime Minister. Knowingly/unknowingly the Chief Minister is misleading people. Beef(meat of cow, oxen and calf) export is banned in India.
–Only boneless meat of buffalo, male and female(not beef) and meat of goat, sheep are permitted to be exported, subject to provisions specified in Gazette Notifications on raw meat.
–Shri Nitish Kumar has also alleged that meat exports increased when Shri Modi was the Chief Minister of Gujarat. This allegation too is baseless for the following reasons:

– Quantity of meat exports is measured through exports happening from ports located in a state. A port can receive meat(other than beef) from several states and thereon export them. So all export from a port/s in a state are not sourced exclusively from the state alone.
– Sourcing of meat(not beef) for export can happen only from abattoirs/slaughter houses authorized by the APEDA. Gujarat has no abattoirs/slaughter houses authorized by APEDA. Not now, and not earlier either! So meat(other than beef) exports from ports of Gujarat happen of meat(other than beef) that originates from authorized abattoirs/slaughter houses in other states.
– Wish to inform the Chief Minister of Bihar that there are only 10 states that have APEDA approved abattoirs/slaughter houses. Only these stats can provide meat(other than beef) for export. They are: UP, Delhi, Maharashtra, Telangana, Punjab, Andhra Pradesh, West Bengal, Bihar, Nagaland and Kerala. Gujarat is not one of them!

Original copy of Sitaraman's statement is attached below: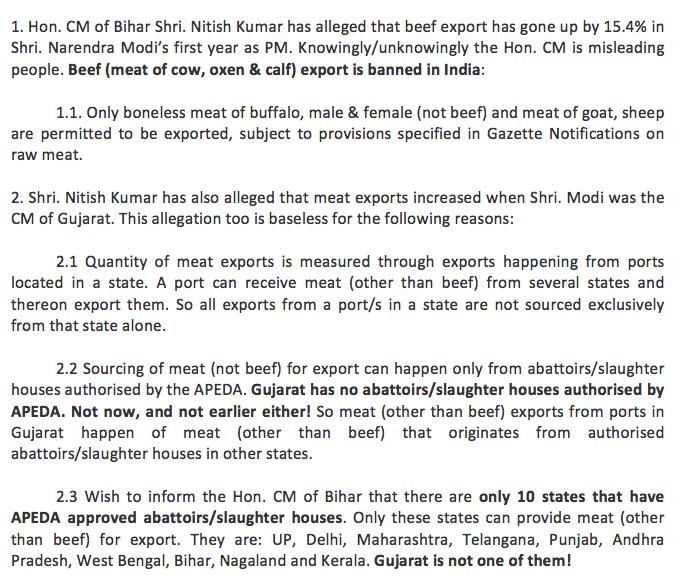 – DeshGujarat