Gujarat CM launches 16 new channels of 'Vande Gujarat'
October 14, 2015
Gandhinagar
In a first-of-its-kind initiative, Gujarat Chief Minister Anandiben Patel today launched 16 new comprehensive, interesting, inspirational and varied educational channels of 'Vande Gujarat', to provide access to knowledge at the remotest places in the state.
Speaking on the occasion, she said that digital technology would play a major part in disseminating knowledge in this 21st Century. She thanked the Union Government and Prime Minister Narendra Modi for promptly approving the state's innovative proposal as per his dream of Digital India.
Mrs. Patel said that her government has initiated discussion with scholars and experts in diverse fields to make a success of this people-oriented initiative. The state government is committed to bring the best of the world to the state.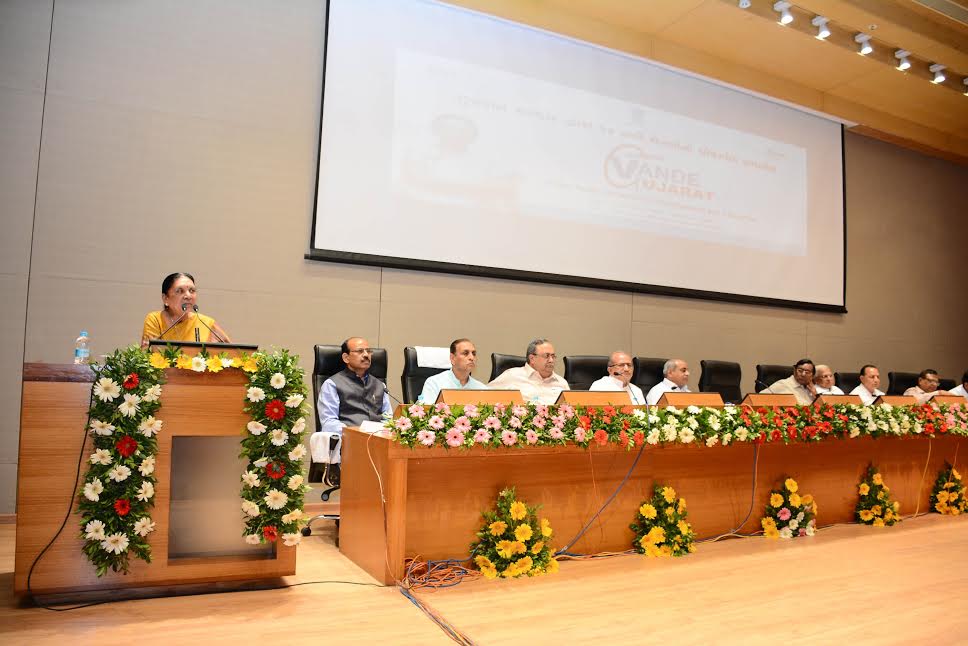 She said the channels would gradually cover a wide range of subjects – from primary school to the level of higher education on agriculture, dairy, education, health, women's welfare, sports, skill development, preparing for competitive examinations and even self-employment schemes. She directed the district administration also to gear up for the project, intended for 'sauna saath, sauna vikas'.
Education Minister Bhupendrasinh Chudasma described the launch as historic. He said it is intended to make the citizens up-to-date in knowledge and make their mark in the global map. Gujarat is bound to develop in leaps in bounds under the leadership of Anandiben Patel to realize the dreams of Prime Minister Narendra Modi.
Minister of State for Science & Technology Govindbhai Patel said that simultaneous launch of 16 channels is in itself a record of sorts. Earlier, knowledge was available in classrooms. Now it is available in TV channels in the comfort and convenience of home.
Chief Secretary G.R. Aloria described the launch as a new chapter in the state's march to development.
The event was telecast live to schools in the state.
The event was attended by Ministers Nitin Patel, Saurabh Patel, Ramanlal Vora, Mangubhai Patel, Babubhai Bokhiria, Vijaybhai Rupani, MLAs and senior government officers.
– Information