Anandiben slams UPA govt, Congress at Wanakbori
October 15, 2015
By Correspondent, Wanakbori
Launching the works for 800 MW super critical thermal power plant at Wanakbori in Kheda district, Gujarat Chief Minister Anandiben Patel today said that the plant will be inaugurated in 2018 by BJP government only.
We are known for inaugurating the development projects for which we lay foundation stone. This plant will be inaugurated by us only in 2018, she said.
Referring to earlier speech of Power minister Saurabh Patel during the function, the Chief Minister said, "Saurabhbhai mentioned in his speech that environment clearance for this plant was sought as early as in year 2009, but it was not granted by then government in centre. It was granted only when Narendra Modi became Prime Minister. So what was the problem? There was no problem. Gujarat's progress was the problem for them(then Congress led UPA government in centre). The thought if Gujarat would continue to progress in this speed, they will not get chance to come to power for next 25 years. If clearance to this plant was given in 2009 when we sought it, we could inaugurate the power plant today instead of just performing foundation laying ceremony. Power could be available at cheaper rate and construction cost too could be lesser by Rs 200-500 crore."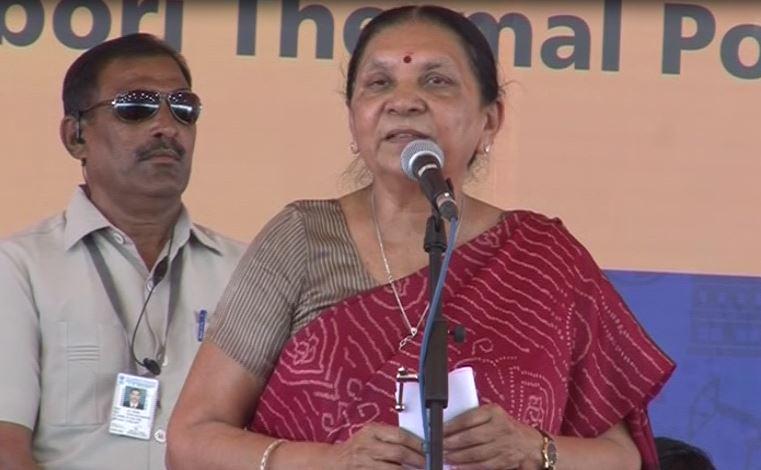 Anandiben gave example of how installation of gates over Narmada dam was not permitted by then Congress-led UPA government, and how permission was granted just on the 17th day of new Narendra Modi government in centre. "They were sitting on file," Anandiben went on to say and added that the installation work will be completed by June 2017.
Referring to Leader of Opposition Shankersinh Vaghela's recent statement in which he questioned the ambitious SAUNI project of government of Gujarat to bring water to Saurashtra region, Anandiben said soon two dams will be filled with water through SAUNI Yojana, and those questioning the project will be silent.
She dared local elected representatives of Congress party to tell whether any representation made by them to Chief Minister or Minister has failed to get proper response.
Without mentioning the name of Patidar Anamat Andolan Samiti leader Hardik Patel, Chief Minister said, "two days back that person had come here to protest. What a big loss(he has caused)? Just imagine. I don't want to say anything about it but only want to tell you that when our administration is working very well, people need to extend support to it."
– DeshGujarat