CM lays foundation stone of 800 MW Super Critical Thermal Power Plant of GSECL
October 15, 2015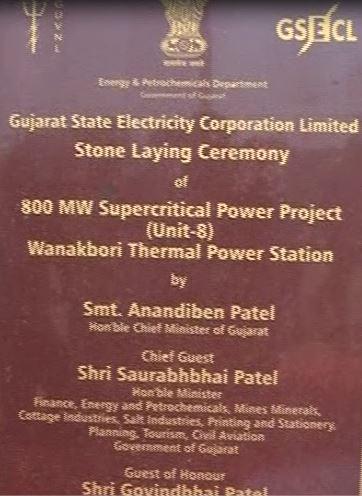 Correspondent, Wanakbori (Kheda, Gujarat)
Chief Minister Mrs. Anandiben Patel today laid the foundation stone of a 800 MW super critical thermal power station of the Gujarat State Electricity Corporation Limited (GSECL) at Wanakbori in tribal dominant Kheda district of the state Public Sector Bharat Heavy Electrical Limited (BHEL) has got the contract to set up this plant from state run GSECL through international bidding on EPC (Engineering, Procurement and Construction) basis.
GSECL had signed the EPC contract with BHEL in December 2014. The estimated cost of the project is Rs 4,465 crore. The project is expected to be completed by the year 2018-19.
Incidentally this is the highest valued order that has been placed by GSECL.
On the occasion, the Chief Minister said, "If we need to progress as a state in the field of industry, technology and agriculture, abundant supply of power to run machines is a pre- requisite. The quantum of power supply in a state defines the state's ability to support industrial, agricultural and technological progress.'
Emphasizing on the need for this power plant, state energy minister Saurabh Patel said, "We are looking to increase the power production in the state as part of our plan to push for more industrial units. If we provide power at affordable rates, then more industries will start coming to Gujarat. Once we are able to generate power at a relatively lower cost, we can pass on the benefit to the consumers. This super critical power plant will be the first of its kind in the state."
GSECL Chairman L Chuaungo and MD Gurdeep Singh shared that the power plant would meet the electricity needs of rural areas and generate more for everyone. The plant was being set up with a high degree of
indigenous approach.
Gujarat currently has private power producers who generate electricity through thermal fuel by using super critical technology. The two biggest private power producers in Gujarat are Adani Power and Tata Power's Ultra Mega Power Project.
– DeshGujarat