GIFT City on fast track; work in full swing on projects worth Rs 1000 Crore
October 19, 2015
Gandhinagar
Several major projects with investment of Rs 1000 crore broke the ground at Gujarat International Finance Tec-City (GIFT City), India's first International Financial Services Centre (IFSC).
Construction work on 1.6 million square feet of Built Up Area (BUA) of space has begun with projects by Viridian RED setting up World Trade Center, Hiranandani Group, a Business Club and an Affordable Housing project at GIFT City.
These projects have a potential to generate around 12,000 jobs in GIFT City in coming years.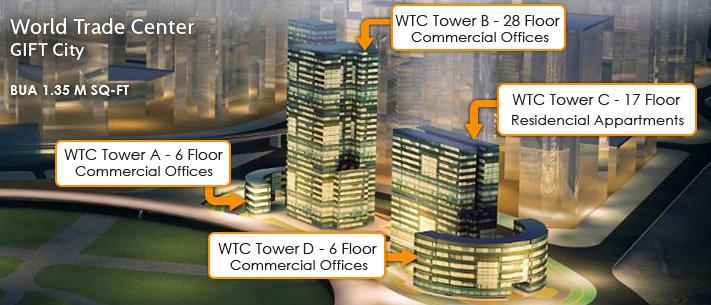 Speaking on these developments, Mr. Ajay Pandey, MD & Group CEO, GIFT City said, "GIFT City, which aims to create 10 lakh jobs in coming decade, has now moved into a fast-paced construction phase. After making total allotments of 14 million square feet of BUA in the first phase, we are now seeing development work for the major projects in full swing and in the coming months few more major projects will take off. Several International Banking Units (IBUs) have already received final RBI clearances and are expected to begin operations at India's first IFSC at GIFT City in a couple of months time. We have also now started making allotments for the second phase of this mega project."
Viridian RED which is setting up Gujarat's first World Trade Center, is developing an iconic building which is expected to be ready by 2017. WTC Gift City, a Viridian RED development has been allocated 1 million square feet space at GIFT and is going to invest in excess of Rs 600 crore over the next couple of years.
Mumbai-based Hiranandani Group has also commenced work on office tower 'Hiranandani Signature' in GIFT SEZ – IFSC and the building is set to be ready by December 2016 at an investment of Rs 180 crore under the brand Hiranandani Communities. The company has been allotted a total of 0.3 million sq ft of built up area (BUA), and will set up a state-of-the-art office tower for financial services and IT operations.
Work on India's first Business Club – GIFT International Centre spread across 0.16 million square feet area has commenced and it will be ready by December 2016. Development work towards building 330 affordable homes spread over 0.14 mn sq ft has also commenced.
– DeshGujarat