Hardik's intention was to wage war against govt, spoke about throwing bomb in assembly:FIR
October 22, 2015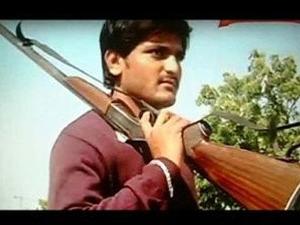 Ahmedabad
The 27-page FIR filed by city crime branch against Hardik Patel and five others under serious charges of sedition says that the young quota leader had allegedly instigated his community to adopt violent means to "wage war" against Gujarat government.
The probe agency has put transcripts of various telephonic conversations and speeches of Patidar Anamat Andolan Samiti (PAAS) members and its convener Hardik Patel- where in they had allegedly instigated the agitators of their community to wage war against the state government.
The complaint against PAAS leaders is for inciting violence in the state on August 25-26 and even after that.
"The conversation made by some members of the core committee of PAAS and the agitators clearly shows that they had been instigating Patel community and asking them to attack and burn public property and also asking them to wage war to overthrow the duly elected Government of Gujarat," reads the FIR which was filed yesterday by ACP K N Patel of the city crime branch.
"The spate of violent acts that ensued in Ahmedabad city since August 25 clearly reveal a pattern and design getting its corroboration from the earlier speeches made by Hardik Patel and also from the transcripts of conversations of the other accused persons," it said.
The city crime branch had yesterday filed second case of sedition against Hardik and five others while charging them under IPC sections 121 (waging war against government), 124 (Sedition), 153-A (promoting enmity between different communities) and 153-B (Assertions prejudicial to national integrity).
Others who have been charged include Chirag Patel, Dinesh Patel, Ketan Patel, Amrish Patel and Alepsh Kathiria.
Two of the PAAS members Dinesh and Chirag were arrested yesterday.
"Further acts of omission on the part of Hardik Patel and other accused persons belonging to PAAS prima facie establish that the entire agitation of seeking reservation for the Patidar community was never the intended purpose of PAAS," said the FIR. .
"In fact, acts and omission on the part of accused person clearly establishes a sinister design to bring in hatred and contempt in order to excite disaffection towards the duly elected (Gujarat) government in false and bad light by intentionally spreading misinformation with distorted facts," added the FIR.
A conspiracy was hatched by Hardik Patel and the other accused persons to destabilize a duly elected democratic government under the garb of Reservation agitation for Patidar community, a community otherwise seen and perceived as a peace -loving and law-abiding community, it said.
In the violence that started on August 25, for Patel quota, 10 people were killed including one policeman and public properties worth crore of rupees including buses, bus stations, police chowkies and private vehicles were damaged.
"Hardik and other accused persons, intentionally incited the sentiments of the community members and also developed a feeling of hatred, contempt and disaffection amongst the members of the Patel community towards the government and also other communities, thereby creating situations prejudicial to national integration," it said.
"The accused persons under the leadership of Hardik Bharatbhai Patel attempted to wage war against the government and overawe the lawfully elected government of Gujarat by means of criminal force," said the FIR.
The city crime branch had yesterday filed second case of sedition against Hardik. He is in Surat police custody at present in connection with the first FIR of sedition filed there when he tried to instigate a Patel youth to kill policemen instead of committing suicide.
The FIR also consists the transcripts of the dialogues between PAAS members and other agitators where in they talked about damaging law and order situation of Gujarat and also to take vengeance from the state government on alleged police atrocities.
The Crime branch has also put transcripts of Hardik's various speeches where in he once talked before the people of his community to "throw bomb" in the State Assembly.
Also, there is another transcript where Hardik's close aide Dinesh Patel was told by an unknown person on how they had eliminated couple of policemen in Surat on August 26.
The quota stir leader has been hogging the limelight since the August 25 "mega-rally" of Patels in Ahmedabad and the subsequent violence in which 10 people were killed.
PTI