Gujarat govt approves Rs 797.29 crore pipeline project
October 23, 2015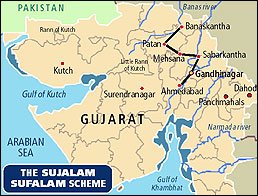 Gandhinagar
Gujarat government has given approval to two pipeline schemes worth Rs 797.29 crore that will cover a triangle shape area located between Sujlam Suflam canal and Dharoi project irrigation area in north Gujarat.
Approximate cost of pipeline project connecting Piyaj near Narmada canal and Unad(Kheralu taluka, Dharoi main canal) will be Rs 515.91 crore. The carrying capacity of this pipeline will be 200 cu sec. This pipeline will cover Gandhinagar district's Kalok and Mansa taluka and Mahesana district's Gozaria, vijapur, Vadnagar and Kheralu.The pipeline will connect to 74 water bodies of 46 villages in these two districts. This pipeline will also provide supplementary irrigation benefit to Dharoi irrigation area villages and Mansa-Vijapur taluka's triangle area when needed. This project will give irrigation benefit to around 6,000 hectare area and lift up the ground water level.
Narmada main canal oriented Karannagar – Dhandhusan pipeline which is in progress will extended to Redlakshmipura(taluka Vadnagar-Dharoi main canal) at estimated cost of Rs 281.38 crore. This pipeline will have 200 cu sec carrying capacity. Extension of this pipeline will give benefit to Mahesana district's Mahesana, Vijapur, Visnagar and Vadnagar taluka. Water bodies of 23 villages will be connected to this pipeline. Additionally Dharoi irrigation area villages(triangle area) will also get irrigation water when needed. This project will cover 3,000 hectare area for irrigation. Over exploited ground water in Vijapur area will find solution in this scheme.
It should be noted that under Sujlam Suflam project, Narmada project's additional 1 million acre ft flood water is used for 9 reservoirs in north Gujarat through 14 lift pipelines. Of them 10 pipelines are completed and made active to connect 282 village water bodies of five districts. Through Narmada main canal oriented pipelines, Gujarat Water Supply and Gutter Management Board provides drinking water to 679 villages and 8 cities.
– DeshGujarat