Girnar Lili Parikrama to kick off this weekend (video)
November 19, 2015

Junagadh
36 km annual Girnar Lili Parikrama will begin at midnight this weekend with a round of fire in air as per tradition.
Five days long parikrama will have over three halts in forest. 10 government departments are involved in its preparations.
Total route covers 36 km distance. Forest department will camp, police department posts, annakshetra and parabs will serve pilgrims.
Additional state transport buses will carry pilgrims to parikrama route. Trackers team will keep vigil on yatra route.
After its start near Rupayatan, the parikrama will halt at Jinabava Madhi first, later on second day it will take halt at Sarkadia Hanuman, third halt will be at Bordevi.. Additional district magistrate has finalized ten points for parking of vehicles for parikrama pilgrims.
Around one million Hindus take part in Girnar's annual Lili Parikrama(Green pradakshina or circumlocution) which begins on Kartik 11 to 15 every year as per Gujarati calendar.
Girnar the tallest mountain of Gujarat is 6 km away from Junagadh city.
According to popular belief, after winning the war at Kurukshetra, Pandavas had done the parikarma to seek God's blessings.
As the stretch of the Parikrama passes through the forest, it is an adventurous trip for the youngsters. After the rainfall, the ponds and rivers are full of water adding to the scenic beauty of the forest and hills.Youngsters see it as solving a dual purpose. They complete a ritual as they enjoy the beauty of Gir forest.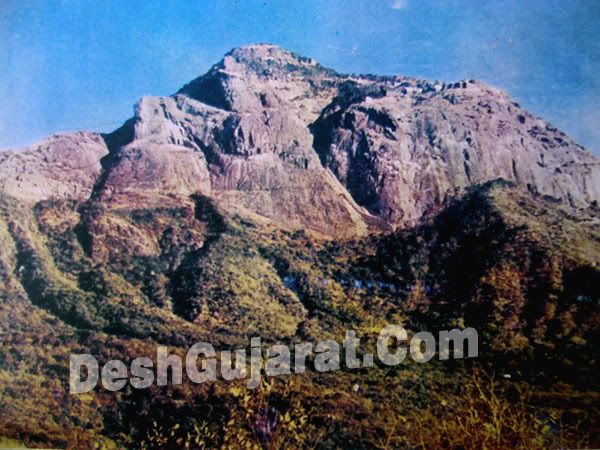 At first glance this photograph seems like just another picture. But if you look at it properly, you would be amazed to notice that there's a side face that resembles with the face of yogi that is popularly worshiped as Girnari Maharaj; a form of Lord Shiva in Saurashtra region.
Devotees believe this place represents Lord Shiva's face. Photograph above is real and without trick. Same photograph is presented vertically below in which you will be able to clearly notice a face.

– DeshGujarat