GIAN to be an opportunity to learn from international faculty: Smriti Irani at IITGN
November 30, 2015

Gandhinagar
Global Initiative on Academic Network (GIAN) will be an opportunity for students of institutes across the country to interact with and learn from international faculty and experts. This is what Union Minister of Human Resource Development Smt Smriti Irani said at IIT Gandhinagar (IITGN) during the inauguration of a new Ministry of Human Resource Development (MHRD) scheme called Global Initiative of Academic Network (GIAN) on November 30, 2015 (Monday).
Smt Irani said, "GIAN in not limited only to IITs and National Institutes." She said that GIAN will cater to many students in many of the government institutes do not usually expect an opportunity to meet, interact and learn from international faculty.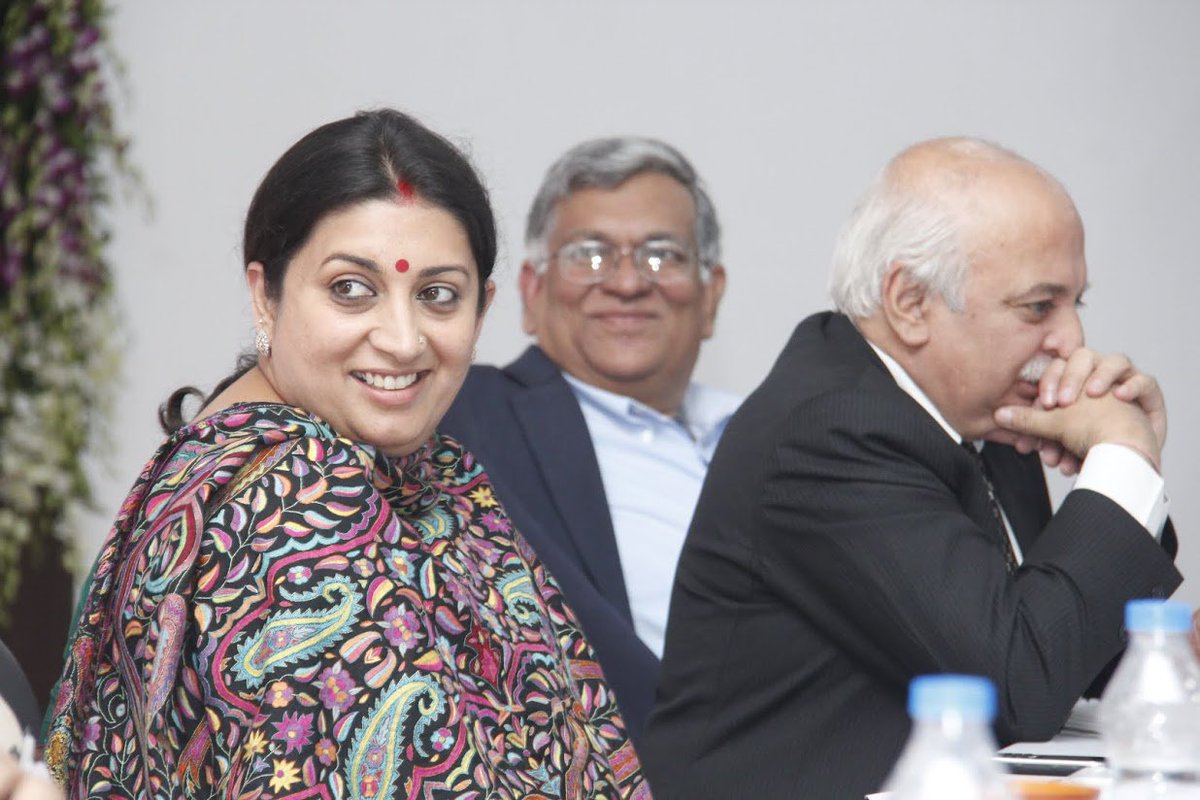 Smt Irani launched GIAN with two 10-day-long courses – "3D Digitization for Cultural Heritage" at IIT Gandhinagar, and "Orthopaedic Biomechanics: Implants and Biomaterials" at IIT Kharagpur. They are among 201 courses approved to be conducted under GIAN so far from among 488 courses proposed by different higher education institutes in India.
GIAN was conceived at a 'retreat' of IITs with HRD minister Smt Irani in 2014. It was decided that institutes of higher education will host guest lectures by internationally and nationally renowned experts while also evolving a comprehensive Faculty Development Programme.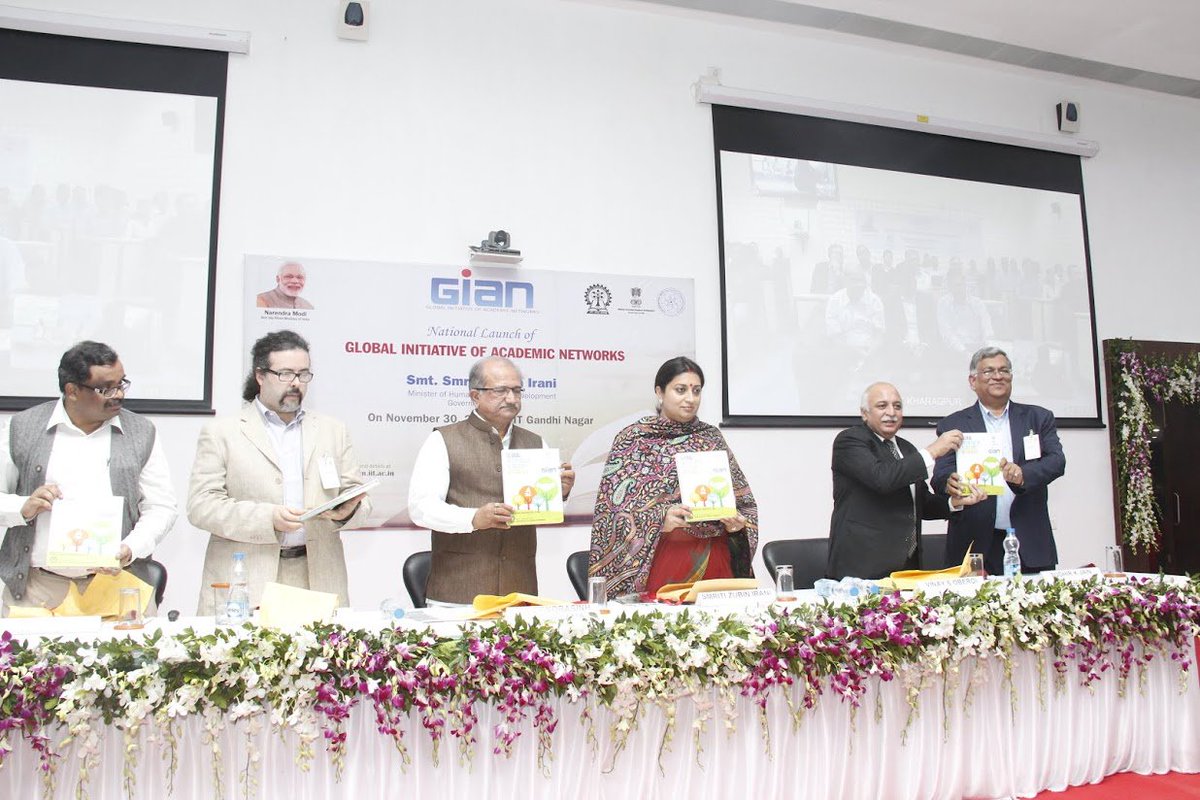 MHRD has allocated Rs 35 crores for GIAN for the current financial year. Under the scheme, 500 international faculty will be engaged this year and 1000 in subsequent years to offer short courses and programs throughout India. Nearly 200 Indian institutes will host GIAN courses this year. This number will grow to 500 institutes in the following years.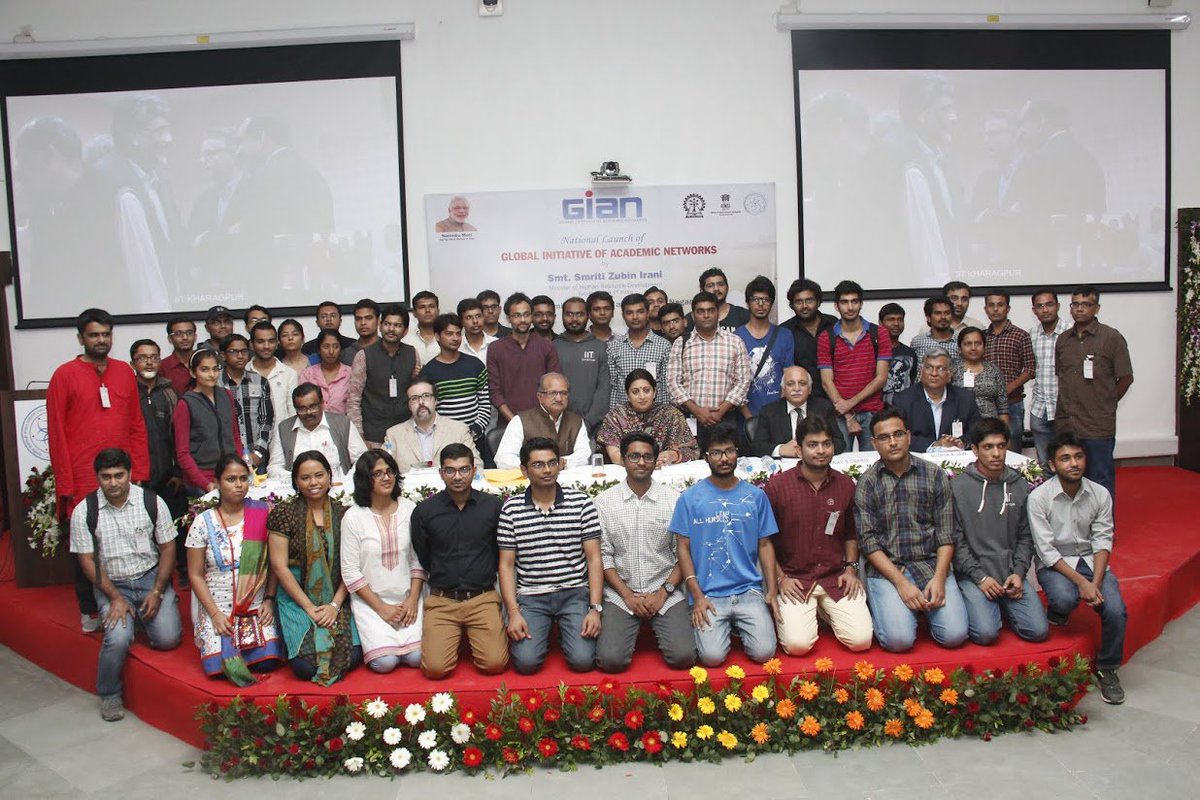 The long term goals of GIAN include sharing of academic credits, development of a repository of learning materials, availability of content through a National Digital Library, catalyzing interaction between faculty and students from across the country and abroad, and forging academic and research collaborations across the world.
3D Digitization for Cultural Heritage: The course on "3D Digitization for Cultural Heritage" at IITGN, which is first of its kind in the country, aims to leverage the conservation of heritage and culture in the country by teaching methods and tools of 3D digitization and their application in heritage conservation. Nearly 50 participants, including students, faculty and industry professionals from all over India, will participate in the course. It is being taught by one of the leading international figures in 3D digitization – Dr Marco Callieri, who has developed an online tool for online presentation of 3D models called 3DHOP. Dr Callieri holds a PhD computer science and is currently a Researcher at Visual Computing Lab at the Institute of Science and Technologies of Information – National Research Council, in Pisa.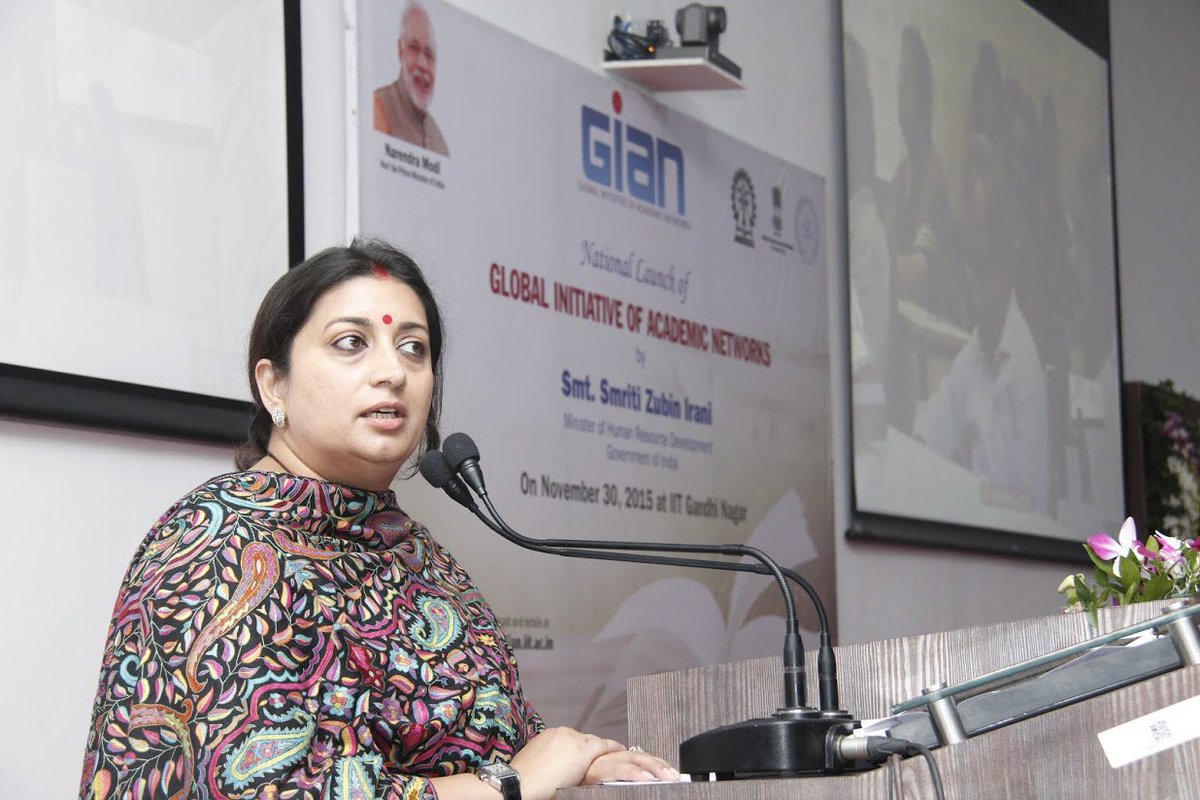 Dr Callieri said, "The course will be a strategic blend of technology and humanities. 3D digitization technology has become very popular because of its advantages and is used in various areas such as restoration of buildings and sampling of fabrics and so on. The course will give its participants a wide view over the 3D digitization technology and its trends across the world."
– DeshGujarat
Smt. Smriti Irani Launches "The Global Initiative of Academic Networks" (GIAN)

"The Global Initiative of Academic Networks" (GIAN) programme was formally launched by the Union Minister for Human Resource Development, Smt. Smriti Zubin Irani today, at the IIT Gandhi Nagar. While speaking at Launch of GIAN, HRD Minister said that this initiative, GIAN brings into practice the belief of 'Vasudhaiv Kutumbakam'. Inspired by the vision of the Prime Minister and responding to his wish to ensure early implementation to facilitate the needs of institutions, faculty and students to embrace new knowledge frontiers. The fact that this vision of the Prime Minister has translated into action within a time span of just one year is a reflection of the team work between the Ministry of Human Resource Development and the institutions of higher learning. She said, "While our Hon Prime Minister Shri Narendra Modi has given the clarion call of Make In India, GIAN is our effort to tell the world "Come, Teach In India".
The Global Initiative of Academic Networks (GIAN) is a new and catalytic programme of the Ministry of Human Resource Development, one with potentially far reaching impact. It is intended to enlarge and deepen the interface of India's institutions of higher learning and globally recognised institutions of academic eminence. Over the next year or so, faculty from highly rated institutions abroad will visit India, interact and partner with their counterparts and with students, and deliver specialised courses.
The two courses – one at IIT Gandhinagar and the other at IIT Kharagpur – launched today would be the first in setting the trend and tenor of the programme, two eminent academicians began their courses – 3D Digitization for Cultural Heritage, delivered by Professor Marco Callieri, Visual Computing Lab, ISTI-CNR, Italy at the IIT Gandhi Nagar, and another course at IIT Kharagpur by Professor Nico Verdonschot, faculty of the Radboud University Medical Center Nijmege, University of Twente, Netherlands on Orthopaedic Biomechanics: Implants and Biomaterials.
In the weeks and months to come, the academic interface will enlarge, and increasingly enable international academic collaboration. Most importantly, the GIAN programme offers a basis and a platform for a long-term cooperation.
From abroad, faculty from 38 countries are presently scheduled to deliver courses, including 46 academics from the USA, 9 from the UK, 6 each from Germany and Australia, and 2 from Israel. The list of countries includes Russia, Japan, Singapore, Sweden, Switzerland, Portrugal, Netherlands, Malaysia and South Korea. This remarkable array of academicians will span 13 disciplines and 352 courses to be taught in 68 national institutions.
PIB