IS, Muslim de-radicalisation to figure at DGPs meeting in Kutch: Thakur
December 04, 2015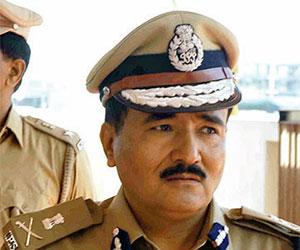 Gandhinagar

The expansion of terrorist organisation, ISIS, and the "threat" it poses to the country will be the main issue to be discussed at the conference of state police chiefs at Kutch later this month, Gujarat DGP P C Thakur said here today.
According to the top cop, "de-radicalisation of Indian Muslims" will also be a key topic for discussion during the conference slated to begin on December 18, which is likely to be attended by Prime Minister Narendra Modi.
"There is a threat to India, and we can not deny it. That is why, all top police officials of the country will discuss this issue during DGPs conference. One of the issues for discussion would be about steps to be taken to de-radicalise Indian Muslims in current scenario," Thakur said.
As per reports, the Islamic State's latest manifesto vows to expand war beyond Iraq and Syria, to India and several other countries.
"The ISIS recently announced their plans about India. All the state governments, including Gujarat, have taken a serious note about it. Till now, some youths from urban areas of country got attracted towards ISIS and went there (Syria). But now, youths from rural parts are also (getting) attracted," Thakur told reporters while addressing a press conference.
The DGP also expressed concerns on Islamic State's plans about India.
"Till now, we have not received any inputs that anyone from Gujarat has joined the ISIS. But, reports from Telangana suggest that Muslims from rural areas there are joining the terror outfit. Barring these cases, IS has failed to attract them in huge numbers as Indian Muslims love their country," the DGP said.
The 50th edition of the three-day "All India Conference of Directors General/Inspectors General of Police" will be held at Khavda village in Kutch.
The previous edition of the annual conference was organised in Guwahati in November 2014.
Apart from DGPs and IGs of all states and Union Territories, heads of NIA, CBI, IB, Narcotics Department and various police training academies would attend the conference, besides the DGs and IGs of para-military forces such as BSF, CRPF and CISF.
PTI