Narendra Modi, Shinzo Abe attend Ganga Aarti at Varanasi
December 12, 2015
Varanasi
Prime Minister Narendra Modi along with his Japanese counterpart Shinzo Abe attended the spectacular sunset Ganga Aarti at the fabled Dashashwamedh Ghat here today, marking a new chapter in traditional cultural ties between the two countries.
Elaborate security arrangements were in place at this ancient temple town which was all decked up to welcome Modi and Abe shortly after their summit talks in Delhi.
The two leaders spent about 45 minutes at the Ghat in Modi's parliamentary constituency where they watched the Ganga Aarti, an exquisitely choreographed ritual performed daily on the banks of the river.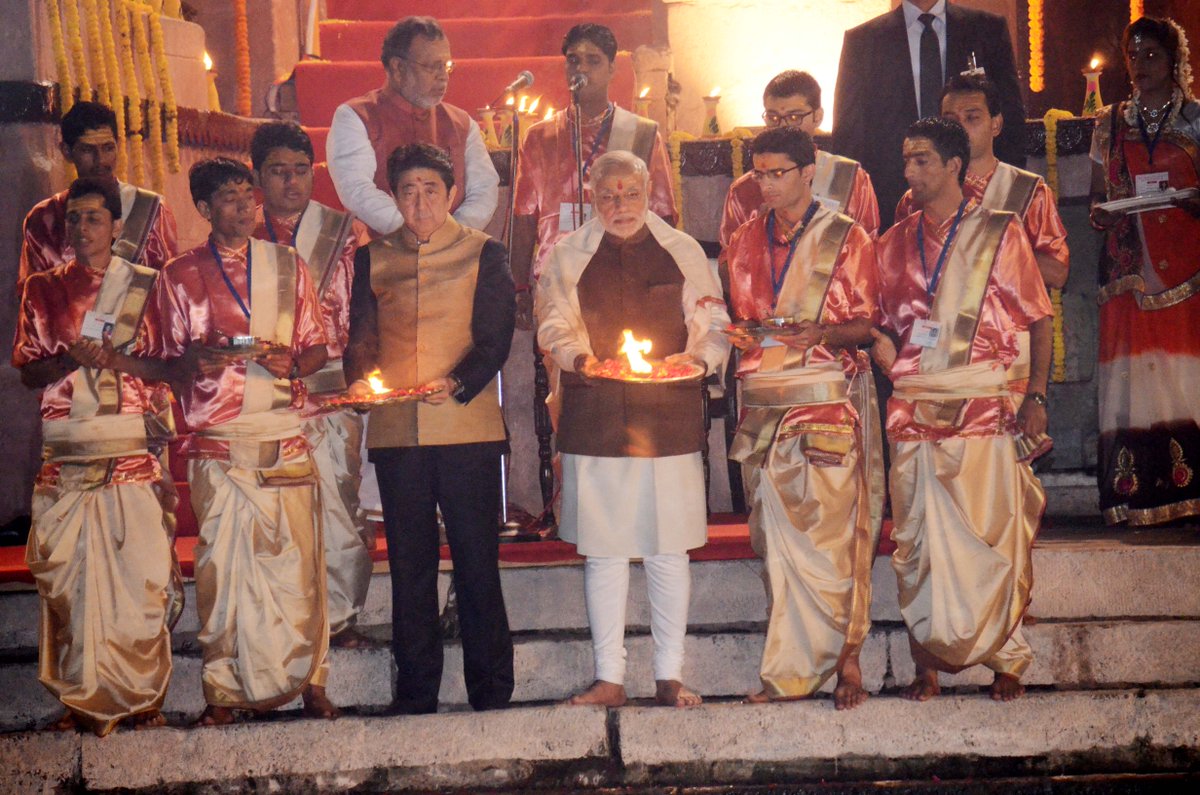 Modi had earlier said culture and people breathe life into a relationship.
"Our remarkable relationship also has a wonderful human touch. The Kyoto-Varanasi partnership is one of its strong symbols," he said at a joint media interaction with Modi.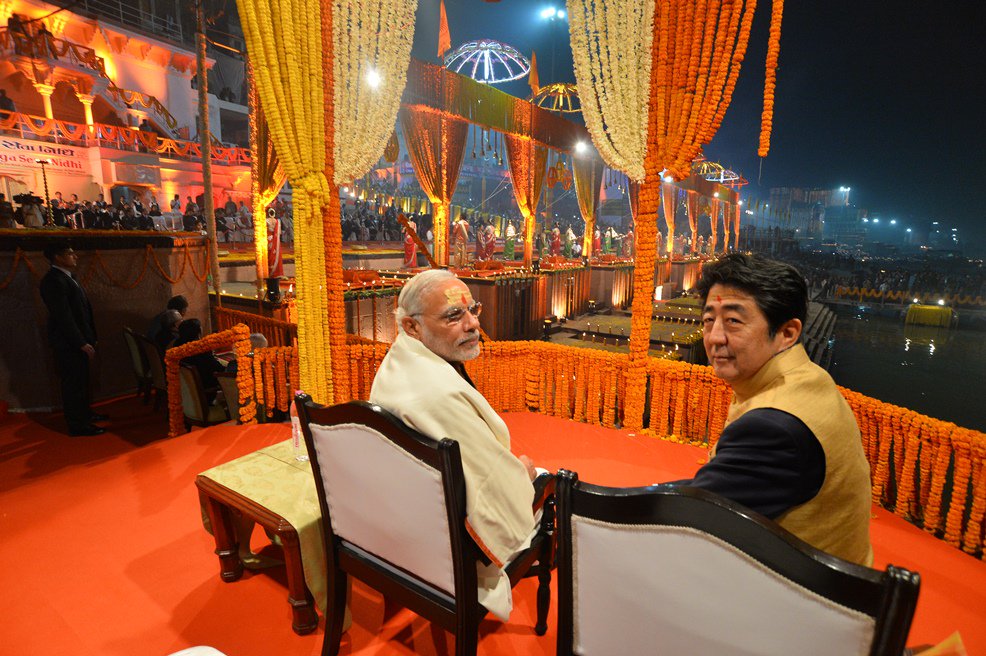 Abe's visit to the Ghat fully decorated with flowers assumed significance as it came against the backdrop of Partner City Agreement between Kyoto and Varanasi, signed by the two leaders during the Prime Ministers visit to Japan in August last year.
Amid chanting of slokas, Modi and Abe offered flowers and a rose garland on the banks of the river.
Nearly 7,000 security personnel were pressed into service for the high-profile visit lasting about four hours.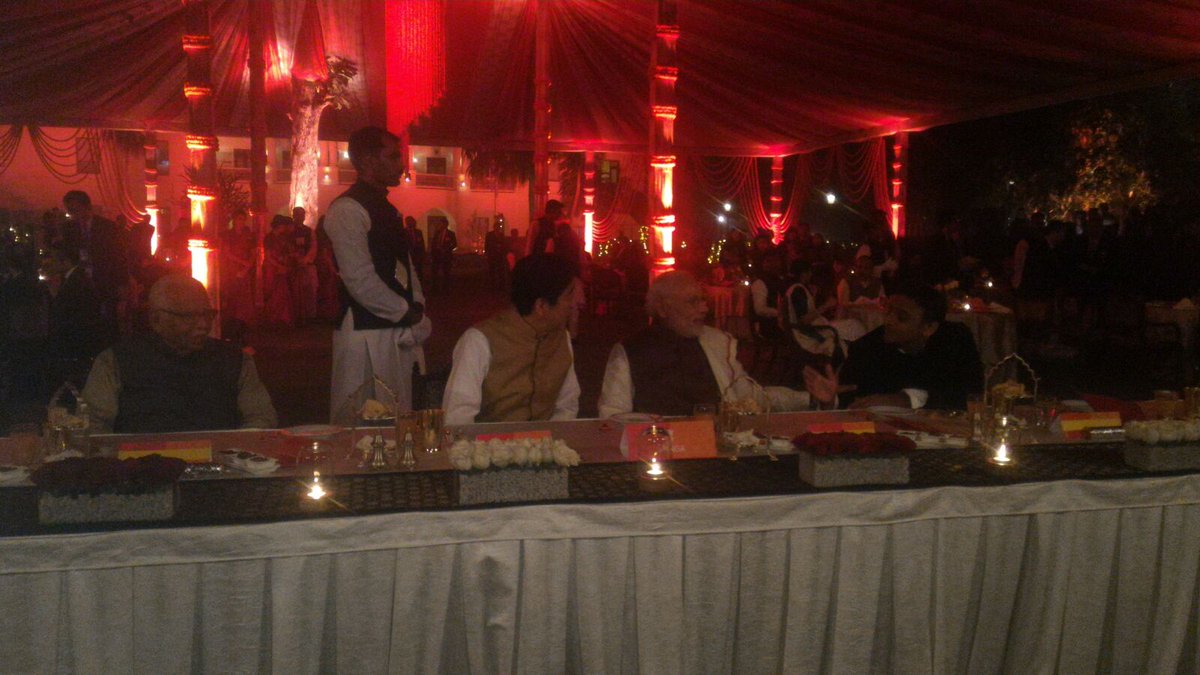 Security at the normally crowded Ghat has been taken over by the Army and the Navy while scuba divers of the National Disaster Response Force were deployed around the make-shift stage which has been erected with the help of pontoons on the river bed.
Personnel of the elite Special Protection Group (SPG) have been camping in the city since Tuesday.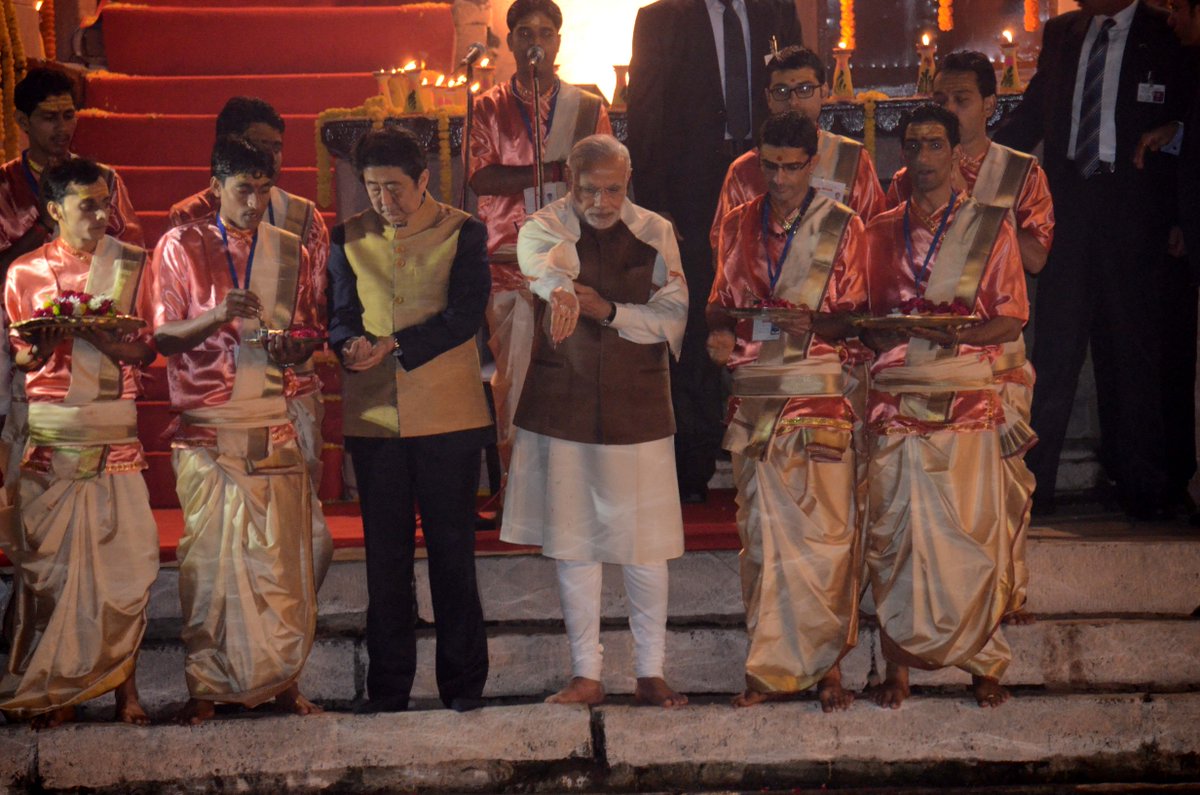 They are being assisted by the National Security Guard, Anti-Terrorist Squad, Central Para Military Forces and the state police.
The entire 22-km-long route, from Babatpur airport to the Dashashwamedh Ghat, is dotted with posters, banners and banners of various designs, welcoming the two Prime Ministers.
Some of these also carry messages in the Japanese script.
Roads have been freshly macadamized while traffic restrictions have been in place since last night itself.
PTI