Revisiting Dhirubhai Ambani
December 28, 2015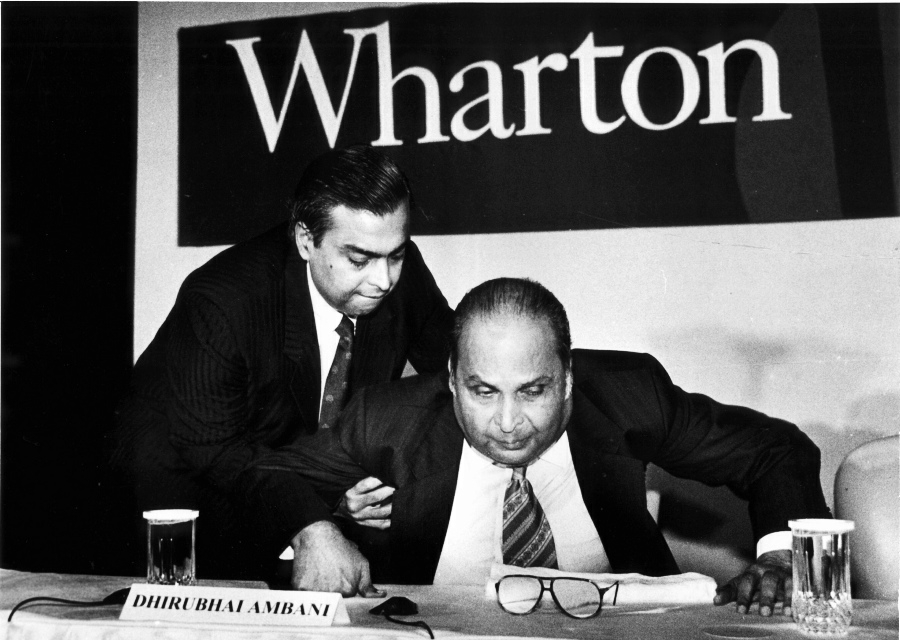 By Shri Parimal Nathwani
Remembering Reliance Patriarch Dhirubhai Ambani on every junction of Reliance's journey is understandable. But revisiting him today i.e. December 28, 2015 has its own significance. Not because to-day is his 83rd birth anniversary but it is because Reliance once again created a phenomenal break through under Mr. Mukeh D. Ambani, chairman of RIL. Mr. Mukesh D. Ambani had steered Dhirubhai's dream of making mobile telephony at affordable price and made it a reality in 2002-03. This time, on the eve of Dhirubhai's birth anniversary, he announced with a bang the advert of 4G LTE telephony in the country simultaneously from 1,000 locations.
"Think big, think fast and think ahead. Ideas are no one's monopoly", Dhirubhai used to say. Not only that he said it but in fact he lived it. Dhirubhai did what he said. He always thought big. Size of his projects, capacities of his production plants, volumes he would deal was always big. It was because he himself was very large hearted – big heartened. I remember, as per the order of the Honorable court, 2 lakh trees had to be planted as part of the industrial green belt development at Jamnagar site. Dhirubhai, in compliance of the honorable court's order decided to create a huge lush green environment at Jamnagar site. He ensured simultaneous plantation activities also and as the height of flare-stacks and chimneys grew, so grew the height of green plants; so fast and ahead of all.
Mr. Mukesh D. Ambani who personally monitored the progress of refinery project saw to it that more than 20 lakh lush green trees/plants grew; eventually at the site. This is just an example. Dhirubhai was one among few of who was ahead of his time in whatever he did. Though he himself was not an engineer or a technocrat, he used to keep himself updated about technological innovation
and advancement in the area of his work. He was passionate about production and manufacturing. He understood the markets and marketing very well. He was a practical economist. Dhirubhai never hesitated to charter an aeroplane to call for a critical part of a plant due to which production would suffer.
A factory owner in normal circumstances of glut in the market of his products would prefer shut down of the plant. Dhirubhai, on the contrary, would ensure that his plants ran at full capacity and products are stored properly till the market go up. This is how he used to make huge profit. He believed that profit was not a bad word as many with socialistic mindset would still tend to believe. At the same time, Dhirubhai also believed that everybody was entitled to make profit. He proved it by motivating millions of middle class and common class people to invest in stock markets. He ensured that his shareholders too earned profit in equitable proportion of their investment.
What a better tribute to Dhirubhai Ambani could be than the gala ceremonial announcement of 4G LTE by Reliance Jio under stewardship of Shri Mukesh D. Ambani. When we say 'Reliance Jio', we also mean 'Dhirubhai Jio'.
(Shri Parimal Nathwani is Group President of Corporate Affairs Department at Reliance Industries Ltd and a Member of Rajya Sabha.)

– DeshGujarat