Post Pathankot attack, Govt to form new SOPs for UAVs, RPA
January 08, 2016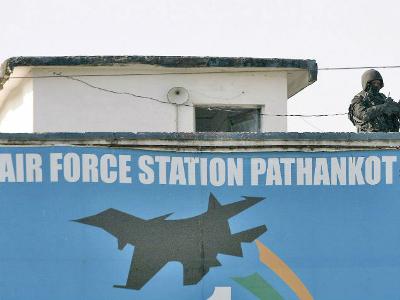 New Delhi
The Home Ministry is in the process of finalising new Standard Operating Procedures (SOPs) for Unmanned Aerial Vehicles (UAVs) and Remotely Piloted Aircraft (RPA) to secure India's border with Pakistan in the wake of recent terror attack in Pathankot.
Both UAVs and RPA are used by Indian security and intelligence agencies for surveillance related works within the Indian air space. The Home Ministry will form new guidelines to help security forces guard the country's frontiers, official sources said.
A meeting was held in the Ministry to discuss the provision of licensing for UAVs and RPA, they said, adding that the role of a centralised agency for their licensing was also discussed.
The move assumes significance as Defence Minister Manohar Parrikar had recently admitted to "some gaps" that led to attack on Indian Air Force base in Pathankot during the intervening night of January 1 and 2 by six terrorists, who had sneaked into the country from Indo-Pak border in Pakistan.
They were killed during a counter-operation by Indian forces that lasted for about three days in which seven security personnel were also killed.
After new SOPs are finalised, the Ministry may deploy more UAVs and RPA at the country's border with Pakistan, the sources said.

Operation to fully sanitise Pathankot Air base in last leg
The operation to fully sanitise the Pathankot Air base, which was attacked by six terrorists last Saturday, is "close to completion" with the personnel of NSG, Army and Garud commandos of IAF undertaking the task on the sprawling complex.
Meanwhile, the NIA has recorded the statements of Superintendent of Police (SP) Salwinder Singh, whose role is under the scanner, and his friend Rajesh Verma, officials said adding investigations are under progress.
The 20-member NIA team is being assisted by a team of Central Forensic Science Laboratory which is camping here.
The sanitisation operation, which has been going on for the last two days ever since the six terrorists were gunned down, is in the last leg now.
"For the last two days, Army, NSG and Garuds have been sanitising the whole station and the process is close to completion," Air Officer Commanding, Pathankot IAF Station, Air commodore J S Damoon told reporters here today.
The combing operation is aimed at ensuring that no terrorists are still hiding and there are no booby traps.
Looking back at the events of the last six days, he said, "a few things stand out".
Among them, he said, is the use of air assets for surveillance to ensure early detection isolation and subsequent engagement of the terrorists.
"First, the timely and precise intelligence inputs and positioning of NSG troops in real quick time in domestic area, where our families reside which is akin to urban environment, ensured that the station was able to organize its defenses before the terrorists could strike," said the officer who is in-charge of the Air base.
"Secondly, the synergy between air force, Indian army, NSG, Punjab police and intelligence agencies", he said.
"Third, was the effective use of Air assets that was made possible by the deployment of 800 army troops in technical area, these air assets were used to keep the area under surveillance to ensure early detection isolation and subsequent engagement of our own troops," Damoon said.
AOC said the quick response of Army and availability of NSG troops along with Garuds ensured that the terrorists were confined to an area where they could successfully be eliminated without further loss of to troops.
"All this ensured that our vital assets and families were never threatened. In the end, I pay tributes to seven gallant officers and men who made supreme sacrificed for our motherland," Damoon said.
The terrorists were carrying AK-47 rifles, modified Under Grenade Barrel Launcher, pistols, Swiss and commando knives, 40-50 kg of bullets besides 3-4 dozens of magazine and mortars.

NIA team trying to connect dots in Pathankot attack
NIA team led by its chief Sharad Kumar was today trying to connect the dots in the attack by Pakistani terrorists on Pathankot IAF base, as it visited several spots and continued to question several eyewitnesses including senior police officers.
There was a possibility that some of the eyewitnesses could be brought to Delhi for some scientific tests including polygraph test (lie detector test), sources said.
As it recorded the statements of Superintendent of Police-rank officer Salwinder Singh and two others who were kidnapped by the terrorists, the NIA team visited the border village where the terrorists could have possibly entered and spoke to the villagers and BSF personnel.
A team of NIA, central agency created after Mumbai attack to probe terror-related cases, quizzed Salwinder Singh in Pathankot which showed there were some discrepancies in his statement which was being looked into, the sources said.
The agency had taken Singh to the places he had visited before he, along with his jeweller friend Rajesh Kumar Verma and cook Madan Gopal, was kidnapped.
Singh, who is facing charges of alleged breach of discipline and was transferred recently as Assistant Commandant of 75th battalion of Punjab Armed Police, had claimed that he was returning from a temple at 11 PM when terrorists kidnapped him.
The NIA also recorded the statement of caretaker of the shrine who is believed to have told him that Madan Gopal and Verma had come during day time on December 31 only to return in the evening.
The NIA plans to question Verma and Gopal again as there were some discrepancies in the account of the kidnapping incident that preceded last Saturday's terror attack at Pathankot air force base given by all the three, the sources said.
PTI