A fine discussion among new gen urban Gujarati film makers and their audience
January 11, 2016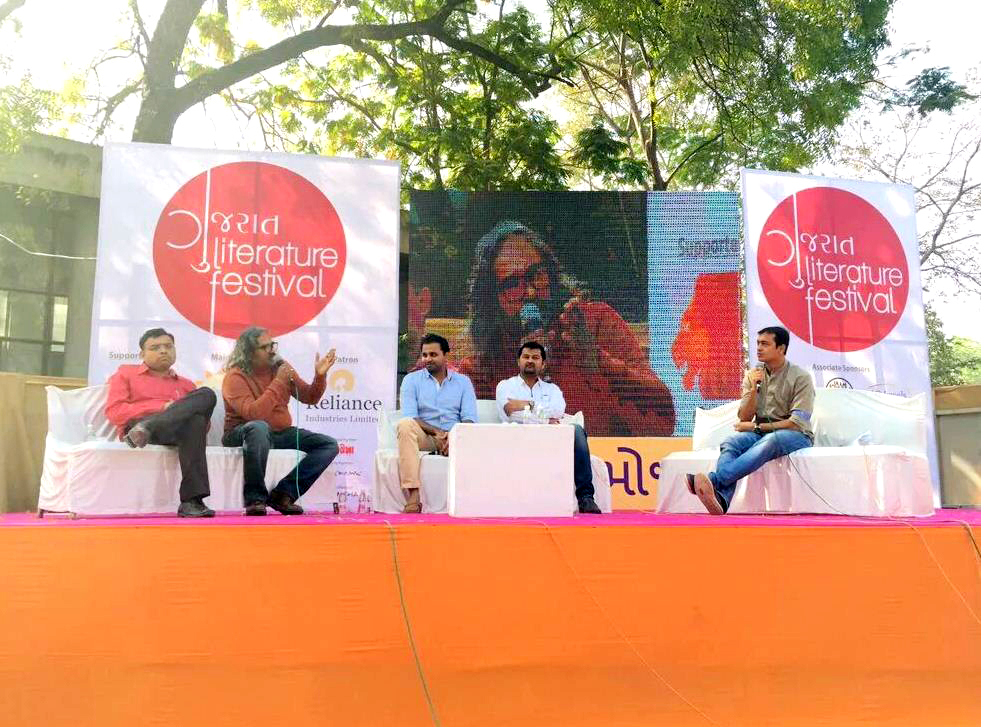 By Japan K Pathak, Ahmedabad
One of the most interesting sessions during the Gujarati Literature Festival(GLF) held at Kanoria Art Centre during last week-end contained a discussion on recent upwardy moving trend of urban Gujarati films. Distributor of Rupam cinema, maker of Avtar Dhari Ne Aavu Chhu Shri Jackybhai, maker of film Chhello Divas Shri Vaishal Shah, maker of Gujjubhai the Great Shri Ishan Randeria and maker of Kevi Rite Jaish and Bey Yaar Shri Abhishek Jain were on the stage along with lot of youngsters on audience side participating the discussion.
The core part of the discussion was about economics of multiplex targeted Gujarati films.
Kevi Rite Jaish and Bey Yaar maker Abhishek Jain said, "It was horrific for makers of Gujarati film 'Chhello Divas' that they found pirated copy of their film in circulation just on fifth day of release. This has caused at least Rs 6-7 crore loss to makers. Vaishal Shah, the maker f this film is kind enough to announce that he will make another film, even after the piracy experience he faced for Chhello Divas. Suppose if this had happened to me, I could simply leave the idea to make another film."
He continued, "Hindi films have multiple options for revenue. Makers out there can earn through satellite rights, DVD rights, digital rights, music rights and theaters. But for Gujarati films, the only way of revenue so far till January-2016 is theater release. I put my film's just 5 DVDs on Navjivan stall here at the literature festival and inquired almost every hour whether any of them was purchased, but every-time I was answered that none of the DVDs was taken! Even through single source of revenue which is movie theater, we don't earn so much. When you hear that certain film has achieved Rs 10 crore gross business, actually the producer of the film gets just 32.5% that would be in such case Rs 3.25 crore, of which Rs 2 crore if spent on making, marketing and distribution, the producer gets just Rs 1.25 crore which he would again need to invest in his next film. When economics is so tight in Gujarati film-world, a maker has to earn enough not to make a palace for him, but at least to make another film that he wants to make. On one side, the viewers expect makers to bring different kinds of good Gujarati films, but on the other hand if they prefer to watch movie on mobile, computer or TV through piracy then delivery from our side will not be possible. Movie goers say they used to go to theater to watch Gujarati movies in 1990s and they are back to do the same after a long break only now. If the evil of piracy is there, believe it, this small lot of film makers will have to stop making films and the momentum the Gujarati film industry has gained in recent time will not sustain. You will again have previous situation. May be then new people will again come and make Gujarati films just burn their fingers due to piracy."
He further said, "There are even farmers who come to makers to say that they want to sale their farm to make a Gujarati film, as it would anyway result into lot of earning, but they are told that it's not reality. Last year 65 Gujarati films were released out of which 95% were flop, 4% achieved break even point and only 1% actually could make money. This is the bitter reality of this field. Then if someone wants to make Rs 50 crore budget Gujarati film, I would say when film audience for Gujarati films is just 5 lakh you can't put that much money. If you make Rs 5-7 crore Gujarati film, the recovery of even the money invested would be a frustrating job."
Gujjubhai the Great maker Ishan Randeria said, "In southern India state, there's a law under which three bodies can take action against piracy, government can take action, police can take action and film maker can also take action. There's no such policy here. Public don't know it is a crime. My relative complemented me for making good movie, when I asked where did he watch it, he replied 'on TV'. Films nowadays don't sustain in theaters for 25 weeks like in the past, they are there for a short time. Half the audience if watch piracy that too not after buying DVD but by downloading the movie, then it just doesn't make sense."
Jain and Jackybhai(Avtar Dhari Ne Aavu Chhu fame) in reply to a question asked during the discussion said, "You don't ask a new born child straight away to recite a poetry. He/she would first learn to speak. In a same way let you allow urban Gujarati film makers to settle down and take care of their economics first, and then you can expect various kinds of movies from them. Imtiaz Ali didn't make Tamasha first. He had to give films which could be easily popular first and then could make Tamasha. He knew if he would make Tamasha first, he would not have money to make another film. Expecting too much from urban Gujarati film makers at this stage is not right at this stage. Allow Gujarati film makers to take care of their economics first. Then for acceptance of various kinds of films, the audience need to be open minded. If someone makes some kind of movie that is not comedy – entertainer, then its trailer would not be so entertaining enough, and in that case the audience would not be interested to go and watch the movie."
The film-makers including Chhello Divas producer Vaishal Shah also discussed infrastructure and govt supported related issues. They said: We need to go to Mumbai for post productions. We need infrastructure here. It will happen when then are good number of hit Gujarati films. At present 75 Gujarati film are being made. Work ethics etc will be in lace here eventually. Then there's a need to have a film institute here which can train the man power. Fees of Subhash Ghai's film institute in Mumbai are to high. In Maharashtra, the government is in very supportive role for Marathi language film industry. Show times are compulsory for screen owners. Genuine film makers are not just given subsidy but financial backing. They promote the talents in Marathi industry. Here in Gujarat even Rs 5 lakh subsidy is in suspension mode. Managing to have enough screens is a difficult job, and infrastructure to produce a film is lacking. At the same time we wish that corporate takeover of industry that has happened in Maharashtra must not repeat here in Gujarat. A Film-maker has to survive. Government can also offer interest free loan to make good films and protect single screen theaters that are getting demolished. Government is not able to do enough to counter piracy too.
On a happy note, Jackybhai said, Gujarati film industry has done record Rs 25 crore beyond business this year. If you count total business of last 10 years, it's hardly Rs 100 crore, and here's the business of Rs 25 crore in a year which is incredible. I hope it goes beyond Rs 100 crore a year in future.
Abhishek Jain on this occasion announced that he is going to make his next film this year which is a social thriller.
– DeshGujarat