Gujarat based Ventura AirConnect starts Surat-Amreli flights
October 11, 2016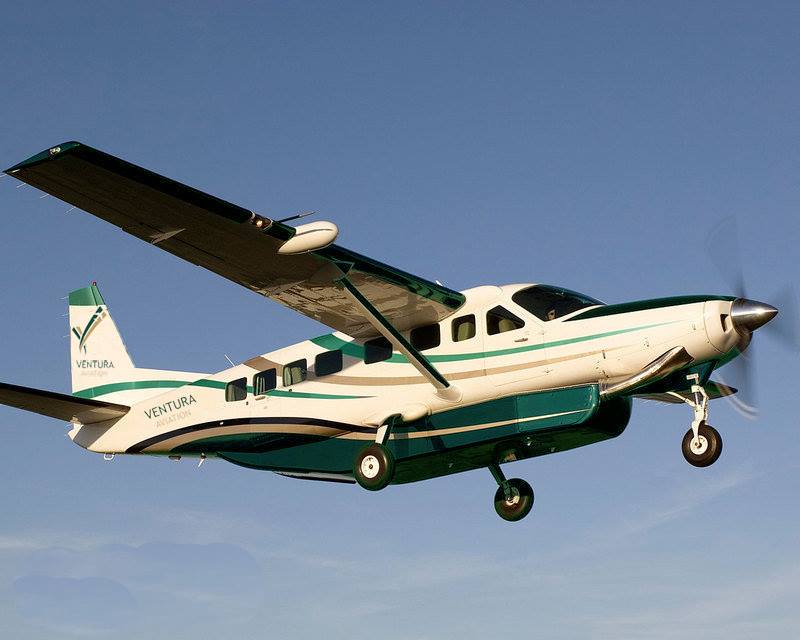 Surat: Ventura AirConnect, a Gujarat based airline company which operates intrastate flights today started its services on ambitious Surat-Amreli route and said that it would also begin multiple flights to Bhuj before this year's Rannotsav, a world famous festival in the desert of Kutch (Rann of Kutch) which was started by former Chief Minister Narendra Modi to promote tourism there.
A company spokesperson today said that the airline would also start flights to Shirdi from Surat, Ahmedabad and other places in Gujarat once the airport becomes operational there.
Meanwhile the airline started its flight services from Surat to Amreli on the occasion of Dusshera festival. For this daily to and fro flight the leaders from Amreli district, who are associated with the diamond and embroidery industries here, had pre-booked around 2,127 tickets for Diwali vacation period.
The airline which operates with two 9-seater Cessna Caravan aircraft, was earlier operating intrastate services in Madhya Pradesh. It had relaunched its services in Gujarat after change in ownership and getting the DGCA nod with the launch of Surat-Bhavnagar flight in June and the subsequent addition of flights from Surat to Ahmedabad, Rajkot and Kandla starting from July 1. It has announced to start flights between Porbandar and Rajkot from this month.
The airline has partnered with the Gujarat Government's Gujarat State Aviation Infrastructure Company Limited (GUJSAIL) to connect important destinations across Gujarat. For this, the company has signed a memorandum of understanding (MoU) with the State Government.
It currently operates among others on Surat-Bhavnagar, Surat-Rajkot, Surat-Kandla, Surat-Ahmedabad, Ahmedabad-Kandla routes. A consortium of four industrialists from Surat – Mr. Govindbhai Dholakiya (Shri RamKrishna Export), Mr. Laljibhai Patel (Dharmanandan Diamond), Mr. Savjibhai Dholakiya (Harikrishna Export) and Mr. Lavjibhai Daliya – Badshah (Avadh Group) now owns the company.
The spokesperson said that new routes started by the company will facilitate the people and they will get rid from time consuming road and rail travel. As per the agreement signed with the Gujarat Government, Ventura AirConnect will cover more cities in near future. In the coming days the company plans to connect other cities like Bhuj and Shirdi.
'Keeping in mind the rush of tourists during Rannotsav more and more flights from Ahmedabad, Surat and other places to Bhuj would be operated. Shirdi flight will also take off once the airport becomes operational there, the spokesperson said.
Ventura AirConnect was founded in 2010 as the first intrastate non-scheduled airline in India, providing air charter services within Madhya Pradesh. The airline was designed to connect the capital Bhopal with smaller cities throughout the state, as well as to facilitate tourism within Madhya Pradesh.
PTI