Modi-Key talks: NZ to 'contribute constructively' on NSG
October 26, 2016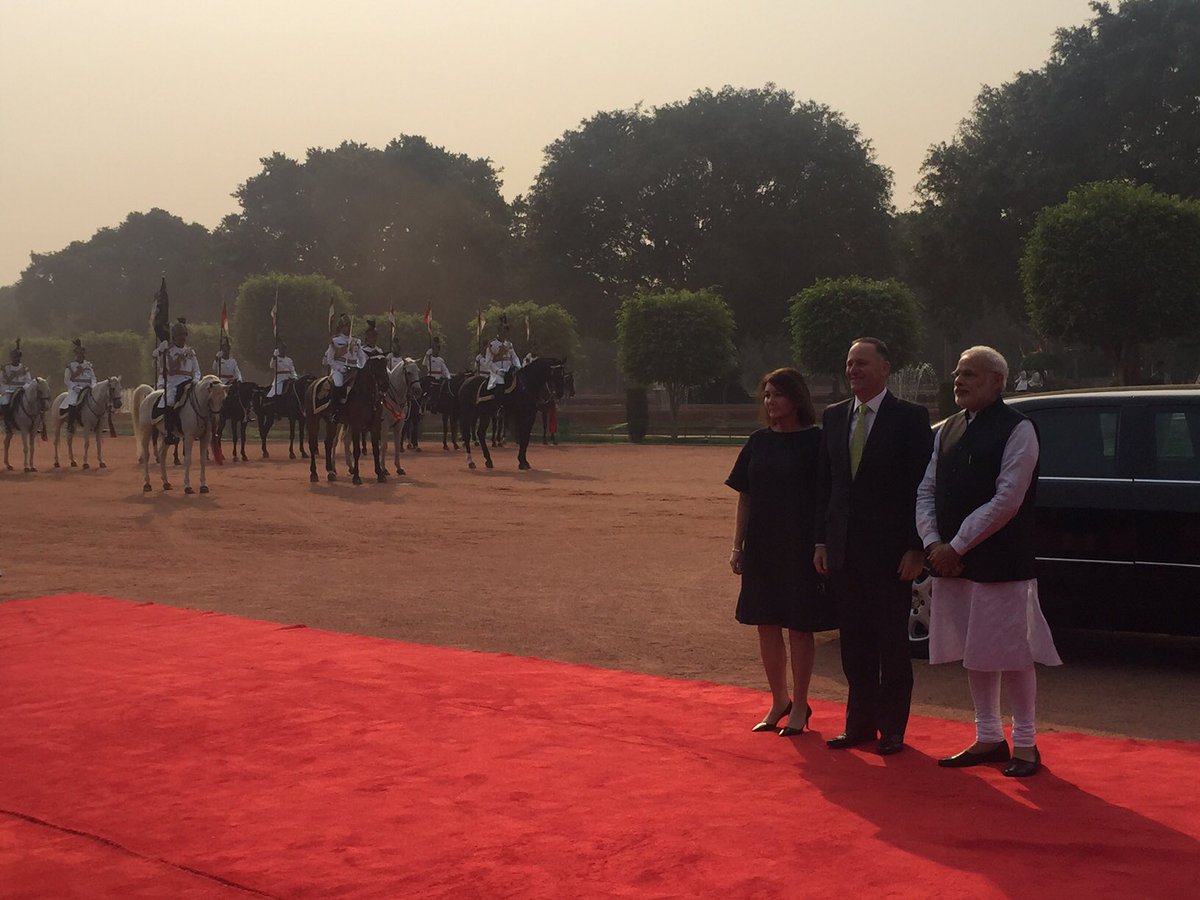 New Delhi: Without committing itself on India's NSG membership bid, New Zealand today said it would continue to "contribute constructively" to the process currently underway in the 48-nation grouping on the issue and work for an early decision.
This was conveyed by visiting Kiwi Prime Minister John Key after talks with his Indian counterpart Narendra Modi during which the two leaders agreed to strengthen ties in key areas of trade, defence and security.
After the "productive" talks between Modi and Key, the two sides inked three pacts including one pertaining to Avoidance of Double Taxation and the Prevention of Fiscal Evasion with respect to Taxes on Income and decided to establish Foreign Minister-level dialogue as well as exchanges on cyber issues.
Asserting that they had detailed and productive discussions on all aspects of the bilateral engagement and multilateral cooperation, Modi at a joint media event with Key said, "I am thankful to Prime Minister Key for New Zealand's constructive approach to the consideration of India's membership of the Nuclear Suppliers Group (NSG)."
There was no clear word of support on India's entry into NSG from the visiting leader, who only said, "New Zealand would continue to contribute constructively to the process currently underway in the NSG to consider India's membership."
Noting that they had a "detailed" discussion on India's NSG bid, Key also said, "New Zealand is committed to working with NSG members to reach a decision as soon as possible."
New Zealand acknowledged the "importance to India of it joining the NSG", a joint statement issued after the talks said, adding that India stressed that this would provide the predictability necessary for meeting India's clean energy goals in the context of the Paris agreements.
"We are encouraged by the discussions on the NSG issue.
New Zealand showed understanding of India's clean energy needs and the importance of predictability in global rules on nuclear commerce in enabling the expansion of nuclear energy in India," government sources said.
New Zealand was one of the countries that took the stand at the last NSG plenary in South Korea in June that no exception can be made in the case of India, a non-NPT country, while considering its membership bid of the elite group that regulates trade in nuclear material. At the plenary, despite strong US support, China had blocked India's bid on the ground that it was a not a signatory to the Nuclear Non- Proliferation Treaty (NPT).
On security and counter-terrorism ties, Modi said they have agreed to strengthen security and intelligence cooperation against terrorism and radicalisation, including in the domain of cyber security.
According to the joint statement, the two Prime Ministers agreed to enhance cooperation, bilaterally as well as in the framework of UN and especially in 1267 Committee, to combat the full spectrum of terrorist threats in all their forms and manifestations.
"They called for eliminating terrorist safe havens and infrastructure, disrupting terrorist networks and their financing, and stopping cross-border terrorism. Both sides called for the early adoption of the Comprehensive Convention on International Terrorism that would contribute to the further strengthening of the international counter-terrorism legal framework," it added.
Asserting that trade and investment ties were one of the key areas during the talks, Modi said they recognised the need for greater economic engagement in order to effectively respond to the growing uncertainties in the global economy.
It was agreed that expanding business and commercial ties should continue to be one of the priority items of the partnership, Modi said, adding that the large business delegation accompanying Prime Minister Key will witness firsthand the investment opportunities on offer in India's growth story.
"We also agreed that actions by both governments should also promote greater business connectivity, including through movement of skilled professionals, between our two economies and societies.
"In this regard, we have agreed to continue to work closely towards an early conclusion of a balanced and mutually beneficial Comprehensive Economic Cooperation Agreement," he said.
On regional issues, the two sides have agreed to enhance cooperation, including in the East Asia Summit process.
Noting that reform of international governance institutions is a shared priority for both of them, Modi said, "We are thankful for New Zealand's support to India joining a reformed UN Security Council as a permanent member.
"As we make our own contribution to the developmental efforts of the Pacific Island countries, we will continue to consult closely with New Zealand to complement and supplement each other's efforts." PTI