First heart transplant surgery in Gujarat successful: Doctors at CIMS hospital in Ahmedabad
December 19, 2016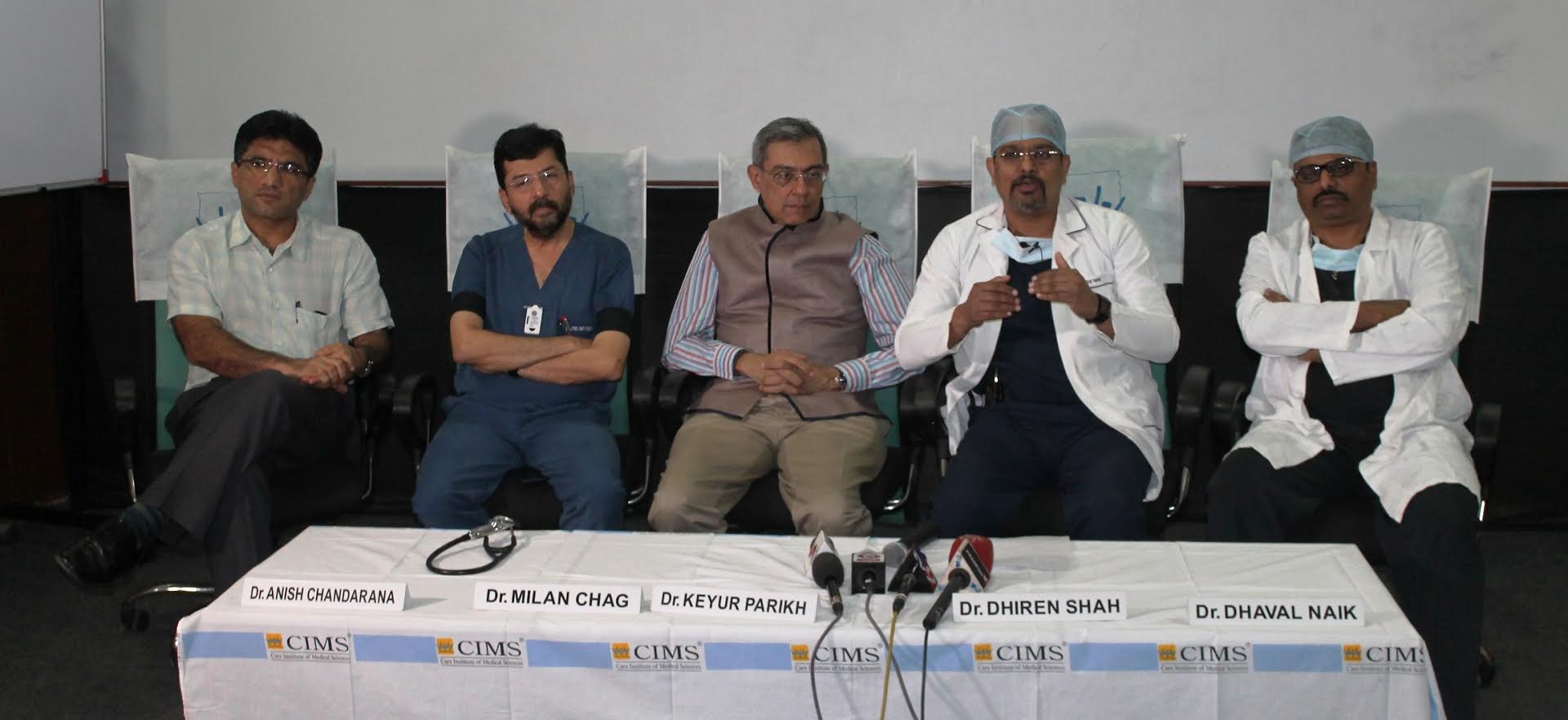 Ahmedabad: First heart transplant in Gujarat has been successful today, said doctors at Ahmedabad based CIMS hospital in a media interaction.
"CIMS Hospitals Ahmedabad today achieved one of the rare feat by doing the 1st heart transplant surgery in Gujarat. The heart was shifted from Bhavnagar to Ahmedabad in a record time of 82 minutes. The surgery was performed a team led by Dr. Dhiren Shah along with a team of medical experts at CIMS Hospital. The recipient was 49 year-old patient from Jamnagar," said the statement by hospital.
"The donor was 37 year-old male from Chorvadala village of Bhavnagar district. The donor was declared brain dead after he met with a road accident on Saturday night. His family specially his brother came forward to donate his organ. A special green corridor of 6 minutes 22 seconds was made in Bhavnagar. A green corridor of 14 minutes was made in Ahmedabad. The heart was harvested today at 8:16 in the morning. The whole process could be successfully done with the help of police and support of the Home Minister Shree Pradeep Sinh Jadeja," the statement by hospital further said.
Sharing more on the accomplishment, Cardio Thoracic Surgeon, Dr. Dhiren Shah said "the complexity of heart transplantation makes it very critical but our cardio experts at CIMS hospital made the dream come true today. The heart transplantation surgery was a success as the patient responded well to the treatment and is now recovering in ICU".
"The recipient from Jamnagar was suffering from 'Ischameic Dialated Cardio Myopathy' and the only treatment option available for him was a heart transplant. The patient was in hospital for last 15 days. He was put on ventilator and heart support system. Now with the transplant he will be able to lead a normal life," said Dr. Milan Chag, MD and Heart Failure and Transplant Cardiologist at CIMS Hospital.
The team of doctors who were in the heart transplant surgery included Dr. Dhiren Shah, Dr. Dhaval Naik, Dr. Rahul Gandoli, Dr. Hemant Pathare, Dr. Manan Desai, Dr. Shaumak Shah and Dr. Milan Chag.
From interaction session between doctors and media persons:
– The patient who underwent heart transplant operation today was hospitalized for last 15-20 days. He had history of two heart attacks earlier. For last 15 days he was on ventilator with the help of balloon pump. His pumping was hardly 10-15%. Muscles had gone weak. Planting pacemaker would cost him Rs 10-15 lakh and there was no guarantee, how long he may live if pacemaker is planted. Only transplant was the way out for him. He was awaiting matched group heart for transplant. There were two occasions when donors were found, but in one case, blood group failed to match while in other case, donor was old-age person with not perfectly functioning heart.
– At 9 pm yesterday, Dr. Kabaria who is neurosurgeon in Bhavnagar informed us that there was a 37-year old brain dead road accident victim patient with no recovery chance. After his family's consent for organ donation and legal procedures, a team of doctors at CIMS decided to leave for Bhavnagar through chartered flight. The doctors left CIMS at around 12 in midnight and reached Bhavnagar at around 3.00 am. While heart was taken for transplant at CIMS, kidney and lever were taken for Kidney hospital in Ahmedabad. Retrieval time as 8.16 am. Ahmedabad was reached in 82 minutes. Time-duration was important as heart had to be transplanted in 4 hours. In Bhavnagar, green corridor was created fro Sir T hospital to Airport. The distance was passed in net 6 minutes and 12 seconds. Flight from Bhavnagar to Ahmedabad took 48-50 minute time. Distance between airport to CIMS hospital is 25 km, but thanks to the Home Minister(Shri Pradipsinh Jadeja) and IG Police, the distance was passed in only 14 minutes. Surgery took 2.15 hours. Patient was doing well after surgery. He was awake by evening and his blood pressure was OK.
– While the hospital refused to disclose the names of the donor and the patient due to legal and ethical reasons, it confirmed that they belong to Muslim(donor) and Hindu(recipient) communities, respectively.
– CIMS has recently got license(30th of October) for organ transplant. It runs heart failure clinic already at its premises for some time. With heart transplant success, the hospital now can claim to be a full-scale solution provider for heart disease.
– First heart transplant at CIMS became possible, because a team of doctors from here went to America last year and spent lot of time to gain the skill for such operations(this was Dr. Dhiren Shah's first heart transplant operation in Gujarat but not first in his lifetime). Eco system for heart transplant operation is still developing in Gujarat. Heart transplant operation would need infrastructure and team work. It's not just surgeon's task, but a team effort that would make such operation successful.
– The main missing link in desired eco-system in Gujarat in this field(organ transplantation) is awareness. Everyone knows about dialyses and renal transplant when it comes to kidney treatment, but there's hardly any awareness about heart transplant. Then there has to be Tamil Nadu like organ sharing system including a common waiting list. There are five to six thousand patients in Gujarat as per an estimate who are awaiting heart transplant. At CIMS where patients come from across Gujarat, Madhya Pradesh and Rajasthan, there's a list of 400 patients who are awaiting heart transplant.
– The cost of this particular case of transplant in Ahmedabad has been Rs 25 lakh which is matching to cost of similar operation at other places in India. Rs 5 lakh cost involves only chartered flight operation. If there's more awareness on organ donation and local availability of matching organ, the cost can come down. There were years in last century when patients from Gujarat had to travel to Chennai and stay there for weeks for open heart surgery. Then private hospitals in Ahmedabad started offering such treatment at home front. People here saved on travel and stay costs. Same may happen with heart transplant in future.
– The procedure of shifting a heart for transplant is very complex. A solution(which is very costly, say Rs 12,000 per litre) is applied to heart to shut its pumping. Heart is placed in ice and preserved. It continues to live in frozen state.
Update: According to our local reporters, donor in this case at Bhavnagar has been identified as Asif Juneja while recipient is identified as Arjunbhai.
DeshGujarat