Vibrant Dhirubhai Ambani
December 28, 2016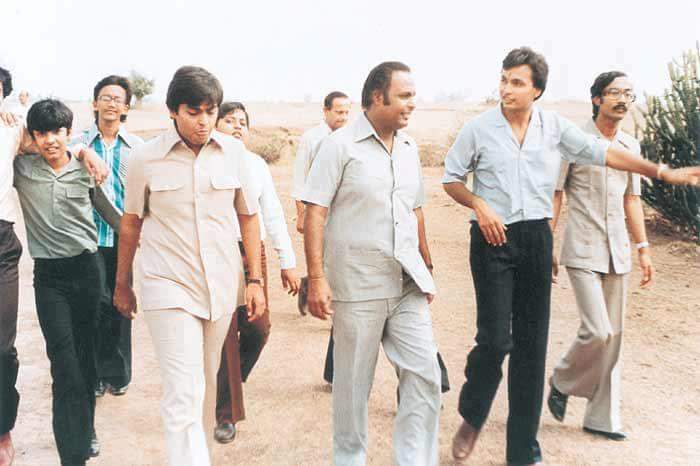 By Parimal Nathwani
As the 8th edition of Vibrant Gujarat Global Summit from January 10 to 13, 2017 is nearing, the word 'vibrant' fascinates me. It is because I am fortunate to have worked with an ever vibrant person Dhirubhai Ambani. One would never find him dull or drab, even in the adverse time.
The Vibrant Gujarat event always reminds me of Dhirubhai Ambani's vibrant ideas for implementation of projects and promotion of brands. He was the man who ensured in 2002 that the mobile telephone instrument in people's hands could bring about digital revolution to the country. He also ensured to make it affordable to the common man.
As a Gujarati, Dhirubhai knew the potential of the state to get developed as industry hub and this is why he set up his first textile manufacturing unit at Naroda in Ahmedabad. Today, Reliance Industries Ltd has the highest of its investment in Gujarat with the world's largest grassroot refinery at Jamnagar and petrochemical plants in Hazira near Surat and Dahej.
What could be better example of vibrant promotional ideas of Dhirubhai than 'Vimal' – the first textile brand of RIL, which ultimately became household name in India. It was not an easy walk in the park for brand Vimal and Dhirubhai. At that time, the textile market was dominated by well-established players and penetration into the market as the new player was a challenge. Even, the wholesalers in Ahmedabad and Mumbai were not ready to buy Vimal brand fabric as they were under threat from the textile tycoons, who were keen to oust the new competitor.
Reliance was staggering under the weight of a warehouse of unsold stocks of high-quality fabric, built up over four months. Undeterred as he was, he didn't halt the production even then. His rivals thought that they could crush this unknown entrant. But little did they know that he was made of sterner stuff than they thought and revelled in accepting challenges. Dhirubhai not only commanded his staff to fan out in the country and approach retailers offering stock without any advanced payment but he himself loaded bales of cloths in his car and started approaching retailers.
In such a hostile business environment Dhirubhai created a history by opening 100 exclusive Vimal stores across the country on a single day and rest is the history.
Instead of hiring an advertisement agency for branding and promotion of 'Vimal', Dhirubhai set up his own. Not only that, the same agency too overnight became well known at par with other leading advertising agencies because of its creativity and scale of operations.
Dhirubhai Ambani thereafter adopted and implemented strategic backward integration style for expansion of Reliance empire. Thus, he turned himself from a mere mill owner to an industry tycoon having world class manufacturing complexes in the area of petroleum and petrochemicals. His vision and journey from clothes to crude oil set new standards of project management, production capacities, marketing and technology utilization in the country. He set up industrial complexes in Gujarat and elsewhere in the country.
Dhirubhai always believed in doing something big and the result is RIL's industrial complexes at 14 locations across the country as bubbling, humming and the most vibrant as he himself was.
(Shri Parimal Nathwani is Group President, Corporate Affairs at Reliance Industries and Member of Parliament, Rajya Sabha.)