Ahmedabad Management Association felicitates 5 business achievers of city at Annual Awards
March 17, 2017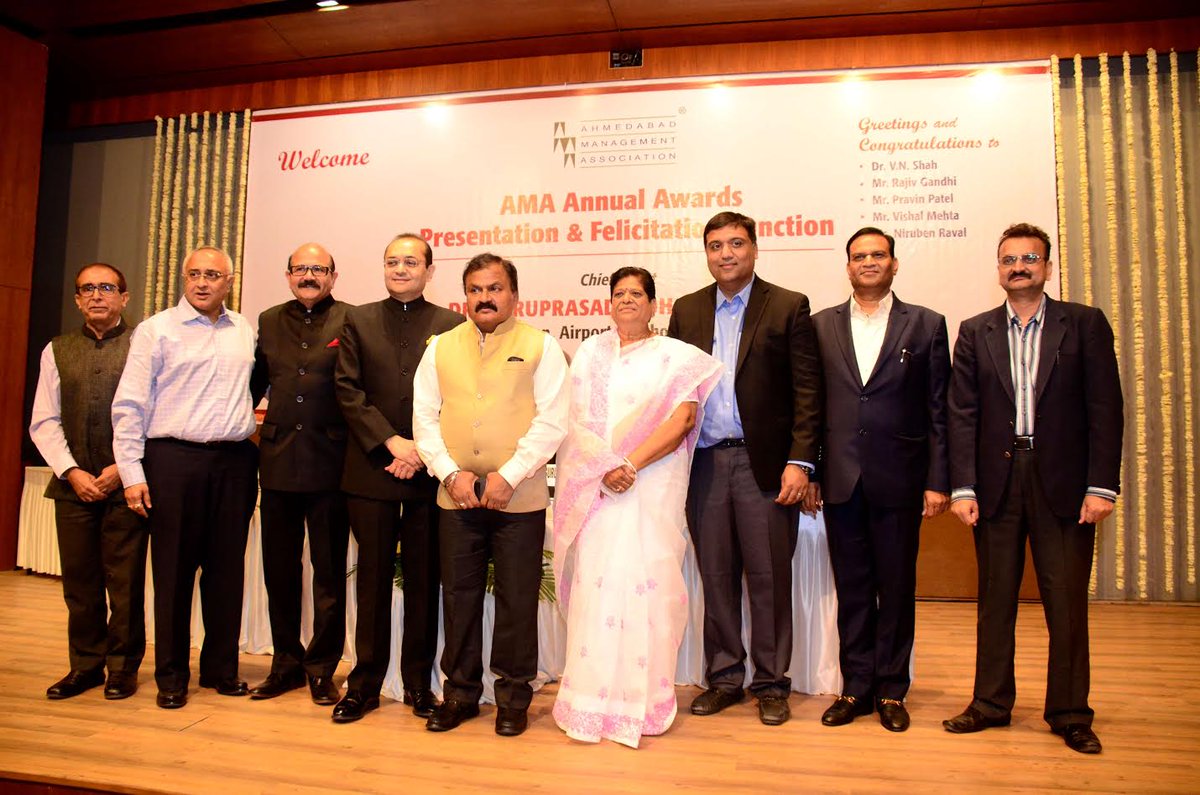 Ahmedabad: Ahmedabad Management Association (AMA) today honored and felicitated five top business luminaries of the city at the AMA Annual Awards.
Dr. Guruprasad Mohapatra (IAS), Chairman, Airports Authority of India was present as the Chief Guest on the occasion and delivered an address on "Aviation Infrastructure—Leadership Challenges."
Pravin Patel, Chairman & MD, HOF Furniture System Pvt. Ltd. won the AMA–Zydus Cadila Marketing Man of the Year Award (2015). He has extensively researched the domestic and international markets to understand the science of making ergonomic furniture. At a very early stage, he had identified the differences in the market segments, customized products and marketing strategies.
Dr. V.N. Shah, Director & Mentor, Zydus Hospitals, was recognized with the AMA-Metrochem Outstanding Manager of the Year Award (2015). A specialist in cardiovascular complications in diabetes, Shah has multiple roles as a founder, architect and medical director.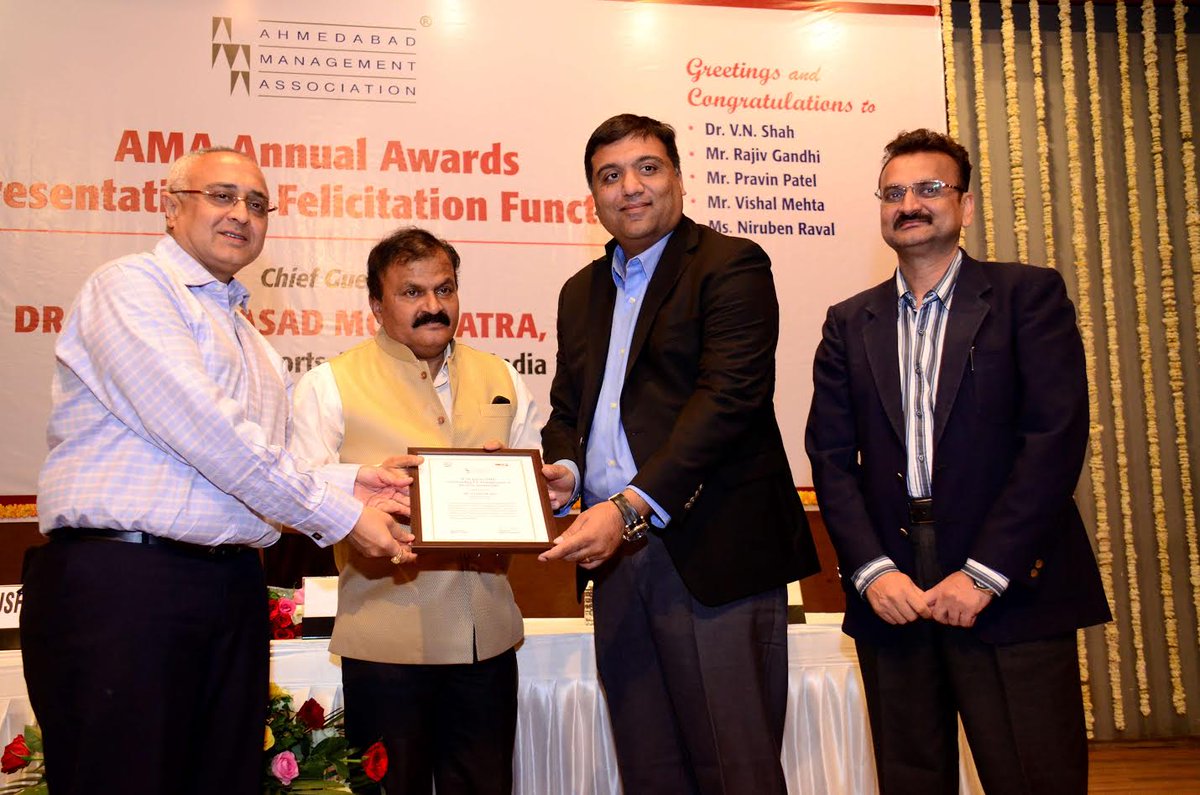 The AMA-Atlas Dyechem Outstanding Entrepreneur of the Year Award (2015) was given to Rajiv Gandhi, CEO & MD, Hester Biosciences Ltd. He spearheaded the growth in his company, from trading poultry health products and moving on to be Asia's largest single-location animal vaccine producing company.
The B.H. Jajoo-AMA Outstanding IT Entrepreneur of the Year Award 2015 went to Vishal Mehta, Managing Director, Infibeam Inc. Ltd. He has successfully steered the company for it to become one of the largest e-commerce company specializing in developing an integrated and synergistic e-commerce business model. The entrepreneurial seed was planted early in him and he gained his work experience from the best in the business like Dell and Amazon. He decided to build a common infrastructure platform with BuildaBazaar, at a time when many SMEs in India wanted to leverage an online presence but could not invest in their own server.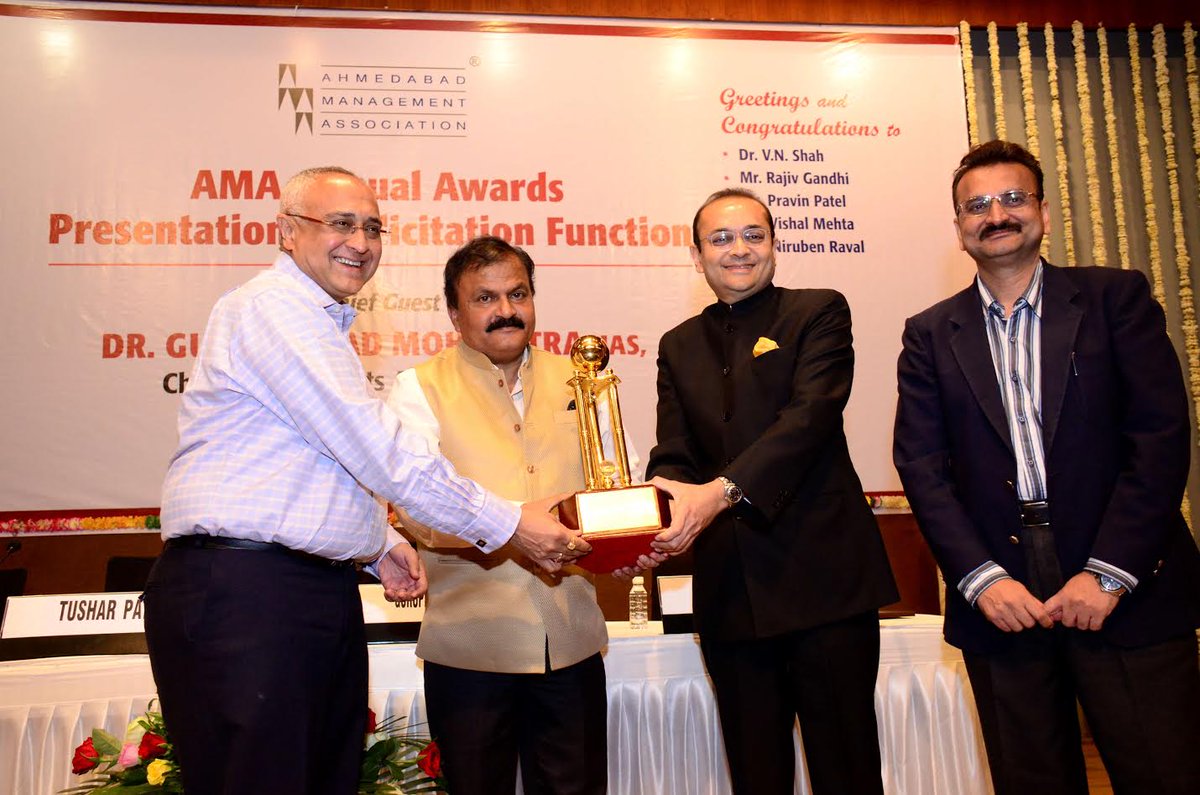 AMA today bestowed the Anubhai Chimanlal – AMA Nagarikta Puraskar 2015 on Niruben Raval, Founder & Director, Manthan Apang Kanya Seva Sankul. Improving the socio-economic lives of the differently-abled children has been her life's calling from the first. For 35 years, she has taken path-breaking initiatives to shape progressive social perspectives to develop the disabled young. Manthan Apang Kanya Seva Sankul serves as an education hub, a hostel and a healthcare center for the disabled girl child and began operations in 1991 on a wasteland in a remote village in Gandhinagar with 11 Polio-afflicted girls. Her untiring efforts led her to add basic facilities and improve hygiene standards. Niruben later went on to expand her horizon and trained herself to care for the mentally challenged and children with special abilities.
Every year, AMA Awards recognizes significant contributions made by an individual in managerial, entrepreneurial, IT and social roles. Their business concepts overcame challenges with a clear understanding of the market and its needs.
DeshGujarat