India on 'cusp of big change' under Modi,Mahagathbandhan attempt an 'alliance of fear': Ravishankar Prasad in Gujarat
June 09, 2017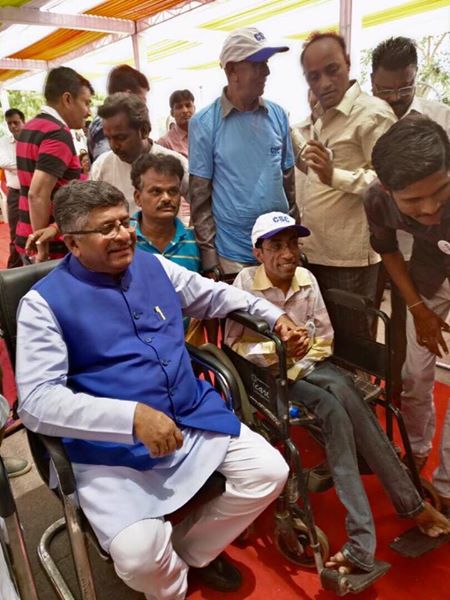 Ahmedabad: Union Minister and senior BJP leader Ravi Shankar Prasad today said that the Narendra Modi government at center has delivered well on all the fronts in last 3 years and the country was on the 'cusp of big change' and the attempt by opposition to make a 'Mahagathbandhan' (grand alliance) against it was nothing but an attempt of various suspects of corruption to create an 'alliance of fear'.
He also questioned the silence of three main women leaders of opposition viz Sonia Gandhi, Mayawati and Mamta Banerjee on anti women triple talaq issue.
Addressing a press conference here Prasad said that the opposition was trying to make a 'Mahagathbandhan' against the BJP and Modi, which was in fact an alliance of fear (Dar ka Gathbandhan). 'In this alliance of fear, most of the leaders were those who were suspects in various cases of corruption be it Gandhi family, Mulayam Singh , Mayawati, Mamta or Laluji (Lalu Yadav), who was a convict in a fodder scam case. They are fearful of the BJP government and Modi ji,' he said.
He said that the Congress party, which was facing defeat after defeat, was trying to spread lies about the performance of Modi government. 'BJP doesn't need any license from Congress as the institutions like UN, IMF and reputed credit rating agencies have all praised the performance of the government and predicted high growth rate for India. A recent RBI report has put the growth rate for the next year between 7.1 to 7.5%. FDI at $62 billion was the highest ever. Tax collection growth rate, which was the biggest indicator of the economy, has increased almost two fold from 9.8% in 2013-14 to 17.5 in 2016-17. The investment, income and tax payment has increased owing to structured reforms. The middlemen culture had ended and the government without a single charge of corruption, has become a government of probity and propriety.
Countering the opposition's claim about non-creation of employment opportunities, Prasad, who was in-charge minister of IT and Electronics departments too, said that the IT sector alone has created 6 lakh jobs in last 3 years. The common service centers have created 10 lakh opportunities across the country of which 10 thousand were in Gujarat. The Mudra Yojna had proved to be a big success and has created an estimated minimum of 3 crore opportunities. Under it 7.92 crore small business people have been distributed around Rs 4 lakh cores. 23 lakh people in Gujarat have been given over 14000 crore under the scheme. The rural development department had in last three years created 813 crores person days of job. 72 new mobile factories have been set up in India in last 3 years to produce 17 crore phones with 1.5 lakh direct and 3 lakh indirect jobs.
'Former PM Rajiv Gandhi used to say that one rupee sent from Delhi becomes 15 paise when it reaches the poor but now owing to digital and direct to benefit initiatives during Modi government 100 rupees sent to poor reaches them as Rs 100,' he said.
Taking a dig at Congress vice president Rahul Gandhi for his recent statement that he was studying Vedas, Upnishads and Geeta, Prasad said that it was friendly advise to him that he first must understand the gist of Geeta which says that one must do Karma. ' Without hard work only with the help of family connections one can't achieve anything. He must ponder as to why his party got only 7 assembly seats in UP from where Jawaharlal Nehru, Indira Gandhi, Rajiv Gandhi, Sanjay Gandhi, Sonia Gandhi and him used to contest elections,' he said.
The union Law minister also termed the triple talaq practice as unconstitutional and questioned why women leaders like Sonia Gandhi, Mamata Banerjee and Mayawati were not opposing it despite it being cruelty to the women folk. ' 22 Muslim countries including Bangladesh and Pakistan have either banned it or controlled it then why can't India as a secular country can do it. Sonia ji, Mamata ji and Mayawati Ji shout against BJP on even trifle issues but were not raising voice against it owing to vote bank politics,' he said adding that Sonia Gandhi and Rahul Gandhi must also clarify whether the statement of Kapil Sibbal about linking lord Ram to triple talaq was Congress party's stance too.
He also claimed that the demonetization has increased the size of digital economy. About the firing incident on farmers in MP, Prasad said that the state had the highest growth rate of 20% in Agriculture. opponents were trying to make it an issue for political gains. He admitted that despite many steps take for the benefit of farmers, it can't be said that everything was well for them. To a query he said that government was ready to listen to farmers' objections if there were any. He said that every state would decided about the farmer's loan waiver in the respective states. UP government did so as BJP was out of power for 15 years there and Maharashtra government has also assured about it with a package.
To yet another query about the law regarding cattle sale, he said that the government only wanted to stop the sell of cattle for butchering in the fairs and was not willing to regulated the food habits of the people of the country.
He also said that the government has decided to not to hold talk about Kashmir until violence ends there.
DeshGujarat