Dhirubhai Ambani: As Relevant Today As He Was In Past
July 06, 2017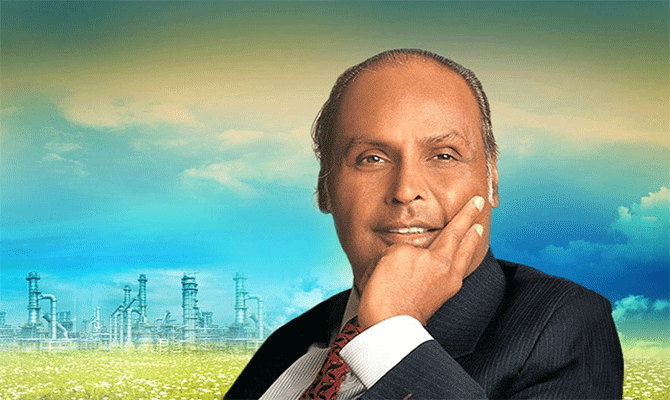 By Parimal Nathwani
There is hardly anyone who would deny Dhirubhai Ambani's contribution in India's industrial and economic development. A decade and half has passed since he left this world for heavenly abode, but his memories are alive in hearts of all those who knew him and who worked with him. His was such a towering personality that it was not possible to know him fully. I have revealed various aspects of his life and personality in my articles on different occasions. Currently, I am working on a compilation of all these articles and pictures of different stage of Dhirubhai's life in form of a book. It will be published in English, Hindi and Gujarati by renowned publishers of India.
Dhirubhai Ambani was 'Wealth Creator' in the truest sense, as he created wealth not only for himself and his family but also for the country. Reliance Industries Ltd's refinery and chemical complex at Jamnagar is one such example. It is outcome of Dhirubhai's vision to transform India from net importer of fuels to net exporter of petroleum products. Dhirubhai has found a place in hearts of millions of India Youth as their role model because of his entrepreneurship, vision, risk taking abilities and hard work. He dared to dream and fulfil his dreams within his lifetime. The book aims to take Dhirubhai's message to millions of Indians so that they could get inspiration from his life.
July 7, 2002 could be termed as a historic day in history of Gujarat Assembly. On this day, under leadership of the then Chief Minister of Gujarat and now our Hon'ble Prime Minister Shri Narendrabhai Modi, Gujarat Cabinet passed a condolence resolution to pay tribute to Dhirubhai Ambani and a special prayer meeting was organised in the Secretariat. The prayer meeting was attended by Shri Narendrabhai Modi and senior ministers and bureaucrats along with leader of the opposition party in the Gujarat Assembly and all of them unanimously praised and acknowledge Dhirubhai's contribution in development of Indian industry.
I have covered Shri Narendra Modi's speech during the prayer meeting on July 2, 2002 in a unique way. Once the book is released the readers would be able to know what existing Prime Minister thought of Dhirubhai and his role. Shri Narendrabhai said: Dhirubhai is difference between formal education and practical knowledge. One line can convey a lot about Dhirubhai's life and his working style.
'The One and Only…Dhirubhai' title has been selected after thorough brainstorming. Dhirubhai stands out among thousands of 'rags to riches' industrialists in India, who created their business empire from virtually nothing. This is because of his concern for the society, the State of Gujarat and India. Dhirubhai never deter from providing all help possible for relief and rescue operations in time of natural calamities be it cyclone, earthquake or flood. He always stood by the common man. Not only this, only a handful of people will know how keen he was and what efforts he made to take Narmada water to Saurashtra. When Indian sharemarket was in clutches of a handful of the rich, he paved the way for the middle class Indians to invest in the share market. He always ensured that along with growth of production and value of the company, the wealth of his investors should also increase. Chairman and Managing Director of Reliance Industries Ltd Shri Mukesh D. Ambani has indebted me by writing the preface of this book.
Dhirubhai Ambani was a real time hero and my idol and mentor. I am sure millions of readers across the country will get inspiration from his life to work hard and achieve success in their life.
(Shri Parimal Nathwani is Group President of Corporate Affairs at Reliance Industries Ltd and Member of Rajya Sabha.)