Modi meets Presidents of the Argentina, Mexico, Korea, PMs of UK, Vietnam, Italy and Norway
July 09, 2017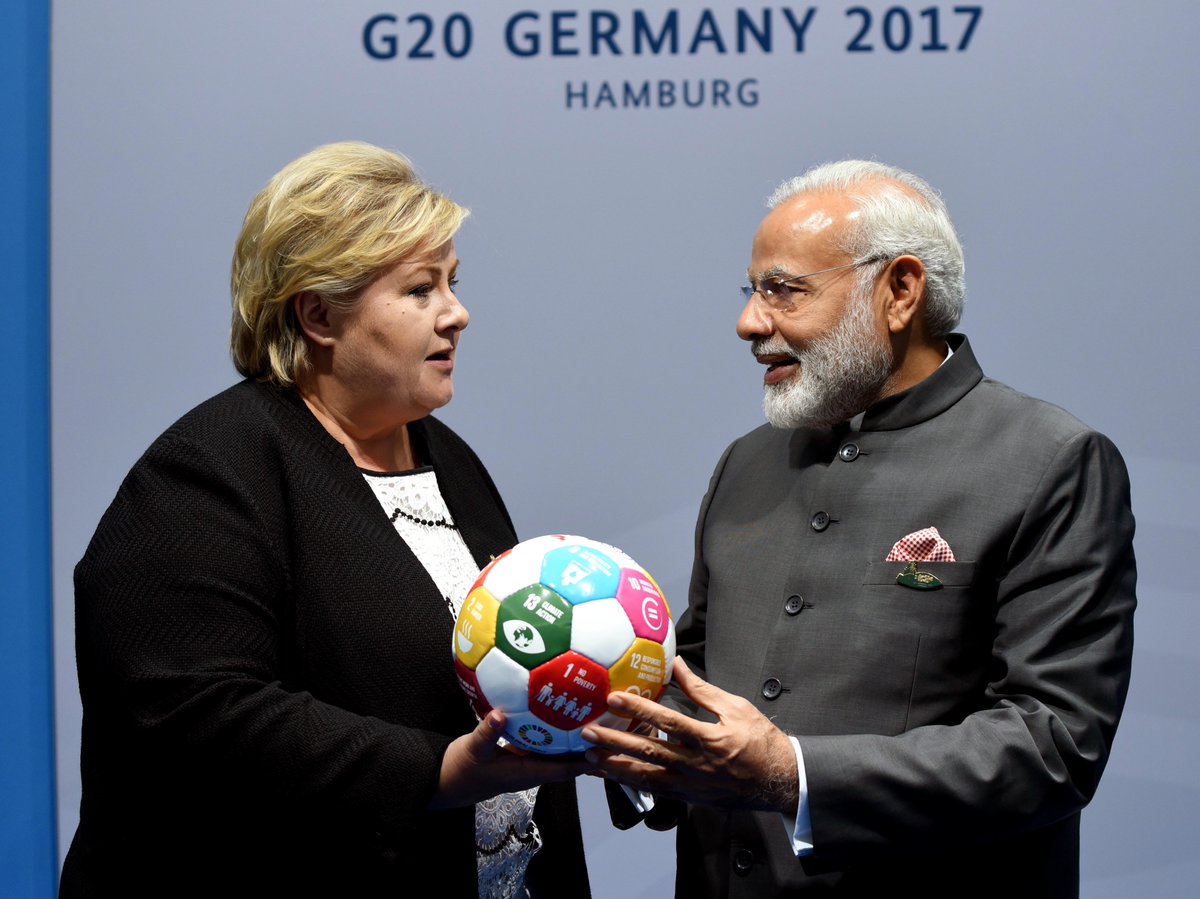 New Delhi: On the sidelines of the G 20 Summit in Hamburg, the Prime Minister met today the President of the Republic of Korea Mr Moon Jae-in. Prime Minister Modi extended felicitations in person to President Moon for his victory in Presidential elections. The President recalled the Prime Minister's congratulatory phone call and tweet in Korean language, which was warmly received by the people of South Korea. Both leaders expressed their commitment to further develop the special strategic partnership between India and South Korea, particularly through participation in programmes such as Make in India, Digital India, Start up India, et cetera. The Prime Minister invited President Moon to visit India at an early date. The invitation was accepted.
Prime Minister Modi's discussions with Prime Minister of Italy Mr Paolo Gentolini focused on promoting bilateral relations, particularly trade and investment and people-to-people ties. Prime Minister Modi invited Italy's participation in World Food India – the food processing exhibition to be held in India in November this year. The two leaders stressed the significance of promoting interaction between medium enterprises of the two countries for strengthening bilateral economic cooperation. The Prime Minister of Italy appreciated Indian investments in his country, including in industrial sector. The two leaders also discussed ways and means to work together for providing sustainable solutions to prevent climate change and promote development in Africa.
Prime Minister Modi and the Prime Minister of Norway Ms Erna Solberg discussed bilateral matters, especially strengthening of economic relations. Prime Minister Modi invited participation of Norwegian pension funds in the National Investment and Infrastructure Fund. The Prime Minister of Norway invited India to participate in the Oceans' Conference on the sidelines of UNGA. In a gesture symbolising cooperation for attainment of Sustainable Development Goals (SDG), Prime Minister Solberg presented to Prime Minister Modi, at the end of the meeting, a football with SDGs inscribed on it.
Prime Minister Modi also met the President of Mexico, Prime Minister of Vietnam, Prime Minister of England and President of Argentina.
Hamburg: As India works hard to ensure return of fugitive liquor baron Vijay Mallya, Prime Minister Narendra Modi today pressed upon his British counterpart Theresa May to ensure UK's cooperation to bring back economic offenders.
Mallya has been in the UK for months, escaping arrest warrants against him, while a court in London is also hearing a case regarding his return to India.
Modi today met May during a bilateral meeting on the sidelines of the G20 Summit here and sought UK's help in this regard.
Both leaders also talked about the complete range of India-UK ties.
In a tweet after the meeting, External Affairs Ministry Spokesperson Gopal Baglay said the Prime Minister asked for UK's "cooperation for return of escaped Indian economic offenders".
Mallya, who is wanted in India for Kingfisher Airlines' default on loans worth nearly Rs 9,000 crore, has been in the UK since March 2016.
In April, he had attended a central London police station for his arrest and was released on conditional bail a few hours later after providing a bail bond worth 650,000 pounds, assuring the court of abiding by all conditions associated with extradition proceedings, such as the surrender of his passport and a ban on him possessing any travel documents.
India and the UK have an Extradition Treaty, signed in 1992, but so far only one extradition has taken place under the arrangement – Samirbhai Vinubhai Patel, who was sent back to India last October to face trial in connection with his involvement in the post-Godhra riots of 2002.
"Prime Ministers @narendramodi and @theresa_may met and held talks on the complete range of India-UK ties," India's PMO said in a tweet.
US isolated as India,other G20 members back Paris climate pact

Hamburg: India today joined 18 other G20 members to strongly support the fight against global warming by terming the Paris climate deal as "irreversible", leaving the US, which walked out of the pact, isolated.
The two-day G20 Summit saw the Indian side making "significant contributions" on resolve to counter terrorism and boost global trade and investment.
Unfortunately, the US stand remains against the Paris pact but all other members have shown strong support on climate change, Merkel, the German Chancellor, said.
She said the communique clearly mentioned the US dissent and the position of all other members.
"Obviously it could not be a fully common position," Merkel told reporters.
"All G20 members except the US agree that the Paris agreement is irreversible," she said.
Trump in June announced that the US will withdraw from the Paris climate accord, saying the deal agreed by more than 190 nations unfairly benefited countries like India and China.
Trump's decision had drawn sharp criticism from international leaders, business groups and green activists.
The objective of the Paris Agreement is to prevent an increase in global average temperature and keep it well below 2 C.
The Agreement was adopted on December 12, 2015, by 195 parties to the United Nations Framework Convention on Climate Change (UNFCCC), replacing its predecessor Kyoto Protocol.
It was finally ratified on November 4, 2016.
In the G20 communique, the leaders said they remained committed to fighting corruption, including through international cooperation and technical assistance.
They also resolved to advance effective implementation of international standards on beneficial ownership in domestic and cross border context.
The leaders also called for completion of the IMF quota reforms and a new quota formula by 2019.
They acknowledged that the malicious use of information and communications technologies can endanger financial stability.
The leaders said that digitalisation offered opportunity for creating new jobs but there was a need to impart necessary skills for the future of work.
They also called for the removal of market distorting subsidies and sought global cooperation to tackle excess capacity in industrial sectors.
The leaders recognised that legitimate trade defence instruments and will promote favourable environment for trade and investment.
They also committed to keep markets open and focus on reciprocity, non-discrimination, fight protectionism and unfair trade practices.
The grouping agreed to meet next in Argentina in 2018, followed by Japan in 2019 and in Saudi Arabia in 2020.