108 services strike: Gujarat government toughens stand, invokes ESMA
July 13, 2017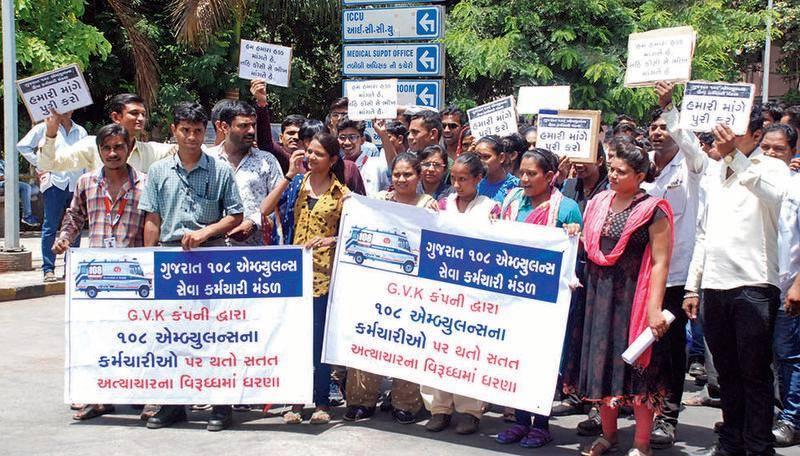 Gandhinagar/Surat: Gujarat government has invoked Essential Services Maintenance Act (ESMA) with regard to the strike of 108 emergency services asking the districts concerned to take action against those defying it and make necessary arrangements for smooth running of this free of cost ambulance facility.
Earlier Mrinister of State for Health Shanker Chaudhary had urged the agitating employees associated with the free of cost 108 emergency ambulance service to call off their strike on humanitarian grounds and hold talks to resolve the issues. Talking to newsmen Chaudhary said that the 108 services of Gujarat were lauded all over the country and such strike not only put the innocent patients in distress but also brings a bad name for such a noble and reputed service. 'The issues can be resolved through talks with the company management (GVK EMRI that runs it) and if the need be they can come to the government,' he said.
Later in an apparent toughening of stance the state government imposed ESMA to technically end the strike forcefully.
The government statement in this regard issued this evening said, "108 Emergency Response Service is a 24 x 7 free emergency service for medical emergencies which is provided through GVK EMRI (Emergency Management and Research Institute) throughout Gujarat. Presently the employees working in 108 emergency response service from Mehsana, Surat and Navsari are given all the benefits as per policy on timely basis. Although some employees from above said districts against whom steps have been taken for mischief or misbehave have instigated other innocent employees and have decided to make strike. Gujarat government has imposed Essential Service Maintenance Act (ESMA) in anticipation of a strike by employees of the 108 emergency response services across the state"
"In case of emergency the services were provided jointly by GVK EMRI and State Government with the efforts of other Government employees. Collectors from Mehsana, Surat and Navsari have made required proceedings and steps have also been taken under ESMA against breaking down the very essential services for people.," the statement further said.
Notably the strike, second in around two months, started from Surat late last night when the employees of 108 service put all the 19 ambulances in civil hospital there protesting the laying off of one Emergency Medical Technician (EMT) in Poona area of the city. Their counterparts in Valsad, Navsari, Mahesana, Patan, Gandhinagar and other places also have joined them putting their demands of job security and pay and other related issues. They were also peeved at the non-fulfillment of some of the assurances given to them by the management of the company during last strike.
The strike has caused inconvenience to many who could not avail the free of cost ambulance service owing to it.
Meanwhile action against some of the agitating employees under Essential Services Maintenance Act (ESMA) was initiated in Mahesana. Two of the employees in the district were reportedly transferred triggering the strike there.
DeshGujarat