Somnath Series: Historic visit by Sardar Patel, Gadgil, Jam Saheb that paved the way for reconstruction of ruined Somnath temple
August 27, 2017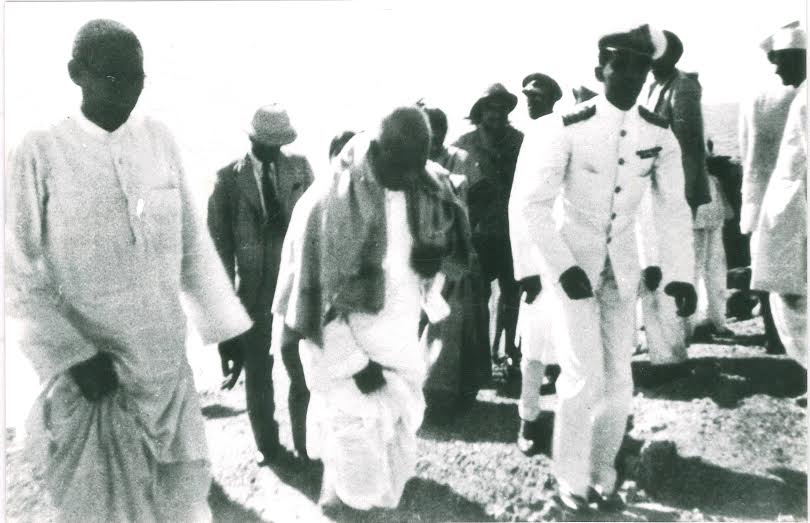 Somnath Series by Japan K Pathak

In this series, I intend to cater various articles on Somnath temple, covering the period between its last destruction and final reconstruction. To clear any doubts or to obtain more details, you can reach me at my email address japanpathak [at] deshgujarat [dot] com.
In the previous article which was the second piece in this series you read how Somnath temple continued to stay in ruined condition for a period of roughly two and half centuries post its last destruction by Aurangzeb  and how foreign/Indian visitors/travelers described it.  Here in this article we enter the decade of 1940s when the rule of Britishers and Nawab came to an end followed by historic visit by Sardar Patel, Gadgil, Jam Saheb and others during which a decision was taken for reconstruction of a grand new Somnath temple on the same site:
It is generally perceived that it was Sardar Patel who ideated the reconstruction of ruined Somnath temple.
But in at least two separate narrations, we find N.V. Gadgil saying that the idea of reconstruction of Somnath temple actually occurred in his mind and he then conveyed it to Sardar Patel which Sardar instantly approved.
Narhar Vishnu Gadgil(1896-1966), fondly known as Kakasaheb was Maharshtrian Chitpavan Brahmin who was cabinet colleague of Sardar. According to Mathai(in his book 'My Days with Nehru'), Gadgil was inducted as minister in Nehru cabinet on suggestion of Sardar.
Like Sardar, Gadgil too was a right-leaning leader of Congress.
After liberation of Junagadh from pro-Pakistan nawab regime,  Sardar Patel, a key person and guiding light behind the 'Arzi Hukumat' liberation movement and then Deputy Prime Minister, visited Junagadh and addressed a public meeting there. From Junagadh, Sardar left by train for Veraval Port and from there motored to Patan (Prabhas Patan or Somnath) and visited the ancient ruins of the Somnath temple on auspicious Diwali day.
Sardar's visit to Somnath was indicative. It is very much possible that he could have something in his mind already regarding the Somnath temple which was in ruined shape for around last 240 years since the last destruction that took place on Aurangzeb's order.
From Delhi, Sardar was accompanied by N.V. Gadgil, Minister for Works(public works to say precisely), Mines and Power, the States Ministry Secretary Mr. V.P. Menon and Mrs. Menon, Mr C.C. Desai, Joint Secretary of States' Ministry, Miss Maniben Patel, daughter of Sardar and Mr. Shanker who was Sardar's Secretary.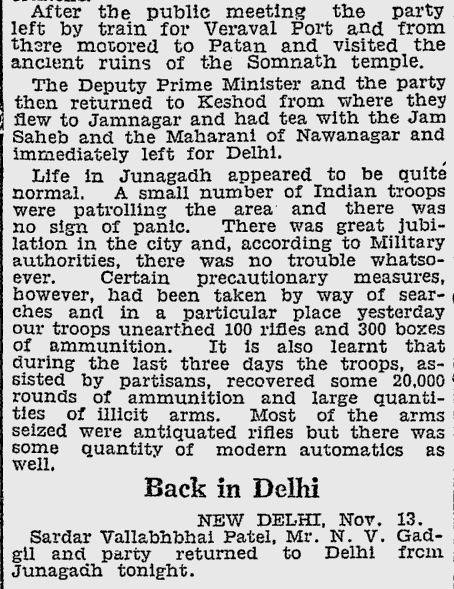 Jam Saheb of Jamnagar, Dhebarbhai, Shamaldas Gandhi and others had joined Sardar from within the State of Saurashtra.
Gadgil in his book 'Government from inside' giving description of Sardar's Somnath visit writes that after Junagadh had been liberated, on November 12, 1947 Sardar and he went to Somnath, the temple destroyed by the Muslims many centuries ago. They saw the remains of the ancient temple.
Gadgil further writes that there in the morning he thought of rebuilding the Somnath temple and while walking on the beach he mentioned this to the Sardar, who approved of it.
"With Sardar's consent, standing at the main entrance of the temple I announced Government of India's decision to rebuild the temple with intention to restore the ancient glory of the Somnath once was. I said our freedom was constructive and not destructive and he quoted the Bible, 'I have come to fulfill and not to destroyed.' Thousands of assembled devotees welcomed this announcement with acclamation. An hour later, Vallabhbhai made a similar announcement in the temple hall built by Devi Ahalyabai Holkar. A million rupees were promised on the spot and what is more significant, the idea of a federated Saurashtra State was born. The Jamsaheb of Navanagar negotiated with Sardar and within two months the State of Saurashtra was constituted with the merger of 342 states of various sizes. Thus I had the good fortune of having nursed the birth of Saurashtra. The Mahatma was very happy. The hard headed Hindu Princes were moved by the joyous cry of 'Hail Somnath' (Jai Somnath) and joined the new State.Thus, to me this historic event had a spiritual background," Gadgil's description reads.
Munshi's narration: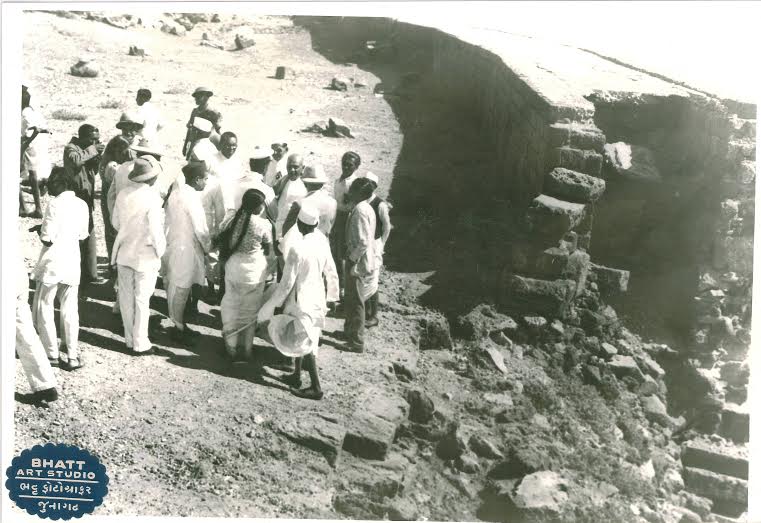 Another description on Sardar Patel's Somnath visit is given by Kanaiyalal Munshi(in his book Somanatha – The Shrine Eternal) – one of four key persons (other three – Sardar Patel, Jam Saheb and NV Gadgil) who made Somnath reconstruction possible. Munshi was not part of Sardar's historic visit to Somnath. Munshi's narration on Sardar's visit appears to be based on what he gathered from Jam Saheb and Gadgil.
Munshi narrates the background of visit and the visit itself:
While Sardar Vallabhbhai Patel and myself were sitting in his house at night in Delhi, a telephone message was received from Buch that the Dewan of the Nawab had invited the Indian Army into Junagadh.
When he finished the telephone conversion, his face was beaming. He told me what the message was and smiled.
My first thought, I expressed in these words: "So it is Jay Somnatha".
Next month, Sardar, accompanied by Jam Saheb and Kakasaheb Gadgil, went to Junagarh on November 12, 1947 the Diwali Day.
Jam Saheb told me his impressions. He accompanied the Sardar to the temple premises.
"We then went down the steps to the sea. Sardar then took some water from the sea in his hands. He said to me: 'My ambition is fulfilled'.
We silently returned and entered the temple. All his worries were gone and a new light was reflected on Sardar's face."
"We went," writes Kakasaheb(Gadgil) "to Junagadh, from where we went to Veraval and on Kartik Sud 1st, the New Year day of Samvat 2004, we visited Somnath".
"We saw the temple. While Sardar and I were having a little walk on the beach, I said to Sardar: 'I think the Government of India ought to re-build this temple.'
"He said: 'well, go ahead.'
"Then we two and the Jam Saheb came to the temple and there in the presence of about 500 people, I announced: 'Government of India have decided to re-build this temple and install the deity.'
'This Government has come to fulfill and not to destroy. The age of reconstruction is now on.'
"Immediately after this, the Jam Saheb announced a donation of one lakh of rupees. Fifteen minutes later, a huge public meeting was held in the Ahalya Bai Temple where Sardar in his speech, said: 'On this auspicious day of the new year, we have decided that Somanatha should be reconstructed. You, people of Saurashtra, should do your best. This is a holy task in which all should participate."
Jam Saheb gave the first donation of one lakh rupee for the reconstruction. Samaldas Gandhi representing the Junagadh administration followed with Rs 51,000.
That visit of Sardar in his own words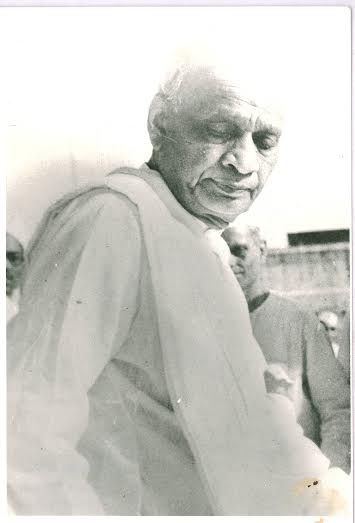 Sardar himself spoke about his November 1947 visit to Somnath in his address at Jamnagar on 22nd January 1949(as per the book 'This was Sardar – the commemorative volume 3').
Sardar said: "Last year, when I came to Saurashtra, I went to Somnath. I was then accompanied by the Jam Saheb and Shri Gadgil. When we saw the ruined temple of Somnath and walked on those sacred precincts and surveyed that historic and religious place, the vision of the past spread itself before us. We then resolved to renovate its ancient glory. The Jam Saheb contributed a lakh of rupees. Samaldas on behalf of the Provisional Government, contributed another fifty thousand rupees. But to implement our decision, we felt it necessary to take expert opinion. We consulted the Archaeological Department as also Shri Gadgil's engineers and architects. We also sought advice of the elderly people of Junagadh."
Poetic touches to Sardar's that visit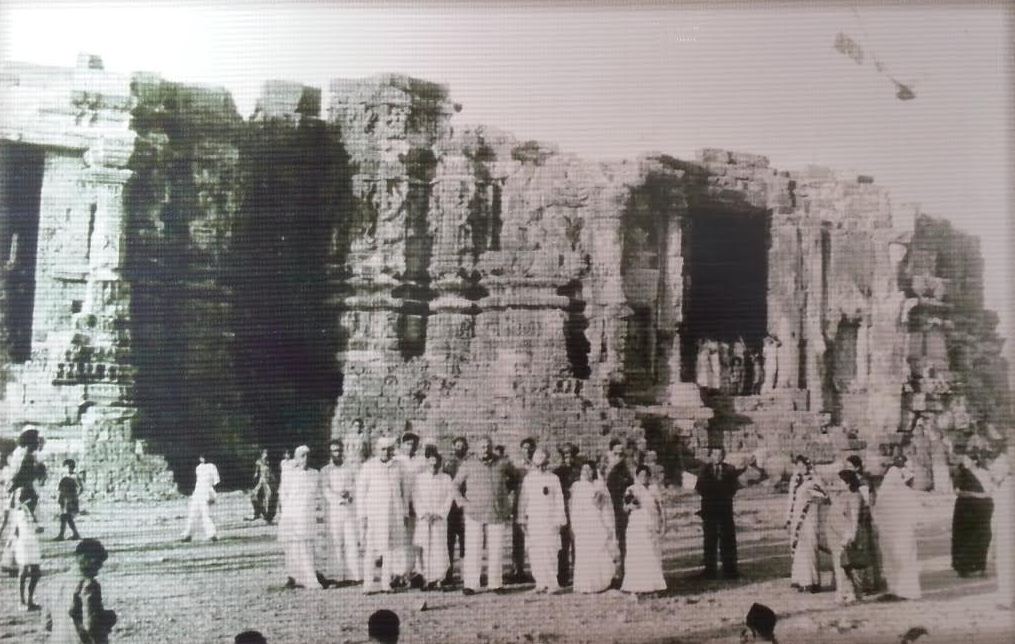 Descriptions mentioned above are of historic value. Some other descriptions published in later dates by various authors had been bit poetic.
In his article, Jethalal Joshi gave description of Sardar's Somnath visit which gave birth to belief that Sardar took sea water in his hand and took pledge for reconstruction of destructed Somnath temple.
In the book 'This was Sardar – The Commemorative Volume', Joshi said: 'From Junagadh, Sardar went to Somnath. On seeing the highly dilapidated state of Somnath temple, Sardar's heart was literally moved to tears. A century or two ago, this temple had fallen a pray to the wrath of some fanatics who had desecrated the shrine and uprooted its pillars. This was indeed a very pitiable sight of one of the most pristine and famous Hindu temples. After exchanging in private a word or two with the Jam Saheb, Sardar went to the sea-shore. He took a draughtful of sea-water in his hand and pouring it ceremonially on the earth, he spoke in low but firm voice that this temple would be renovated and would have its glory again. With lightning speed, this news reached far and wide in the country and it gave ecstatic delight to the millions of countrymen.'
Then there's another Gujarati book 'Sorathni Lokkrantina Vahen anne Vamal', authored by Ratubhai Adani is in two parts.  Sardar Patel's Somnath visit is mentioned in this book on page 346-348.
A relevant part of the book reads(translated to English):
Much awaited moment arrived. A brave person whose presence was eagerly awaited actually arrived. Each stone of deeply pained temple and each particle of the soil dressed smile. Sardar Saheb went in front of the ruined temple. The history of destruction of Somnath through last ten centuries possibly was visualized by him. He might have identified what was in hearts of crores of devotees. He might have taken a pledge inside.
After standing there for some moments in silence, Sardar saheb in serious posture stepped ahead toward roaring sea located just next to the ruined structure of Somnath temple. He took water from the sea in his palm and paid tribute. He announced pledge of reconstruction of Somnath. In a big presence of people at new Somnath campus he announced, "on this auspicious day of new year, we have taken a decision to rebuild Bhagwan Somnath's temple. The people of Saurashtra should do all possible for this. In this holy task each person should make contribution as per his capacity."
A wave of pleasure was seen in reaction to Sardar Saheb's this announcement. Slogans were chanted hailing Somnath and Sardar Saheb. Devotees had tears in their eyes. Union minister for Works, Kaka Saheb Gadgil assured all help for skilled workers and construction material in this task of reconstruction. Jam Saheb announced Rs 1 lakh donation for this cause. Shamalbhai Gandhi announced contribution of Rs 51,000 from people of Sorath on behalf of Aarzi Hukumat. Sardar Saheb in true sense celebrated victory of Sorath and new year festival of Vikram Samvat 2004 and left Sorath.
Lakshmi Narayan Mandir reopens
One more Gujarati book, 'Junagadhni Lokkranti' by Ratubhai Kothari mentions that Lakshmi Narayan Mandir located close to Shri Krishna Dehotsarg place also was reopened on the same day on which Sardar paid visit to Somnath. The temple's gates were closed by Nawab regime for last 56 years. Heavy rush was witnessed for darshan here on its reopening. The surrounding area of that temple was covered by bushes and grass as in case of any abandoned building. It was cleaned.
That factually incorrect portion of film Sardar
(Watch it after 1:45:13 hour/minute/second mark)
All these examples are from various books. But the most recent narration of Sardar's Somnath visit was displayed not in text but in visual.
The film 'Sardar' was overall a good effort. I always recommend others to watch it. But with some study on Sardar's life, I no more believe that the film portrayed totally authentic version of historical affairs.
There's a scene in this film which shows Sardar Patel's Somnath visit.
In this scene, some person accompanying Sardar Patel asks him: Sardar sahab, If the temple is constructed here(actually rebuilt here), what shall happen to Ayodhya, Kashi and Mathura?
In his reply, Sardar Patel tells that gentleman: see, to build a temple here,  demolition of someone's mosque is not required. Ayodhya, Kashi, Mathura is different matter altogether. The issue there should be resolved without hurting mutual sentiments and through mutual dialogue and understanding.
After going through several accounts that provide authentic descriptions of Sardar Patel's visit to ruined temple of Somnath, I can confirm that the dialogue described above in this scene of film 'Sardar' appears to be fictitious.
Sardar's remark over Ayodhya during Somnath visit as shown in the film Sardar has not been mentioned anywhere in any description before the film.
The screenplay of 'Sardar' the film was written by noted playwrighter Vijay Tendulkar, but he's not responsible for this addition to Somnath visit scene.
Vijay Tendulkar had got his original screenplay of film Sardar published in a book, titled as 'The last days of Sardar Patel'.
In the original screenplay of film 'Sardar' which is documented in Vijay Tendulkar's book, Somnath is not mentioned at all which indicates that the sequence in the film featuring Sardar Patel's visit to Somnath was not written by Vijay Tendulkar, as it was not part of the original screenplay written by him. It appears that Director Ketan Mehta added the Somnath scene to the movie (possibly as per his own judgement or may be on the advise of Shri H.M.Patel – the man behind the film project). Addition of Sardar's  Somnath visit to the film was a good decision and omission of this important historic event by Tendulkar in his screenplay was surprising, but bringing Ayodhya to Somnath scene is something that keeps me wondering about purity of facts in this film, which otherwise is my one of most favorite films.
DeshGujarat