Terror accused held by Gujarat ATS was staffer in 'Ahmed Patel run hospital', let Congress give answer who recruited him: Rupani
October 27, 2017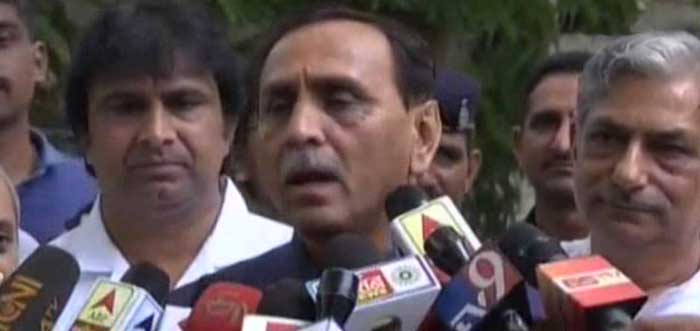 Gandhinagar: Gujarat Chief Minister Vijay Rupani today held a press conference here and asked for clarification from Ahmed Patel and Rahul Gandhi over two terror suspects arrested by State's Anti Terrorist Squad(ATS). Rupani said terror suspect was working in a hospital run by Ahmed Patel.
It should be mentioned here that terror suspect Timbarwala(or Stimarwala) Mohammad Qasim was arrested by ATS two days ago. He was working as echo technician in Sardar Patel Hospital and Heart Institute in Bharuch. Top Gujarat Congress leader and Rajya Sabha member from the State Ahmed Patel was associated with the hospital.
Chief Minister Rupani in a press conference held today evening said,'I congratulate the Anti Terrorist Squad(ATS) for nabbing two terrorists timely. If they were not arrested, their motive was to attack Hindu and Jew religious places and escape abroad with passport, visa etc ready. There could be a great calamity and danger for national security.'
'These two accused were working in hospital run by Congress leader Ahmed Patel who was Trustee there. He had called then President Pranab Mukherjee and had organized inauguration event of the hospital. TV channels are showing video clipings of Ahmed Patel as host of inauguration of this hospital.'
'Resignations of these two employees were taken just two days ago. Whether he was aware or not, he should clarify. Congress leader Rahul Gandhi should also make clarification. Doubts are raised by people and we demand Ahmed Patel should resign and Congress and Ahmed Patel should issue clarification,'said Rupani.
Rupani said, 'Question arises that this hospital is managed by Congress leader Ahmed Patel. What are the relations of Congress leaders with these accused. Why they were given job. Why their resignations were taken just two days ahead of their arrests. This is doubtful and Congress should give answer of these questions. Ahmed Patel was Trustee of this hospital. He resigned after change of power in Centre. In 2016 he brought then President Pranab Mukherjee for inauguration of this hospital. He was the host of this function and was on stage. Why he was doing this? It means resignation is technical and the hospital was manged by Ahmed Patel. And from same hospital, the accused are arrested and their resignations were taken just twow days ago. If these terrorists were not arrested timely, they were going to attack Hindu priests, they were going to attack Jewish religious place. Their passport, visa etc was ready and they were going to flee abroad. What could happen if they were not arrested timely. Congress should give answer and Ahmedbhai should give clarification. Even if this was a case of negliciancy, there was danger against national security. We demand resignation of Ahmed Patel.'
'Ahmed Patel stepped down from the hospital in the end of 2014. But in 2016, when the hospital was inaugurated, Ahmed Patel was host of the event. He had called then President to this function and attended it. Ahmed Patel's resignation was only technical. He was associated with the hospital. He can't escape by saying that he was not running the hospital anymore,' Rupani further said.
'Who recruited them? Since when these activities were going on? Why their resignation was sought two days ago?' Rupani asked.
Meanwhile Ahmed Patel in series of tweets said: 'My party and I appreciate the ATS's effort to nab the two terrorists. I demand strict and speedy action against them. The allegations put forward by BJP are completely baseless. We request that matters of national security not be politicized keeping elections in mind. Let's not divide peace loving Gujaratis while fighting terrorism.'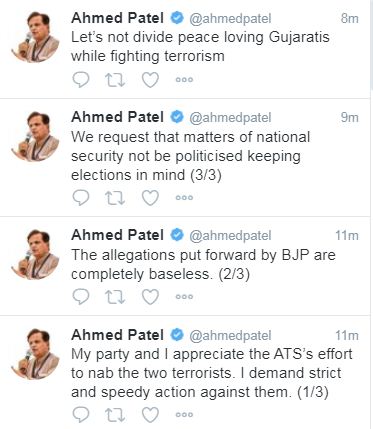 Sardar Patel hospital in a statement said the accused had volunteerily submitted his resignation as echo technician on October 4. The management accepted his resignation and relived him on October 24 from job. Ahmed Patel or none other member of his family is associated with the trust that runs this hospital.
State Congress president Bharatsinh Solanki also met media to say that Ahmed Patel was not involved in either recruitment or management of the hospital. Solanki said Ahmed Patel has no role to play in this hospital as he is not Trustee there. BJP is in power in State and Centre. They can probe the matter.
In Delhi, Congress leader Randeep Surjewala said, 'the accused held by ATS was working in said charitable hospital for five months. He was among 150 staffers. He submitted his resignation after which Gujarat ATS arrested him for ISIS link. He was to attack Jewish Synagogue in Ahmedabad.  Rupani is in order to conceal his failure making such allegations against Congress. '
Joining war, BJP leader and union minister Prakash Javdekar said Ahmed Patel was associated with the hospital as Trustee for years. Resignation of terror accused from the hospital was shown after his arrest.
Sardar Patel Hospital & Heart Institute statement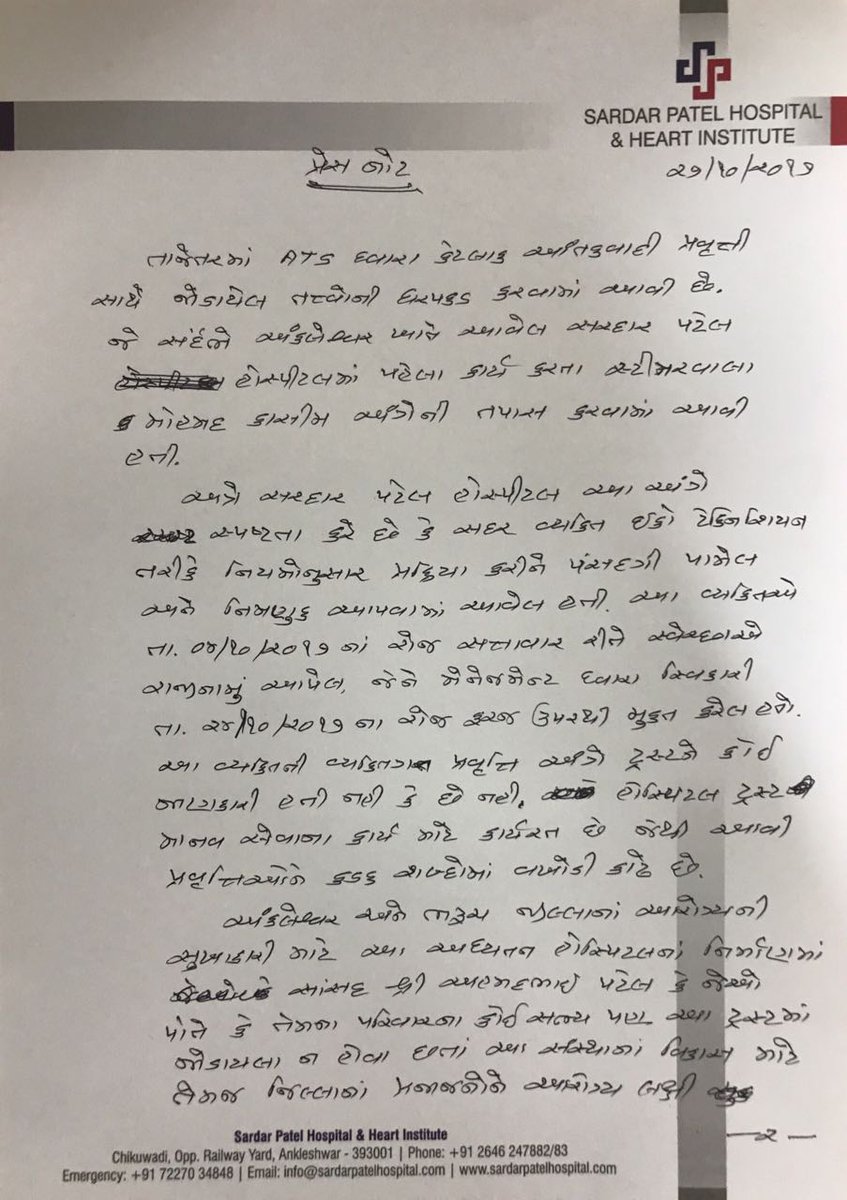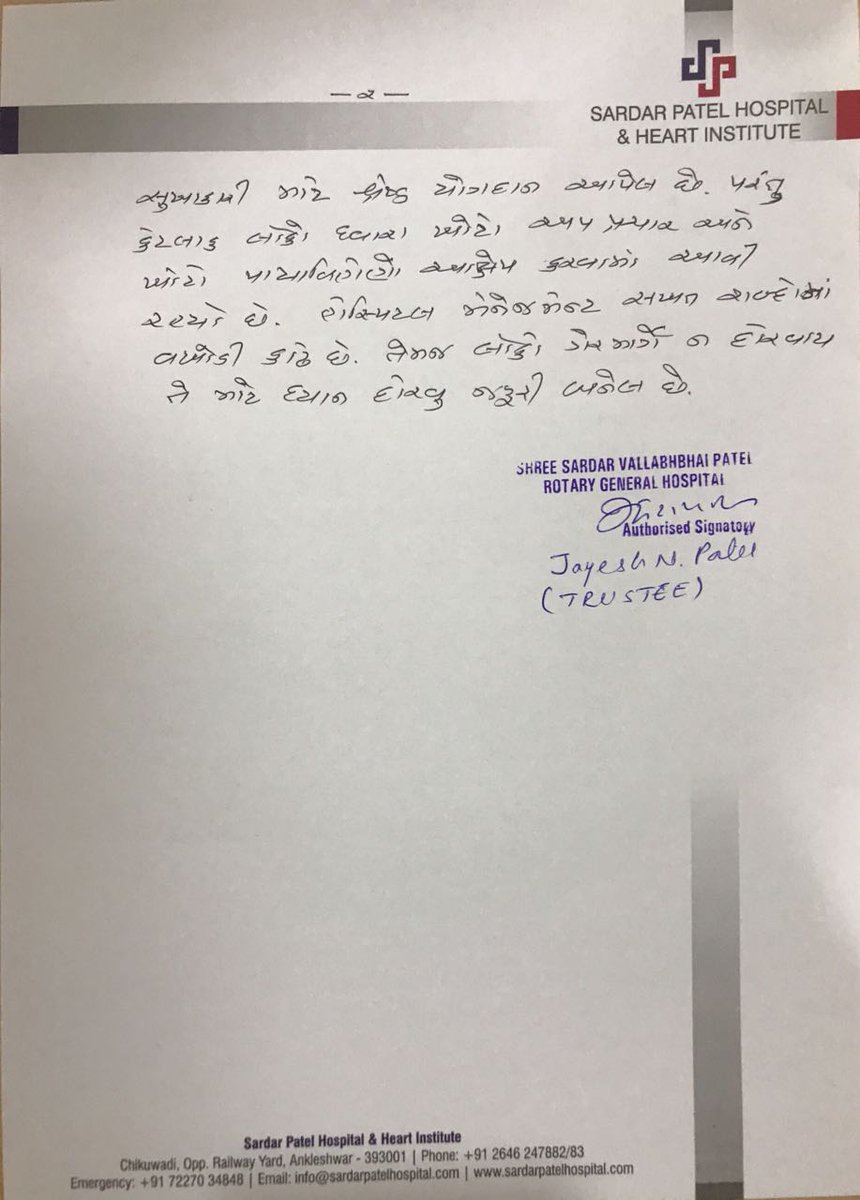 DeshGujarat