My Rajyasabha victory still pinches BJP: Ahmed Patel
November 01, 2017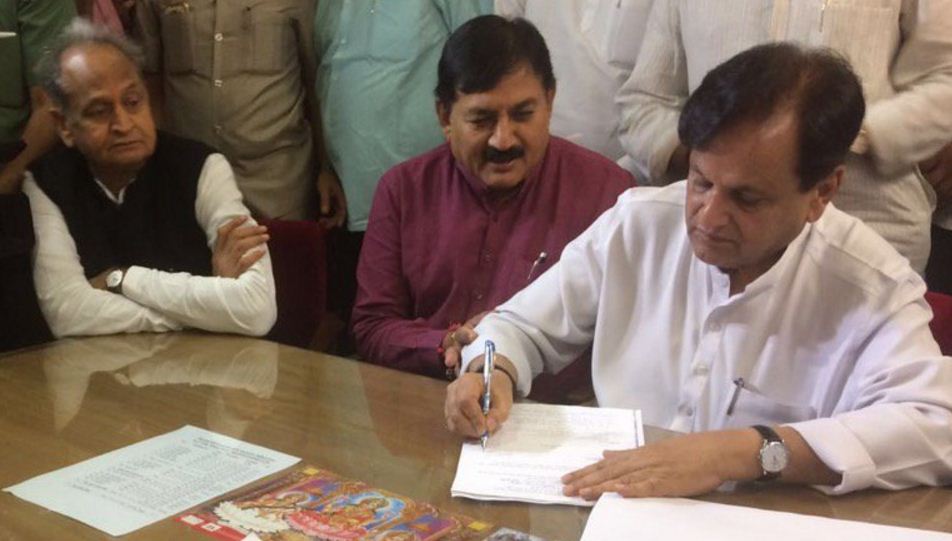 Jambusar (Gujarat):
Political Secretary to Congress President Sonia Gandhi, Ahmed Patel, who is under attack from ruling BJP after arrest of an ISIS operative from a hospital of which he was a former trustee, today said that his Rajyasbha election win still pinched the ruling party.
Patel had won a closely fought election on August 8 after weeks of high voltage drama and even a more high-voltage counting past midnight before which the ECI had rejected votes of two cross-voter congress MLAs belonging to dissident Vaghela group.
'They are now seeking my resignation because my victory still pinches them,' he said addressing a meeting here in his home district Bharuch in presence of Congress vice president Rahul Gandhi.
Patel in a counter attack said his name was being linked in the case of arrest of a terrorist who had worked at a hospital where he was a trustee earlier on.
'But the same man earlier used to work at Care Hospital for one and a half years. Do you know who had inaugurated this hospital. It was none other than the then Gujarat CM and now PM Narendra Modi. The man who owns the hospital used to invite BJP leaders for inaugurating his other hospitals,' he said.
Patel said that he come from a party which was itself a victim of terrorism and its leaders Indira Gandhi and Rajiv Gandhi were killed owing to terrorism. On the other hand many of BJP men were found associated with ISIS support racket in MP. This party had released terrorists.
He alleged that BJP was now making such allegations and resorting to nationalism just to hide its failure on all other fronts.
Notably, 2 ISIS operative Kasim Stimberwala of Ankaleshwar and Ubaid Mirza from Surat were nabbed by Gujarat ATS on October 25. They were planning to attack a religious place in Ahmedabad. Kasim had resigned from the post of lab technician from Sardar Patel Hospital in Ankaleshwar two days back. Patel was a trustee of the hospital and had resigned from the post in 2015.
Gujarat CM Vijay Rupani had slammed him for it and even sought his resignation.
DeshGujarat