Metro court cancels NBW against Togadia, BJP MLA and others in 21 year old Dhotia case
January 05, 2018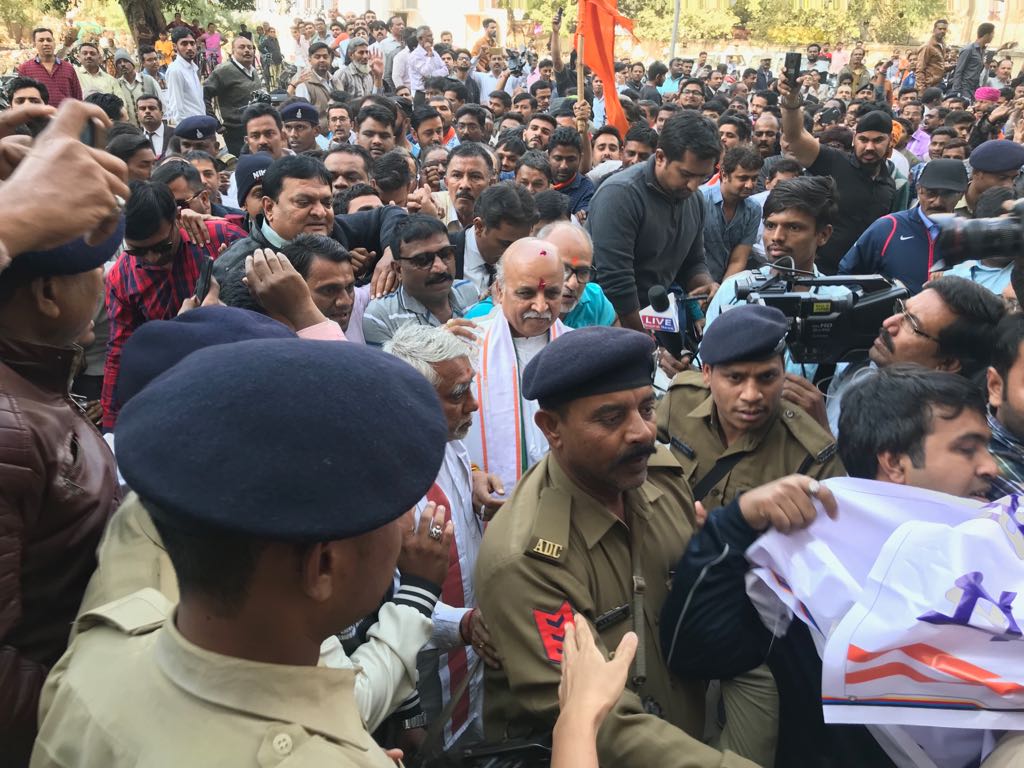 Ahmedabad:
A metropolitan court here today cancelled the non-bailable warrants (NBWs) issued by it yesterday against VHP leader Pravin Togadia, BJP MLA Babu Jamna Patel and others on their appearance in the court in a 21 year old case.
The court had issued NBWs against Togadia and 38 others, including BJP MLA from Daskroi, Babu Jamnadas Patel , in the that case pertains to a BJP event at Sardar Patel Stadium in Ahmedabad on May 20, 1996. During the case more commonly known as Dhotia incident in which the then senior BJP leader Atmaram Patel and several other leaders of the party were attacked allegedly by said supporters of Keshubhai Patel loyalists. Atmaram Patel, a supporter of Shankersinh Vaghela had to flee as his attackers pulled at his dhoti. The incident, brought the internal rebellion within the BJP to the fore and eventually led to Vaghela breaking away from the BJP to launch his own party. A complaint was lodged by Atmaram Patel with Naranpura police station. Police had registered a case of attempt to murder and rioting. The investigation was handed over to the Crime Branch.
Togadia after his appearance in the case told newsman that it was a conspiracy against him. He was not given summons five times. He said, 'some police official tried to arrest me. It all happened without the knowledge of CM Vijay Rupani and Home Minister.'
Togadia apparently in attempt to divert the simple Non Bailable Warrant issue to his ever long political agendas and alleged that some elements who want to suppress his voice about his demands regarding construction of Ram temple at Ayodhya, making common civil code, giving employment to 10 crore Hindu unemployed youths, 1.5 times of the cost of crop to farmers to prevent their suicides and making law to stop cow slaughter and sending the Kashmiri Pandits back to their homes, were behind the conspiracy with an intention to make him fearful.
'The CM, Dy CM and the home minister were my well wishers and friends but who were these elements outside the government, hatching conspiracy against me,' he said.
He said that as the court has cancelled the NBW he did not need to appear in person on January 30. He however clarified that he was ready to appear before any court on summon. He also said that he was innocent and has been implicated in the case. He claimed that he was under police protection at a distance from the place of occurrence on the day.
Babu Jamna Patel also said that he was implicated in the case.
Among other accused senior advocate, Minesh Vaghela, who was the then a councilor and others also got the NBWs against them cancelled by the court.
DeshGujarat