Ahmedabad to host first national level football championship: Santosh Trophy West Zone matches starting from Monday
January 06, 2018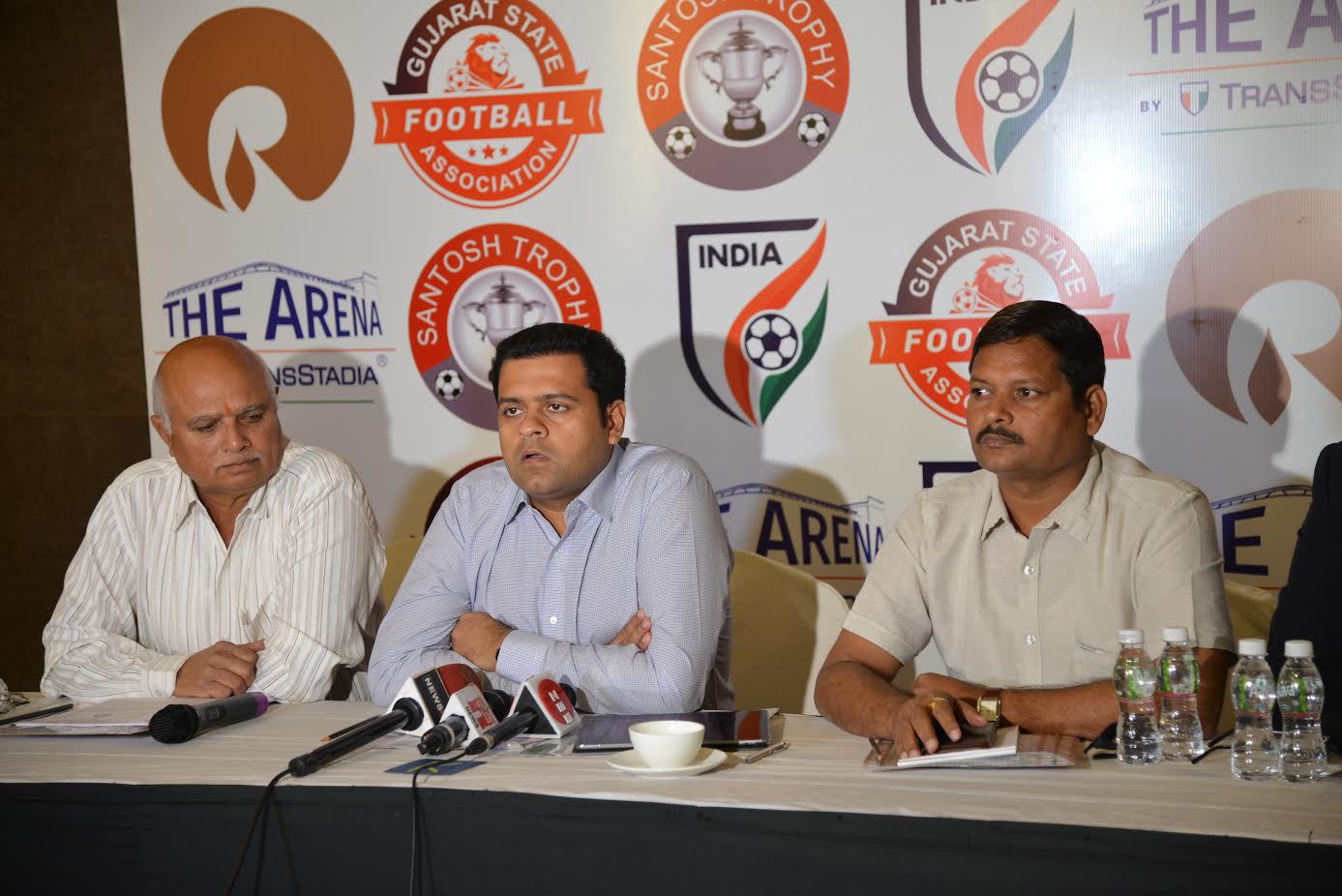 Ahmedabad: Gujarat State Football Association (GSFA) will host the national level football championship for the first time. This announcement was made by GSFA President Dhanraj Nathwani here today.
'The 72nd senior national football championship for Santosh Trophy(West Zone) will take place at Arena TransStadia in Kankaria area of Ahmedabad from 8th to 13th January. Chief Minister Vijay Rupani will kick off the tournament at 2.30 pm on January 8,' said Shri Nathwani.
Santosh Trophy is played in zone-wise manner. Seven football teams, Maharashtra, Madhya Pradesh, Daham & Diu, Lakshadweep, Gujarat, Goa and Rajasthan will participate in the 72nd Santosh Trophy(West zone) championship of which two top teams will qualify for the national championship.Total 9 matches will be played in 5 days. Gujarat will face Rajasthan in the inaugural match on January 8. Gujarat Vs Goa match will take place on January 12.
As per the rule, each team will have 5 progressing players below 21 years of age. 3 of them will need to be on the field during the match in any case in order to give younger generation a chance to play with the seniors in the team and learn from them.
Santosh Trophy is played in 5 zones. 10 teams, 2 each from each zone will go to final round. Last year it was played in Goa. Zone level matches in West were organized in Madhya Pradesh. Goa was the winning team last time followed by Maharashtra. Gujarat team had played against Rajasthan and Maharashtra but had remained unsuccessful last time. Gujarat team had lastly performed well in 2015 when it won against Rajasthan and Daman & Diu but lost against Goa by 1 goal. That match was played in Rajkot.
GSFA president Dhanraj Nathwani said, 'Santosh Trophy is very popular championship across the nation. It is a good chance for the budding and aspiring footballers of Gujarat to watch senior and experienced players from other states particularly from Goa and Maharashtra. I hope such a prestigious event will help in making the game more popular in the State.'
He said for the first time GSFA organized a 20-day camp for preparation for the championship in two phases. First phase of 10-day training was organized at Junagadh, while the second phase at Ahmedabad.
He said for the first time, we have roped in a coach from out of Gujarat. Shri Kundan Chandra, ex service player, has been providing training and guidance to players, while local coach Anilpal Tomar is appointed as assistant coach.
Nathwani said he is confident that results of the training and hard work of both players and coaches will reflect in their game.
Matches in Gujarat will be played at 12.00 noon and 3.00 pm. Each match will have 90-minute duration.
Vice Presidents of GSFA Shri Arunsinh Rajput, Honorary Secretary Shri Gulab Chauhan and Honorary Treasurer Shri Philip Job also were present on this occasion.