Huge attendance at Haridham Sokhda's Atmiya Yuva Mahotsav at Telav
January 07, 2018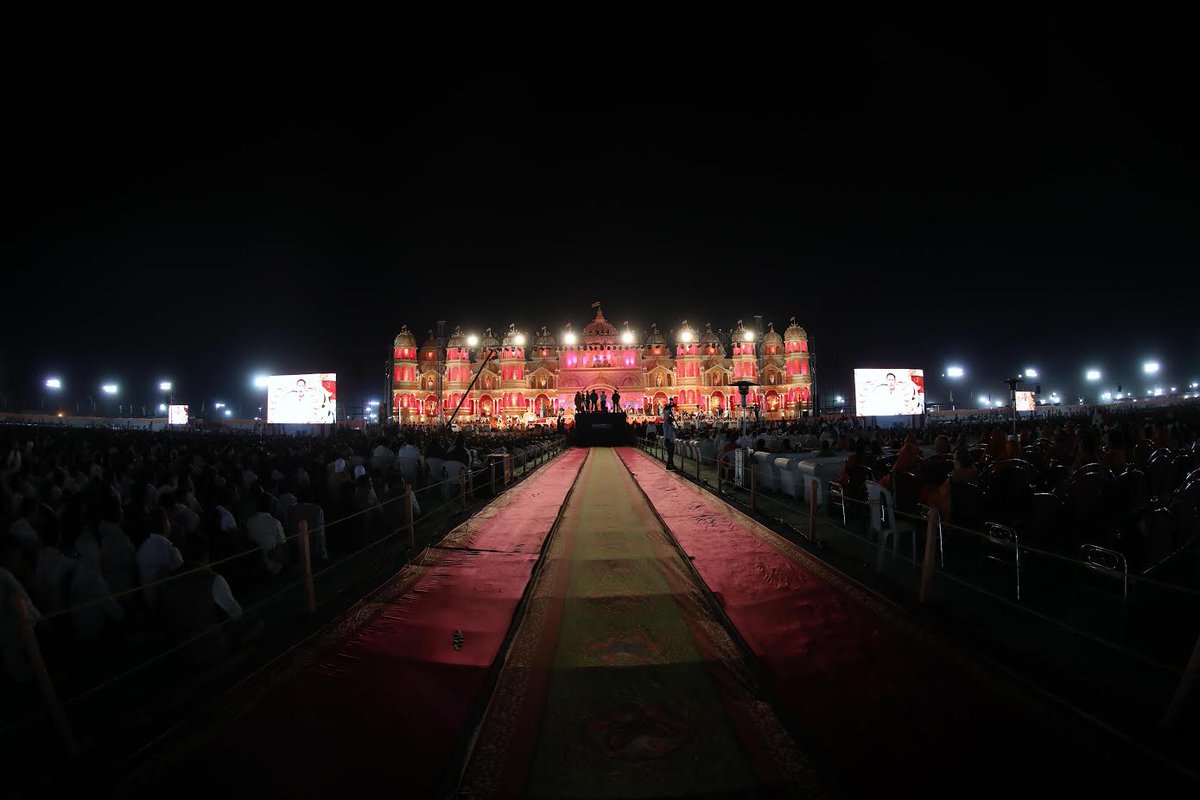 Gandhinagar: Gujarat Chief Minister Mr. Vijay Rupani today attended the "Atmiya Yuva Mahotsav" organesd by the Shri Hari Ashram,Haridham Sokhda on the occasion of 84th Pragatotsav(Birth Anniversary) of Hariprasad Swamiji Maharaj . He said that the work of a saint is to build the behavior of others through their behavior. Creating a class of people working in social life is the true saint's devotion. Sokhda Shri Hariprasad is amongst one of them. An addiction free society has been created by adopting his ideals which specifies that he has taken a new initiative for the youths. Deputy Chief Minsiter Mr. Nitin Patel, Union Railway Minister Mr.Piyush Goyel and other dignitaries joined Mr. Rupani on the occasion.
Mr. Rupani said that the love and affection that swamiji have for the youth can be seen in such Mahotsav. He has always done the works of social services and to educate the youth and on this path Gujarat will be developed more, he expressed.
Mr. Rupanbi said that everyone in his life should get inspire and follow such saint and should set ahead in life One "Narendra", Swami Vivekanand said for Hindu Religion and one "Narendra" our Prime Minister has made efforts to brighten India amongst the world.
Union Railway Minster Mr. Piyush Goyel said that the message from this Mahotsav will reach the world today and this is a gift given to the world by India. Our Prime Minister Mr. Narendra Modi also abolished corruption from the country and moving on the path of building an honest nation.
Deputy Chief Minster Mr. Nitin Patel said that when 65 percent of the youth are in the country, this "Atmiya Yuva Mahotsav" will be an important instrument for the development of culture in youths. Swamiji and sampraday have done excellent work to provide inspiration for millions of young people to lead a religious life.
On the occasion Former Chief Minster Anandiben Patel, Energy Minster Mr. Saurabh Patel, Revenue Minister Mr. Kaushikbhai Patel, Education Minister Mr. Bhupendrasinh Chudasama, MLA Babubhai Patel, Mayor Mr. Gautam Shah, Collector smt. Avantikasingh, Dilipdasji Maharaj of Jagannath Temple, saints monks and Devotees of spiritual families were remained present.