Drama over 'missing' Dr. Togadia in Ahmedabad
January 15, 2018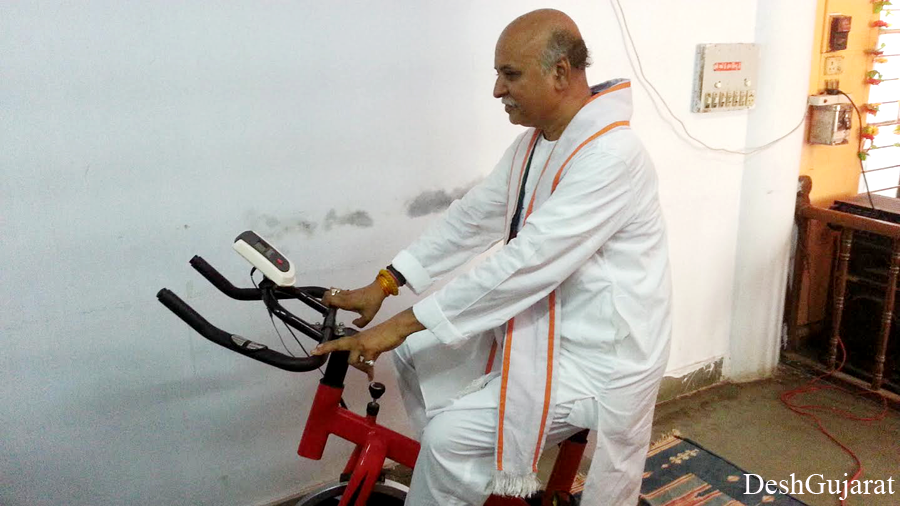 Ahmedabad: Less than 100 cadres of Vishwa Hindu Parishad(VHP) today created big drama at SG highway of city and stopped vehicles for less than half an hour. They were complaining that their leader Dr. Pravin Togadia was missing. Local police held talk with protestors and convinced them to allow traffic to resume.
Police Inspector of Sola police station JS Patel said: Rajasthan police had come here in connection with warrant issued against Dr. Togadia by a court in neighboring state Rajasthan. Rajatshan Police wanted staff of Sola police station in their support in response to which staff was allotted to them. Rajasthan police later returned and said Dr. Togadia could not be traced. A note in station diary was made accordingly and Rajasthan police returned to Rajasthan without Dr. Togadia.
Vishwa Hindu Parishad(VHP) leaders Raju Patel and Ranchhod Bharwad however claimed that Dr. Togadia was picked up from city's Paldi based State VHP headquarters by Rajasthan Police as per information available to him. When asked about Sola police's version, Ranchhod Bharwad said, 'then where's Pravinbhai? His cell phone is switched off, and his location is known to none'.
Bharwad said Rajasthan police had arrived here in connection with a ten-year old case in which three Hindus were killed in Gangapur by others. Dr. Togadia had visited Gangapur after that incident. The case was filed against Dr. Togadia by then Ashok Gehlot led Congress government.
It is understood that the Rajasthan police handed over a warrant to Dr. Togadia's family members who live in Sola police station jurisdiction area of city and left the city as Dr. Togadia couldn't be found out either at Vishwa Hindu Parishad office in Paldi or his residence in Sola.
Vishwa Hindu Parishad version is however different. They claim Dr. Togadia was picked up from VHP office.
Sola police version is, Paldi office of VHP was not under their jurisdiction.
However Range IG of Bharatpur AK Vashishth of Rajasthan Police clarified that police was on its way back to Rajasthan without custody of Dr. Togadia.
City police crime branch team which reached VHP office in Paldi later today in attempt to find Dr. Togadia's location stated that Dr. Togadia had left VHP office with a person with beard in rickshaw. Crime Branch team made it clear that Dr. Togadia was not picked up by either Rajasthan or Gujarat police. Crime Branch team had also went through CCTV footage. JCP(Crime) JK Bhatt told media person that they also were in search of Dr. Togadia who has been given 'Z plus' category security cover.
JCP JK Bhatt says "Togadia was last seen at 10 AM when we took an auto-rickshaw with a bearded person. Although no complaint has been lodged we are trying to trace his location. Security at VHP office in Paldi said that Togadia was last seen around 1 am on Sunday when he (Togadia) had mentioned that they should be back by 2.30 pm. A 'bearded man' was also found accompanying him at that time."
When media persons asked, was this a stunt by Dr. Togadia, JCP Bhatt said they wouldn't endorse such remark. Crime Branch would search even a common man, while here was Dr. Pravin Togadia. When asked whether Dr. Togadia himself went missing, JCP Bhatt said, he was last seen leaving the place on his own in rickshaw.
Sources said, Dr. Togadia had probably himself gone underground today after receiving information about Rajasthan police's arrival in city following which VHP workers created scene. Some VHP workers went so far to claim that they fear Dr. Togadia would be encountered.
Some VHP workers gathered in Surat also in the evening and said they would protest as per the direction received from State VHP office.
DeshGujarat