'Tearful' Togadia tells his part of the story about his 'disappearance', claims he wanted to fly to Jaipur but fainted midway
January 16, 2018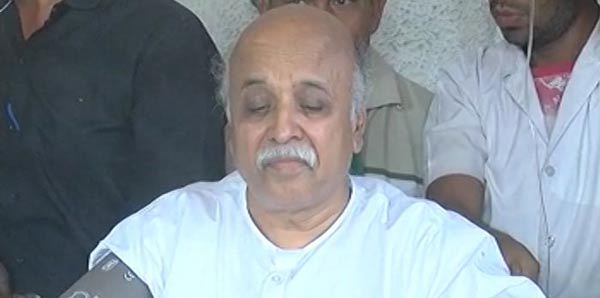 Ahmedbad:
VHP leader Pravin Togadia, who was found after around 10 hours of mysterious disappearance tomorrow amid a high-voltage sequence of events yesterday, today claimed that he had planned to fly to Rajasthan all alone to appear in the high court there for cancellation of the warrant with which the police had approached his house.
Addressing a press conference at the private hospital in Shahibaug area here where he is admitted since last night he also broke in to tears several times.
Narrating his side of the sequence of events he said, ' I was doing puja in my room in the VHP office in the morning when suddenly a person entered there and said that Rajasthan police with Gujarat police was coming for my encounter. I came outside and saw two policemen who were part of the static force of my Z+ security cover. After some time I got a phone call that a team of Rajasthan police and Sola police here had moved towards my place. I thought that If something bad happens to me then a situation will be created in the whole country. I took money in a packet and moved out. Though it was not mandatory for me to inform everything to police yet I did not go in hiding and told the static guards that I was going out. I had reached the office late last night after participating in a function in Mumbai with RSS leader Bhaiyu Ji Joshi and Sadhvi Ritambhara and told my security men to come by 230 pm the next day."
He said, ' He took an auto-rickshaw with a VHP activist to go to Thaltej. On my way I got to know that the Rajasthan CM and Home Minister have no information about warrant against me. I become apprehensive and switched off all my mobile phones to avoid any tracing of my location. I went to Thaltej and talked to advocates in Rajasthan over other phone. I did not remember this petty case of Rajasthan. The advocates suggested me to go to Rajasthan. I was not afraid but thought that as conspiracy to put me in jail was going on since quite some time I must not fall in the hand of police."
VHP leader said, "I decided to go to Jaipur in flight and took an auto-rickshaw for airport at around 3 pm alone covered with a shawl to hide me from police. But after some time while I crossed an underbridge I felt sweating and dizziness and sensing that I was unwell I told the rickshaw to take me to Dhanwantrai hospital in Bapunagar but fainted after that and I found myself in this Shahibaug hospital when i regained consciousness late night."
He appealed the VHP activists to maintain peace and law and order.
He also said that owing to long unconsciousness his pulse was yet abnormal and when the doctors allow he would go to Rajasthan court as he never avoided any court of law.
Togadia reiterated that attempts to suppress his voice was on and he would let people know with proper evidence at a proper time as to who it was. He said that when a local court here had issued warrant in 21 year old case this month, Gujarat CM and HM were also not aware of it, which indicates a higher conspiracy.
He said that such petty cases under section 188, 144 and 153 of IPC which he could not even recall were being reopened and warrants being issued to make him fearful but he won't fear anything and continue to raise his voice for Ram temple, Hindu causes, youths and farmers.
He also said that he has no grudges with Rajasthan or Gujarat police but requested the police to not to act under any political pressure. He alleged that the central IB was threatening the 10000 doctors whom he has teamed up for the services of poor.
With tears in his eyes he appealed the Ahmedabad crime branch to not to search his residence like that of a criminal as he had nothing to hide. 'I only have a few books and other belongings,' he said.
DeshGujarat