Sachin Tendulkar in Kutch to enjoy holiday with friends
January 31, 2018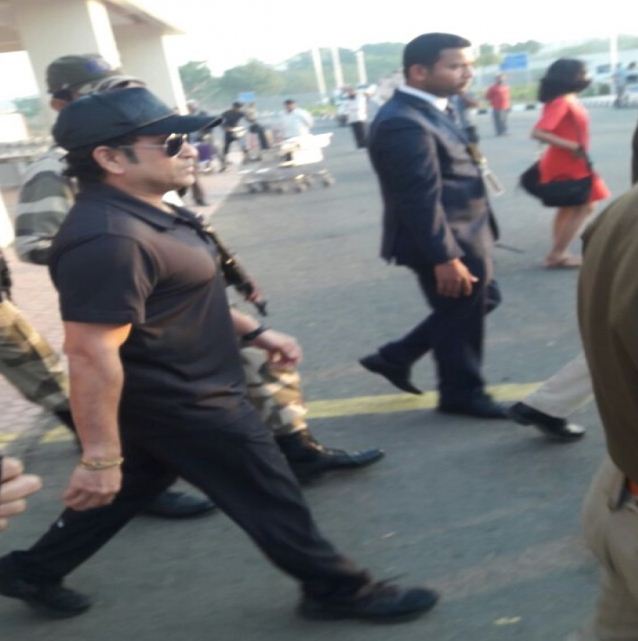 Bhuj: Cricketer Sachin Tendulkar arrived here today with his wife and friends and drove to coastal town Mandvi. Tendulkar arrived in Jet Airways flight at 8.00 am. He is on his private visit. He was accorded police security. Tendulkar is holidaying in Serena beach resort at Mandvi. He is likely to return tomorrow. It is believed that Tendular has chosen this destination to watch triple treat of super moon, blue moon and blood moon (lunar eclipse) today.
Updated story:
Tendulkar visits famous Vijaya Vilas Palace in Mandvi of Gujarat
Mandvi (Gujarat):
Cricket Icon Sachin Tendulkar, who arrived in this picturesque coastal town of Kutch district in Gujarat today with wife Anjali presumably on a private relaxation visit, went on to see the famous Vijaya Vilas Palace here.
Later Anjali was also seen in the local market here and a famous traditional cloth shop.
Tendulkar who arrived at Bhuj airport this morning in a Jet Airways Flight this morning left for Mandvi situated around 60 km from there.
Wearing a black T-shirt and same coloured trouser and cap Tendulkar also let some of his fans and security-men take selfie at the airport and during his visit to the palace in Mandvi where he was residing in a famous sea-side resort.
Later he went to the palace which was also situated along the coast. It is the famous one time summer palace of Jadeja Rajas of Kutch. It was built during reign of   Khengarji Third , the Maharao of Kutch, as a summer resort for the use of his son and heir to the kingdom, the Yuvraj Vijayaraji after whom it was named as Vijaya Vilas Palace. The construction of palace started in year in 1920  and was completed in year 1929. The palace is built with red sandstone. It has all the elements of Rajput architecture. The palace is set in the middle of well-laid gardens with water channels and marble fountains. The carved stone works of Jalis, Jharokas, Chhatris, Chhajas, murals and many other artistic stone carvings, colored glass work on windows and door panels all have been done by the architect and craftsman from places like Jaipur, Rajasthan, Bengal and Saurashtra, and local Kutchi artisan community, the Mistris of Kutch and Suthars. The balcony at the top affords a superb view of the surrounding area. The tiny intricate windows gives one feeling to be out in open, through which cool sea wind passes out. The campus also houses a Chhatri of Vijayaraji, who died in 1948, to whom this palace was very dear.
Vijaya Vilas Palace has its own private beach which offers air-conditioned tented accommodation. The palace has been used as the set in many Hindi films and has now become a popular tourist destination. Popular Bollywood films Hum Dil De Chuke Sanam and Lagaan were shot at this palace. The royal family of Princely State of Kutch now reside permanently in the palace, who earlier used it only as a summer resort. It was after the 2001 Gujarat earthquake in which one of the wings of their other palace at Bhuj – the Ranjit Vilas was heavily damaged, they moved into Vijaya Vilas Palace. The Palace also houses a museum.
The visit of Tendulkars was taking place amid tight security. It is understood that they would spend a couple of days in Kutch. But it was not immediately clear as to whether they would visit the famous Rann of Kutch where the famous Ranotsav was on, or not.
DeshGujarat