Veteran Gujarati poet, litterateur Niranjan Bhagat passes away
February 01, 2018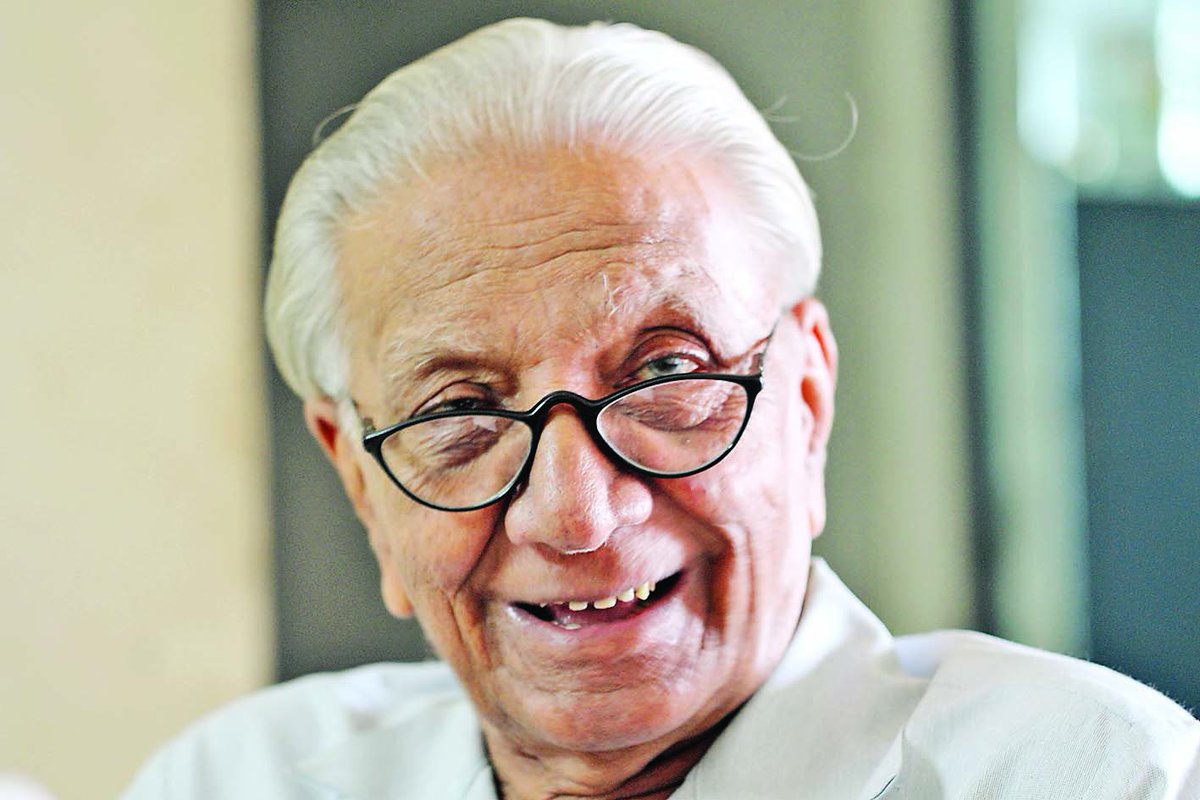 Ahmdabad: Veteran Gujarati litterateur and poet Niranjan Bhagat passed away today at the age of 91. Bhagat had suffered brain stroke during Gujarati Sahitya Parishad's meeting to discuss boycott of Gujarati Sahitya Academy events. He was later taken to nearby HCG hospital.
Born on 18 May 1926 in Ahmedabad, Bhagat saheb left study during 1942 Quit India agitation. Later he he had college education in Ahmedabad and Mumbai. He worked as professor of English in various arts colleges of Ahmedabad and later joined Sandesh newspaper as editor of literature section. He was also editor of 'Granth' monthly and 'Sahitya' trimonthly magazine.
He was awarded Kumar gold medal, Narmad medal, Ranjitram medal, Pramchan gold medal, Sahitya academy award, Sachidanand sanman, Narsih Mehta award and many other awards.
| | |
| --- | --- |
| 1926 | Born 18 May at Ahmedabad |
| 1943 | First Poem 'Sonalu' Composed |
| 1944 | First Poem 'Jagruti ' Published in 'Kumar' |
| 1946 | Read English Literature for B.A. Degree at Elphinstone College, Mumbai for two years. |
| 1949 | First collection of poems 'Chhandolaya' Published in 'Kumar' during the year |
| 1950 | Second collection of poems 'Kinnari' published. |
| | Obtained an M.A. in English Literature, University of Bombay |
| | Appointed Lecturer in English, L.D. Arts College, Ahmedabad. |
| 1953 | Joined G.L.S. Arts College, Ahmedabad |
| 1954 | Third collection poems 'Alpaviram' published |
| 1956 | Joined B.D. Arts College, Ahmedabad. |
| | Edited 'Sahitya Sadhana' – a weekly literary column in a local daily for two years. |
| 1957 | Fourth collection of poems 'Chhandolaya' (Selected poems from previous collections with addition of 'Pravaldveep', a group of sixteen poems on Mumbai) published. |
| | Awarded 'Narmad Suvarna Chandrak' |
| 1958 | Fifth collection of poems ' 33 Kavyo' published Rejoind G.L.S. Arts College, Ahmedabad |
| 1961 | Translated 'Chitrangada' from Bengali into Gujarati. |
| 1963 | Translated 'Svapanavasavadattam' from Sanakrit into English |
| 1969 | Awarded 'Ranjitram Suvarna Chandrak' |
| 1972 | Critical essay 'Adhunik Kavita' published |
| 1974 | Sixth collection of poems 'Chhandolaya' (Collected) published |
| 1975 | Joined St. Xavier's College, Ahmedabad |
| | Critical Essay 'Yantravignan ane Mntrakavita' published |
| 1976 | President, Sahitya Section, Gujarati Sahitya Parishad at Porbandar. |
| 1977 | Edited 'Granth', a monthly magazine of reviews for one year. |
| 1978 | Member, General Council, Sahitya Akademi, New Delhi for five years |
| | Edited 'Sahitya' a literaty quarterly for two years. |
| 1980 | Translated 'The Book of Job' from the Bible into Gujarati |
| 1982 | First visited England, France, Italy, Greece |
| | Critical essay 'Mira' published |
| 1985 | Invited to U.S.A. by Gujarati Sahitya Akademi of North America for poetry reading and lectures in several cities across the country. |
| 1986 | Retired from St. Xavier's College, Ahmedabad |
| 1992 | Translated 8 poems of St.John of the cross from Spanish into Gujarati |
| 1994 | Honoured as 'Murdhanya Sahityakar' by Gujarat Sahitya Akademi |
| 1997 | Critical essays 'Svadhyaylok' in eight volumes published |
| | Elected President, Gujarati Sahitya Parishad |
| 1998 | Awarded 'Premanand Suvarna Chandrak' |
| 1999 | Awarded 'Puraskar' for 'Svadhyaylok-volumes 5 and 6' by Gujarat Sahitya Akademi, New Delhi |
| 2000 | Honoured with 'Sachchidanand Sanman' by Gujarati Sahitya Parishad |
| 2001 | Awarded 'Narsinh Mehta Award' |
| 2004 | Critical essays 'Sahityacharya' published |
| 2007 | Seventh Collection of Poetry 'Punashcha' published |