RIL wins Golden Peacock Award for its CSR activities for year 2017
February 09, 2018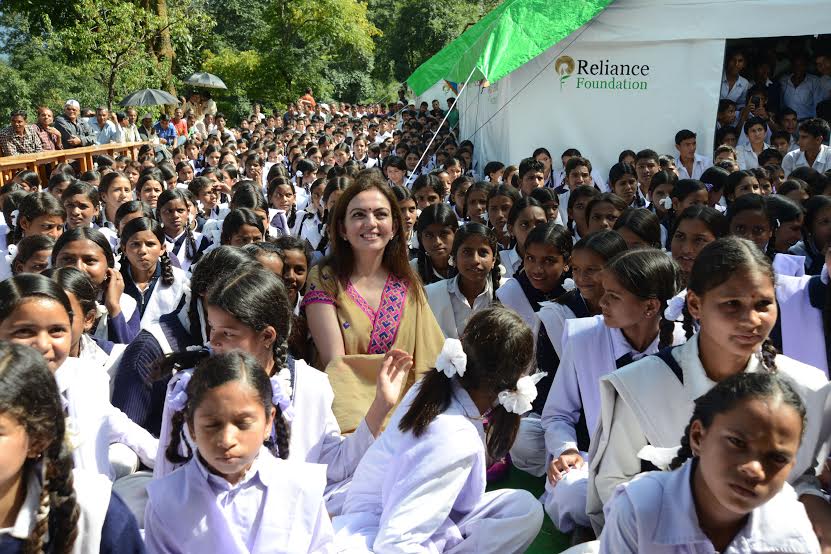 Mumbai: Mukesh Ambani led Reliance Industries Limited (RIL) has won the Golden Peacock Award 2017 for its Corporate Social Responsibility initiatives and in particular for the work done by Reliance Foundation (RF), the CSR arm of the Company.
Led by Founder and Chairman, Smt. Nita M. Ambani, RF has touched the lives of over 15 million people across India covering more than 13,500 villages and 74 urban locations. RIL was recognized by the Awards Jury under the Chairmanship of Justice (Dr.) Arijit Pasayat, former Judge, Supreme Court of India.
One of the key social projects of RIL, recognized by the Golden Peacock jury, aims at impacting farmer livelihoods through water and food security interventions. Under its rural transformation initiative, Reliance has been implementing a programme called "Bharat-India Jodo (BIJ)" that works closely with marginal and small farmers for enhancing their lives and livelihoods, and making agriculture a first choice profession. The fundamental strength of the programme is that it empowers rural communities, and engages them extensively in co-creating the strategies for rural development. The programme is designed such that the element of sustainability is part of the plan. With a 360 degree approach, the programme has multi-faceted interventions that are interlinked with one another to make agriculture a first-choice profession. While the initial engagement is aimed at land development and water security measures, the other key interventions under the programme promotes food and nutrition security and creating market linkages for better price realization.
The Golden Peacock Awards, established now for over 25 years, today receives around 1,000 applications for various Awards each year. The Award applications are assessed at three levels by Independent Assessors and finally by a Grand Jury.
Justice M. N. Venkatachaliah, Chairman, Institute Of Directors and former Chief Justice, Supreme Court of India is the Chairman of the Golden Peacock Awards. Justice (Dr.) Arijit Pasayat, former Judge, Supreme Court of India and former Chairman, Competition Appellate Tribunal & Authority for Advance Ruling (Customs, Central Excise & Service Tax) is the Co-Chairman of the Golden Peacock Awards. The Global Awards are finalized by a Jury headed by The Rt. Hon. Sir Richard Needham (The Earl of Kilmorey PC), Non-Executive Director, NEC Europe Ltd. & Chairman-Advisory Group, STERN UK.
All CSR initiatives of RIL are guided by three core commitments of Scale, Impact and Sustainability. RIL's CSR initiatives focus on various social challenges and are aimed at providing a better quality of life and livelihoods for a stronger and inclusive India. To realize its commitment and philosophy, Reliance has adopted three modes of engagement for on-ground implementation of identified CSR initiatives to ensure that benefits reach out to the population in need.
a) Direct Engagement: Most initiatives to be conceptualized and executed directly through a team of professionals.
b) Partnerships: In specific cases, RIL partners with other organizations who have the technical expertise and experience to undertake various programmes in the identified core focus areas of operation, to improve our outcomes.
c) Leveraging Technology: RIL to lay significant emphasis on leveraging technology for developmental solutions.
DeshGujarat