Gujarat has been kanjoos in giving lions, barring one Lion it has given in the form of Narendra Modi: Harshvardhan at Sasan Gir
March 03, 2018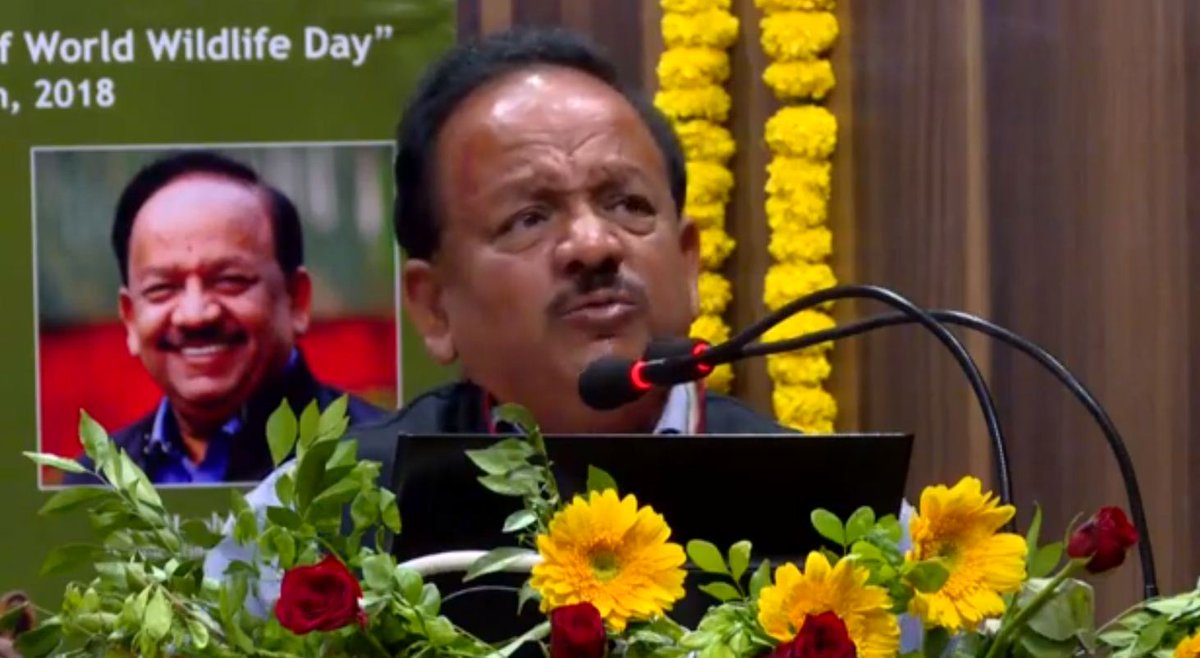 Junagadh: Apparently in reference to Gujarat's denial to give lions to Madhya Pradesh, union Environment and Forest minister Dr. Harshvardhan today said Gujarat has been miserly in giving lions.
Union minister speaking at the national level celebration of World Wildlife Day at Sasan Gir, the last abode of Asiatic Lions said, 'I thank the people of Gujarat whenever in Gujarat, for giving a lion to India in the form of Narendra Modi.
He said, 'otherwise you have been miserly in giving lions, but you have given at least Narendra Modi.'
In response to Dr. Harshvardhan's veiled remark, State Environment and Forest Minister Ganpat Vasava smiled, while Chief Minister Vijay Rupani who was browsing a book launched in same function, suddenly gave attention to Dr. Harshvardhan's speech.
Dr. Harshvardhan praised the Prime Minister and said, 'when he was Chief Minister of Gujarat, some lion was murdered by interstate gang. He gave three days to lion conservation and rearranged the entire system pumping in Rs 40 crore, and from that day to this day, no unfortunate incident has taken place here again.'
Pointing out the scope of eco-tourism, the union minister in his speech recalled his visit to Nairobi(Africa) national park and said the park contributes 14% of total GDP.
He said, 'Once upon a time, lions were present in wide area from Iran to North East. Our plan, our pledge should be in such a way that we achieve that again in next 50 years. Our actions should be in accordance with that goal.'
The Minister announced that India will mark the World Internment Day on upcoming 5 June with a global level function. The theme this year will be 'Beat Plastic Pollution'.
He said, 'to start with we are going to make Delhi based Paryavaran Bhavan a zero plastic place. The building which houses Ministry of Environment and Forest office will be completely plastic free with no plastic in use directly, indirectly or subtly. Plastic harms our cows, elephant and others.'
He made appeal to Gujarat government to start with making Gir sanctuary, a plastic free place first and later take the movement to other national parks, government buildings, schools etc places.
Harshvardhan described Gujarat a model state that spends Rs 70 crore for one wildlife species(lions).
Harshvardhan who was with his wife here visited the Gir sanctuary. He praised the cleanliness, postmortem and rescue facilities, cordial co-existence of humans with wildlife that he observed during his Gir forest visit.
'I saw a person riding two-wheeler and passing through the area of lions fearlessly. Such is the co-existance of lions and humans here,' he said.
DeshGujarat