CAG points out number of shortcomings in lion conservation efforts in Gujarat
March 29, 2018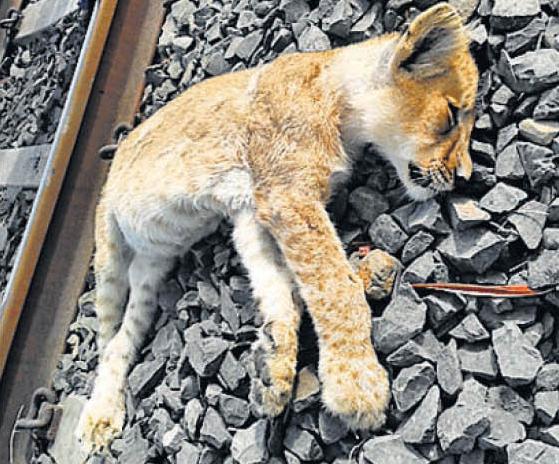 Gandhinagar: The Comptroller and Auditor General of India (CAG) has in its report which was tabled in the state assembly today listed several "flaws" in lion conservation efforts in Gujarat.
– A new protected area for lions has not been approved despite "high instances of deaths of lions" in their present habitats.
-Ongoing fencing work along the railway tracks near Gir Wildlife Sanctuary, being carried out to prevent lions from venturing out, has not succeeded in its purpose.
Three railway tracks pass through the areas inhabited by the lions in Amreli district. Between 2012-14, there were five cases of lion casualty on the tracks. To control accidental deaths of lions construction of underpasses and fencing of entire railway track on both sides was undertaken. The work, in one section was completed in March 2016 and works of other sections were at various stages of completion. Lions entered fenced area on eight occasions raising doubts that fencing of the railway tracks, though a major step for conservation of wildlife, had not succeeded in its objective.
-Population of Asiatic Lions has increased from 205 in 1979 to 523 lions in 2015.Out of these, 167 lions—that is one-third of total population–have their habitat outside the Gir Protected Area (GIR PA which includes Gir, Girnar, Paniya, Mitiyala sanctuaries and Gir National Park), risking human lives, livestock as well as the safety of the lions themselves.
-As many as 21 lions have died due to "unnatural reasons between 2012-13 to 2016-17".
-A forensic mobile unit for forensic science investigation was purchased at a cost of Rs 25 lakh. Between January 2010 and August 2014, the unit was used on 37 occasions only and that too for non-forensic use. The fact remained that the unit was purchased without proper assessment of its utility.
-Chief Conservator of Forest (Wildlife) has proposed a new sanctuary in over 30,000 hectares of land in Amreli and Bhavnagar district in 2005 to provide a safe corridor for the lions moving out of the GIR PAs. Later, the proposal was revised and it was decided that it will be Conservation Reserve (CR) spread across only 10,953 hectares.As on May 2017, the Revenue department has not transferred around 4,800 hectares of waste land to the Forest department to set up the CR.Thus, the declaration of the lion habitat area as CR is pending despite lapse of more than 11 years.
-Despite an increase in population of lions during 2011-15 by 54.60 per cent outside the Gir PA and high instances of death of lions, no new protected habitat for lion has been approved since the formation of the Girnar Sanctuary in 2008.
-Ongoing fencing work along the railway tracks near the Gir Wildlife Sanctuary has not succeeded in its purpose, as an internal communication of 2016 among officials has revealed that lions have entered in fenced area on eight occasions.Thus, fencing of the railway tracks, though a major step for conservation of wildlife, has not succeeded in preventing movement of lions on tracks.
-Project of DNA mapping of lions is slow despite availability of funds.
-Gujarat Forestry Research Foundation (GFRF) did not have the expertise in the field of scientific research on genomics, which was the core of the requirement of the project, the project was transferred to the GFRF.There was no permanent technical staff in GFRF to run the project.
-Unauthorised work of laying transmission lines inside the Wild Ass Sanctuary in Surendranagar district by Adani Power Limited in 2009. Though the Ministry of Forest and Environment and Climate Change directed the Gujarat government to enquire into the matter in 2015 and forward the draft complaint within a month..no action had been taken even after the lapse of two years (May 2017).