Setback to Togadia as his close aide Raghav Reddy loses VHP President election against VS Kokje
April 14, 2018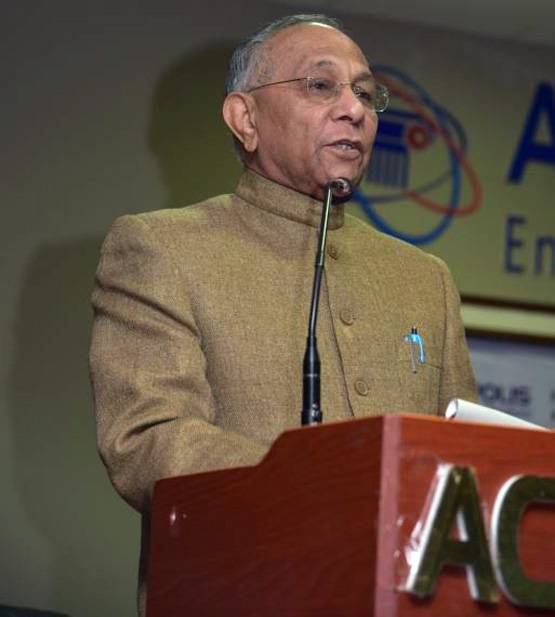 New Delhi: Justice Vishnu Sadashiv Kokje has been elected as the new International President of Vishwa Hindu Parishad(VHP). Kokje is former Governor of Himachal Pradesh.
In the election held in Gurgaon in Haryana, Kokje defeated current international president of VHP Raghav Reddy for the post.Reddy is close aide of International Working President of VHP Dr. Pravin Togadia.
Out of total 192 votes polled, Kokje could get 131 votes while Reddy got only 60 votes. One vote was termed invalid.
Kokje is currently one of 11 Vice Presidents of VHP.
This is a big setback for Dr. Pravin Togadia who has been colluding with anti-BJP and anti-RSS forces including Congress supporter Hardik Patel. After the death of Shri Ashok Singhal, Dr.Togadia had become face of the VHP and had taken control of organization in his hand. The organization saw speedy and continuous decline under Dr. Togadia who appears mentally stuck in 1990s era hard-line approach. Togadia failed to counter the Dalit and caste divide challenge thrown against Hindu unity by the left-Church-Congress Eco-system. Instead his role during Patidar caste agitation in Gujarat was very dubious.
Togadia has been speaking and working against Prime Minister Narendra Modi ever since Modi was the Chief Minister. Togadia has been speaking against BJP governments in Gujarat and at the Centre aggressively. He was recently seen attending anti-BJP and anti-RSS Congress supporting Patidar agitation leader Hardik Patel's sister's wedding. Once busy with activities, the VHP headquarters in Paldi area of Ahmedabad had in last few years turned into a place where persons would sit and do gossiping, mostly against the BJP, its leaders and governments.
The missing drama earlier this year was the last thing, the Sangh Parivar and BJP government tolerated. Togadia's ouster was believed definite post that episode. With Reddy's exit, Togadia's departure from the post of International Working President is certain.
Office bearers of the organization change as a part of routine three-yearly process. Though the new team takes over through consensus, the election became evident as Togadia didn't want to lose control of organization at any cost even against the wishes of umbrella organization RSS. In fact voting for the post was held for the first time in over five decades of VHP's history.
Born on 6th September 1939 in the Dhar district of Madhya Pradesh at the village known as Dahi Tehsil Kukshi, Vishnu Sadashiv Kokje had secondary education from Dhar, graduation from the Holkar college at Indore, LLB from Govt. Arts and Commerce college in the same city of Indore. M.A. in Sociology from the Christian College, Indore.
Kokje started his professional career in the year 1964 in Indore. In 26 years of his career he practiced into Civil law, Labour and Industrial law, Company matters, Constitutional writ, Enquiry commissions, Election petitions. He became Judge of the Madhya Pradesh High Court in 1990. He served as the President of the Madhya Pradesh State Consumer Desputes Redressal Commission in addition to the duties of the High Court.
During 1998-2001 he served as the Administrative Judge of Rajasthan High Court. He was also Acting Chief Justice of the same High Court for 11 months. In 2002, he was designated as the Senior Advocate of the Supreme Court of India.
He became the Governor of Himachal Pradesh in May 2003.
DeshGujarat