Three booked by Surat Police for spreading fictitious and false messages on social media
April 15, 2018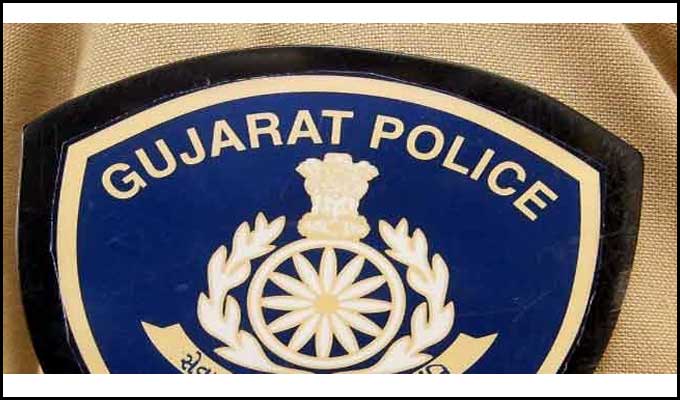 Surat: Pandesara police in Surat has booked three under IPC section 505(1) for posting fake, provocative posts on social media in connection to a dead body of unidentified girl found in the city.
A Dead-body of an unidentified girl in 9-13 age group was found lying near Sai-Fakir cricket ground in Pandesara police station area of Surat. While Police is probing into this, certain apparently ill-intended fabricated posts, tweets and comments were spotted on social media in connection to the case.
For an example, a twitter handle linked to some Irfan Anjum concluded that the girl was raped and killed by some ABVP leader.
ABVP is students' wing of RSS. Irfan Anjum in his tweet said: 10-year old innocent girl was raped and killed in a city in Gujarat. A rapist in Surat was also from Sangh(RSS), BJP. He is Harish Thakur, a leader of ABVP. He raped victim girl for 8 days and then killed her. Victim girl's body has over 80 marks of injuries. Kick out the BJP and save the nation. Rape in Gujarat.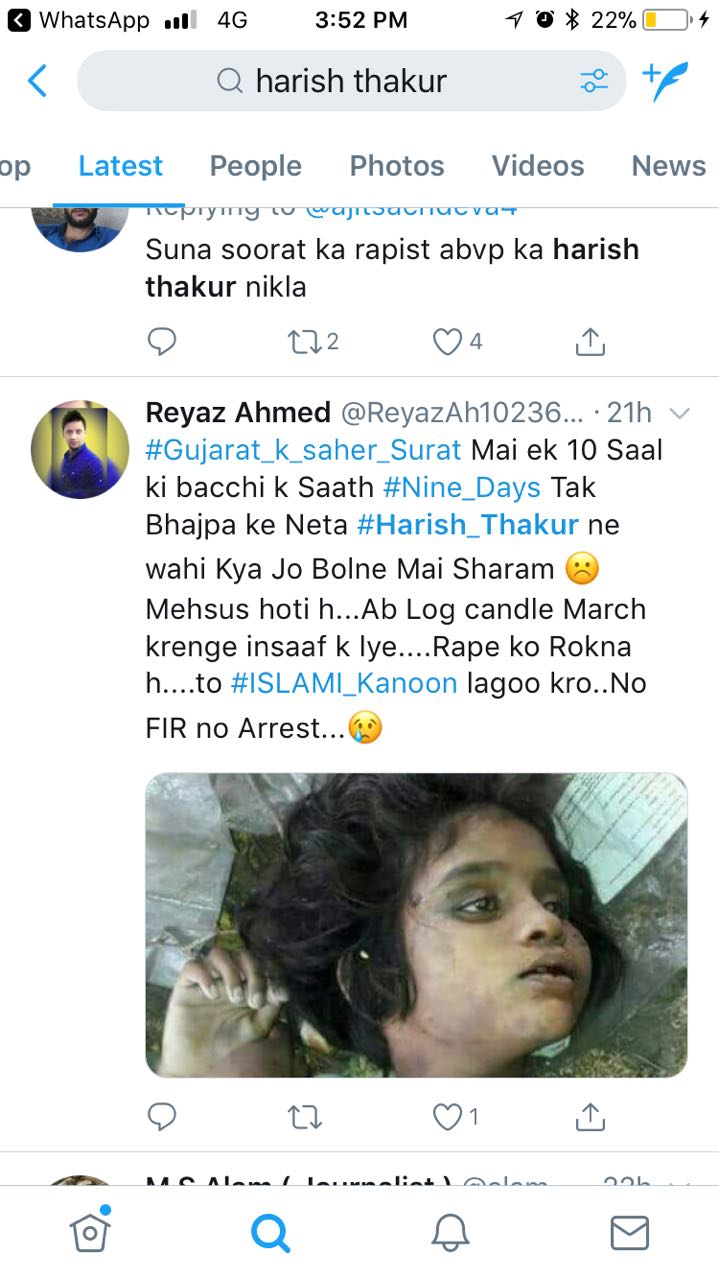 Similar were the twitter and facebook posts by handles named as Asmita Das and Mohammad Sartaj Alam.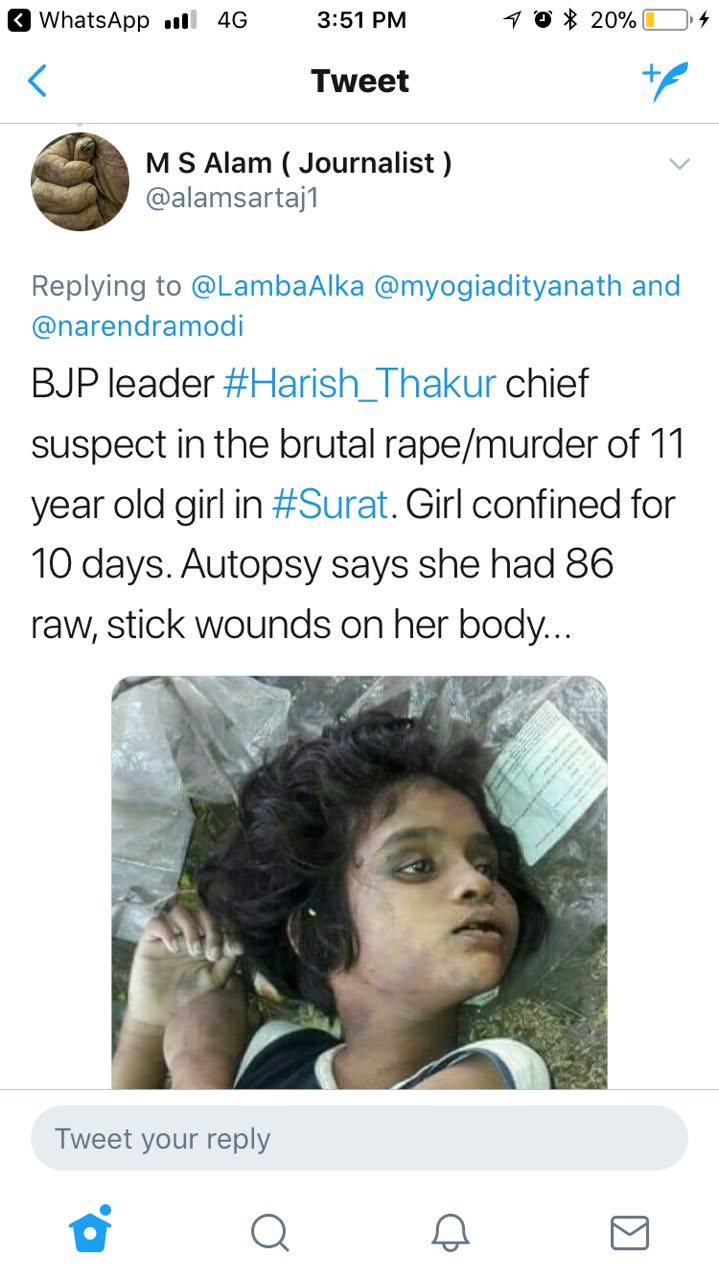 A complaint has been filed by RR Sarvaiya, Assistant Police Commissioner of Crime Branch, Surat city against Irfan Anjum, Asmita Das and Mohammad Sartaj Alam for their twitter and facebook post.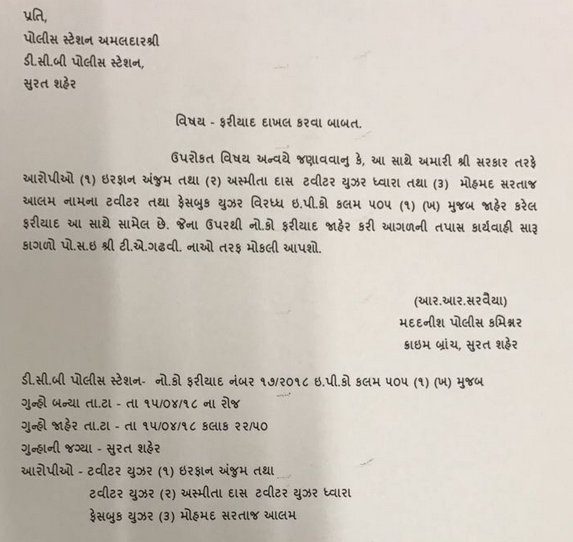 In light of recent revelations that India's opposition party had hired services of infamous Cambridge Analytica company, this development is important. In London based Channel4 sting operation, Cambridge Analytica bosses had admitted dirty tricks they use to attempt for their clients which include fake news and unethical use of social media.
It is not true. The case is being investigated by Surat Crime Branch and It is still open. please don't spread false message .

— Surat City Police (@CP_SuratCity) April 15, 2018
दिनाक ०६/०४/२०१८ को सुरत शहेर मे क्रीकेट ग्राउन्ड के करीब एक लडकी की लाश मिली हे ,इस लडकी के परीवार के बारे मे या अपराधी के बारे मे कोइ भी जानकारी मीले तो सूरत शहर अपराध शाखा के नंबर 02612436024 पर या पांडेसरा थाना के नंबर 02612890200 पर संपर्क करे. इनाम प्रदान कीया जायेगा. pic.twitter.com/gjZGvemamx

— Surat City Police (@CP_SuratCity) April 15, 2018
DeshGujarat