Top 3 RSS leaders in Gujarat meet Togadia, former VHP working president adamant on indefinite fast from tomorrow
April 16, 2018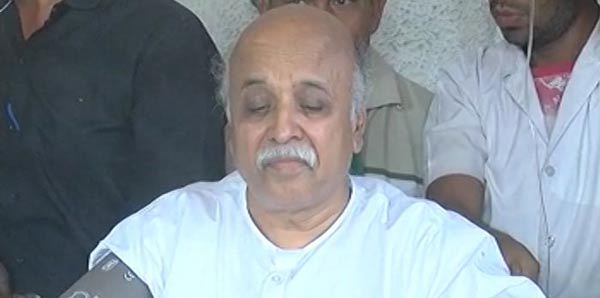 Ahmedabad:
Three of the top RSS leaders from Gujarat today met former VHP working president Pravin Togadia a day before his proposed indefinite fast here, however, Togadia looked quite adamant on continuing on with his programme to sit on indefinite fast here from tomorrow.
Prant Pracharak Chintan Upadhyay, Prant Karyvah Yashvant Chaudhary and Prant Sampark Pramukh of RSS Hareshbhai Thakkar met Togadia.
After the meeting the RSS leaders termed it a courtesy visit.
Togadia on the other hand said that though it was a courtesy visit yet the issue of his fast came up for discussion during it.
'I told them that I want to sit on the fast to press for the issues like fulfilling the promise of construction of Ram Temple at Ayodhya, Uniform Civil Code etc which were the issues of RSS itself,' Togadia said.
He also claimed that he had no differences with the new leadership of VHP and appealed them also to either sit on fast separately at VHP office in Delhi or with him here on the issues.
'I never had any difference with them. We both come from same ideology. We had promised the people to make law in the parliament for Ram temple when our government comes to power at center. It was not my own issue. It was not an issue of Togadia. I had even left my medical profession for the mission. Even now I can't say anything against VHP because it was not correct to say anything against once mother or brother,' he said.
Earlier he also tool a jibe at PM Narendra Modi with whom he is said to be at loggerheads since the days Modi was Gujarat CM.
Notably on April 14 during the first ever organizational election of VHP in its over five decade long history Togadia group led by Raghav Reddy had to face a humiliating defeat in Gurugram. Vishnu S Kokje has been elected as new international president of VHP. He defeated Reddy by 131-60. Alok Kumar and Ashok Chaugule have been made new working presidents after defeat of Togadia camp.
Togadia, who alleged that he has been ousted from VHP after 32 years of service for his raising the voice for Ram temple and other crucial Hindutva issues, has announced to sit on indefinite fast here from tomorrow.
Meanwhile he also informed that national secretary of VHP and former Prant Pracharak of RSS in Haryana, Mahavir ji has also resigned from the outfit.
DeshGujarat