Gujarat Innovation Society honors 17 innovative contributions
April 17, 2018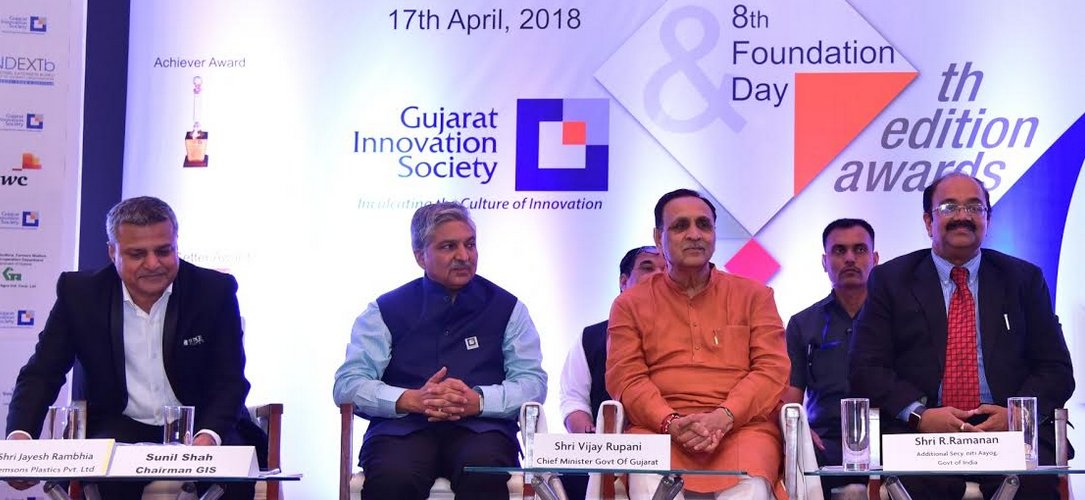 Ahmedabad: Gujarat Innovation Society (GIS) has
conferred 'Gujarat Ratna' award to versatile advocate Shri Kanishka
Hiralal Kajii for his working for the betterment of physically
challenged people as a chairman, Board of Trusties of Apang Manav
Mandal. GIS, an acclaimed organization working on innovators,
innovation and inculcating innovative culture in industry,
professionals and students had announced the names of winners of its
Seventh Innovation Awards on Tuesday, April 17, 2018. A total of 17
winners were honored at the organization's seventh foundation day
ceremony held at Hotel Crowne Plaza, Ahmedabad on Tuesday evening.
The event was graced by Shri Vijaybhai Rupani, Chief Minister of
Gujarat, as the Chief Guest; Shri R. C. Faldu, Minister for
Agriculture, Government of Gujarat, as the Guest of Honour; Shri
Kaushikbhai Patel, Minister for Revenue, Government of Gujarat, as the
Guest of Honour, Key Note Address was made by Shri R. Ramanan, Mission
Director, Atal Innovation Mission, Additional Secy. Niti Aayog,
Government of India and Shri Jayesh Rambhia, Managing Director,
Premsons Plastics Pvt. Ltd., was the Special Guest among others.
Speaking about the GIS awards, Mr. Sunil Shah, Founder Chairman of
Gujarat Innovation Society said, "I would like to congratulate all the
winners for their outstanding contribution in mainstreaming innovation
in their field of work. We hope that these winners will encourage
other individuals and organizations to take up the innovative path and
come up with "fresh innovative" approach for the development of the
society. In recent times, there's been an upswing in the field of
innovation in India, we have jumped to 60th number in global
innovation index from 66th in 2016, and this is an encouraging trend.
It inspires us to take our work outside of Gujarat and connect with
all innovators of India on a larger platform."
The winners were selected based on their outstanding innovative
contributions to various sectors. The annual innovation awards were
given under the categories of 'Gujarat Ratna,' 'Hercules,'
'Achievers,' and 'Trend Setter.'
Shri Kanishka Hiralal Kaji was conferred with 'Gujarat Ratna' award
for his working for the betterment of physically challenged people as
a chairman, Board of Trusties of Apang Manav Mandal. He is also the
fonder president and president emeritus of All Gujarat Federation of
Tax Consultants. With his expertise in the field of taxation he also
represents Income-tax Appellate Tribunal Bar Association Ahmedabad as
a President Emeritus. He with his extended knowledge in taxation and
law has authored and published various books and articles on Taxation,
Company and Family Laws.
'Hercules' awards were presented to Pratul Shroff, President-Director
at eInfochips (An Arrow Company) for achieving Faster Product
Transforming through shorter product cycle and Operational Technology;
and Pradyuman Vyas, Director, National Institute of Design, for
dedicated to Innovative Design Setting up World class 7 Campus through
5 NID across India and its services across globe.
'Achievers' for the year were given to Archan Mehta for developing
fully automation, power saving Smoke Filter Burner Machine and Akool
Raval for making Musical Instruments with unused materials
'Trend Setters' for the year were handed over to Hunny Bhagchandani
for TORCH-IT which would bring light to the virtually dark world of
lacs of visually impaired people; Commissioner, Food and Drugs Control
Administration, Gujarat State for Developing the first ever web based
IT application and implemented "XLN – Node" for NSQ Drugs through SMS;
Aditya Manish Bhatt for Zero point field energy generator which
creates electricity out of thin air; ideal ecoenvironment system for
Recycling Products – from tinkering with plastic waste and PP, HD, LD
etc.; Menka Thavardas Gurnani for supplement product for Vitamin D
based on Ayurveda; Anjil Anvin Jain for Advance agriculture machine,
allow farmers to work in smart and fast way; Rina Haridas Gokani for
dosage form of nano-particles of iron hydroxide, folic acid and
Vitamin B12 incorporated in the liposomes and their use in the
prevention and treatment of anaemia; Rasmin Ramniksingh Bhalla for
application for connecting with the family or guardian or loved ones
by one single click on the start button of the cell device; Vipulkumar
Parsottambhai Patel for Novel Medicated Wound Closure Bio Fuse Patch
Abstract specifically, the present invention relates to a composition
that disrupts and kills bacteria within a patch and also reduces the
pain; and Bhhuumika Ankit Trivedi for changed life style and approach
towards life though music, dance & meditation concerts for youths.
Special recognition in innovation approach were presented to
Jayeshbhai Nathubhai Patel for Scientific cultivation of raising
grafted seedline of vegetables and fruits; and Babulal Karshan Nakrani
for Handmade pesticide blower which cover more area in less time in
the agriculture.
The entire award process was designed and validated by world renowned
Price Waterhouse Coopers (PwC) as GIS' knowledge partner. The
candidates were shortlisted by a jury comprising of members of Justice
S N Soni, former Lokayukt State of Gujarat retired judge of High
Court, Dr. K B Kathiria, director research and dean PG studies Anand
Agriculture University, and Mr. Alplesh Patel, president of Gujarat
State Plastic Manufacturing Association.
An innovative app was designed for the jury to independently rate and
evaluates the nominees. Individual ratings were then combined using
the data from the app to draw the final list of winners.
DeshGujarat