Rupani lays foundation stone for Common Effluent Treatment Plan, Pipali-Dholera pipeline projects
April 22, 2018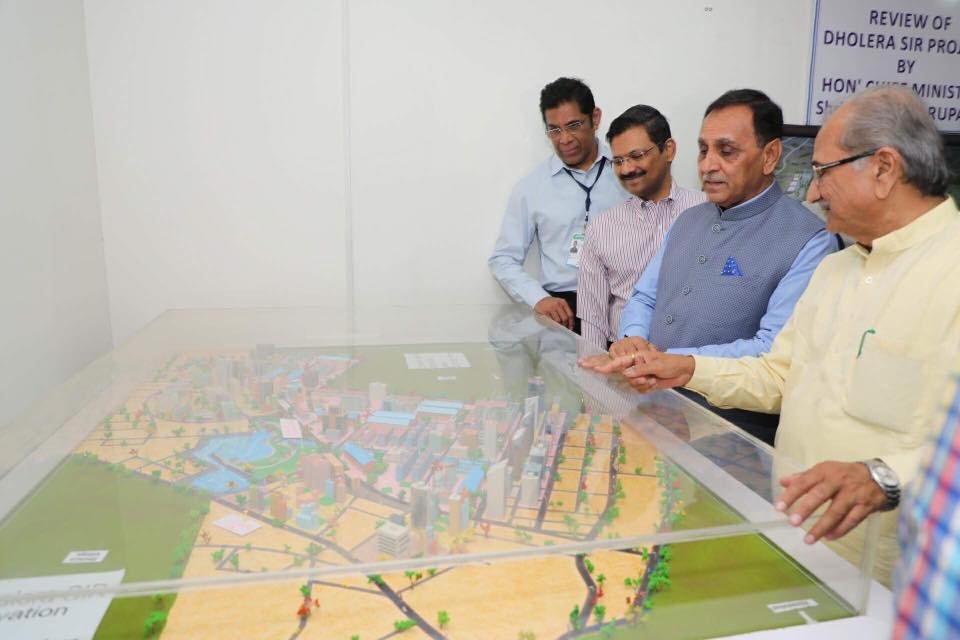 Ahmedabad: Expressing a strong determination to attract foreign investors and industrialists to invest in Gujarat, Chief Minister Mr. Vijaybhai Rupani said that "During the forthcoming coming event of 'Vibrant Summit – 2019', Dholera – SIR and International Smart City would be showcased as the investment destination.
With a vision to fulfill the dream envisaged by Prime Minister Mr. Narendrabhai Modi to present Dholera on the global map by developing it as the world class smart city and smartest city among the smart cities of Gujarat, Chief Minister said, "To achieve this, the government has undertaken infrastructural projects worth of Rs. 3000-crore at Dholera SIR.
Today, Mr. Rupani laid foundation stones for Common Effluent Treatment Plant with capacity of 20 MLD and Pipali – Dholera Pipeline Project, which would supply water to Dholera, at Dholera.
Mr. Rupani also stated that world's biggest solar park, along with underground drainage, water, electricity, optical fiber network and other ultramodern amenities are being developed at Dholera. In addition to these, to develop Dholera and Ahmedabad as the twin cities an eight-lane highway would be built connecting these two cities. Dholera's developmental periphery would be spreading over 900 km, which would be bigger than the entire Singapore, he added.
The Chief Minister also inaugurated the training centers which would provide skilled human force to the projects coming at Dholera. Like Venice city, Dholera will also have 120 km long water canals. These water canals would be filled with waters and would be used as transportation means. Dholera will be connected with Delhi-Bombay Industrial Corridor to give it a place on the global map.
Gujarat Education Minister Mr. Bhupendrasinh Chudasama also spoke on the occasion. The others who graced the occasion included MPs — Mr. Devji Fatehpara, Sambhuprasad Tundiya, MLAs – Mr. Babubhai Patel, Mr. Kanubhai, former MP Mr. Shankarbhai Vagad, Chief Secretary Dr. J. N. Singh, Dholera – SIR's CEO Mr. Jayprakash Shivhare, Collector Dr. Vikrant Pande, DDO Mr. A. M. Babu, former MLAs – Mr. Laljibhai Mehr, Tejashreeben Patel, and others.