World War II era Dakota aircraft arrives in Jamnagar Air Base from UK
April 25, 2018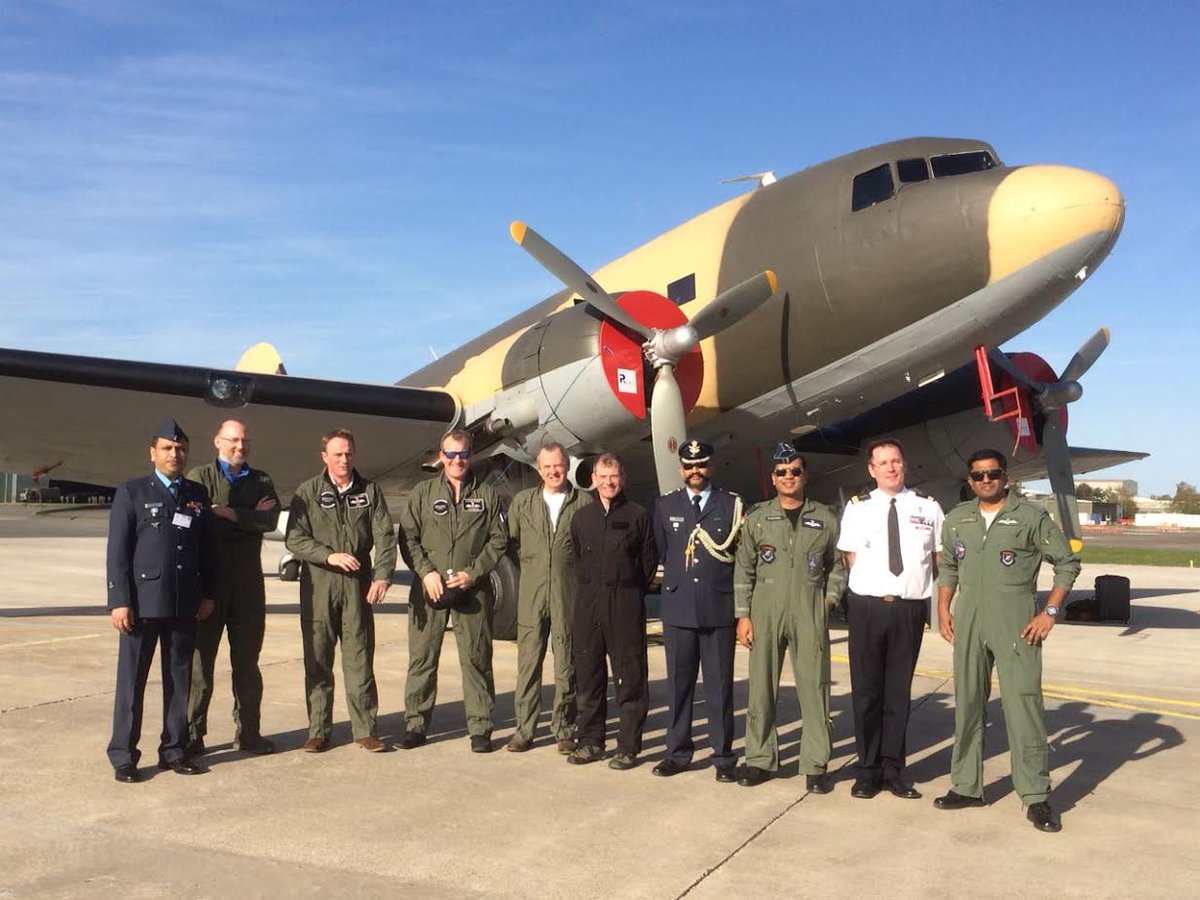 Jamnagar:
A resplendent reception ceremony was held at Air Force Station Jamnagar today to mark the arrival of fully refurbished World War – II era Dakota DC3 aircraft to become a proud possession of the IAF.
An Air force official said that the vintage military transport aircraft which played a crucial role in the 1947 Indo-Pak War, commenced its ferry from Coventry (UK) on April 17, 2018 and reached Air Force Station Jamnagar today at its port of entry. Post completion of custom formalities, the aircraft is planned to ferry from Jamnagar to Air Force Station Hindon on tomorrow for induction into the Vintage Aircraft Flight of the IAF formed in the year 2012. The flight was formed with the initial induction of Tiger Moth aircraft and subsequently the Harward aircraft in 2015.
The Douglas DC3 aircraft, better known as Dakota, were introduced in the year 1930 as part of the 12 Squadron of the Royal Indian Air Force. During the first Indo-Pak war, besides carrying supplies and refugees, they carried the troops of Indian Army's 1st Sikh Regiment to Srinagar on 27 Oct 1947 to intervene in time to save the valley of Kashmir and Poonch from Pakistan. Dakotas flew their last missions in the eighties and finally retired from the IAF in the year 1987.
The aircraft has been gifted to the Indian Air Force by Shri Rajeev Chandrasekhar MP (Rajya Sabha) whose father Air Commodore MK Chandrasekhar VM VSM (Retd) was a veteran Dakota pilot in the IAF.
This particular aircraft was salvaged from scrap in 2011 and restored to flying condition in UK by Chandrasekhar for gifting it to the IAF. Subsequently, the IAF signed a contract with M/s Reflight Airworks Ltd London for upgrading its navigational systems. On 13 Feb 2018, the Chief of Air Staff ceremonially accepted the aircraft into the IAF as a gift from Mr. Rajeev Chandrasekhar whose father Air Commodore MK Chandrasekhar VM VSM (Retd) was a veteran Dakota pilot in the IAF.
After successfully completing all test flights after its restoration, the aircraft commenced its journey from UK on 17 Apr 2018. It was flown to India by a joint crew of the IAF and M/s Reflight Airworks Ltd. The ferry to India, making en-route halts at France, Italy, Greece, Jordan, Saudi Arabia, Bahrain and Oman.
To honour the old war horse in its new abode, the induction ceremony of Dakota VP-905 is scheduled on 04 May 2018 at Air Force Station Hindan. The ceremony will include representatives from the OEM, dignitaries from the High Commission of UK and the proud veterans of the IAF who have operated this magnificent flying machine.
DeshGujarat