Gujarat attains double digit growth rate in agriculture during last 15 years, confident of doubling farmers' income by 2022: Rupani at Niti Aayog meeting
June 17, 2018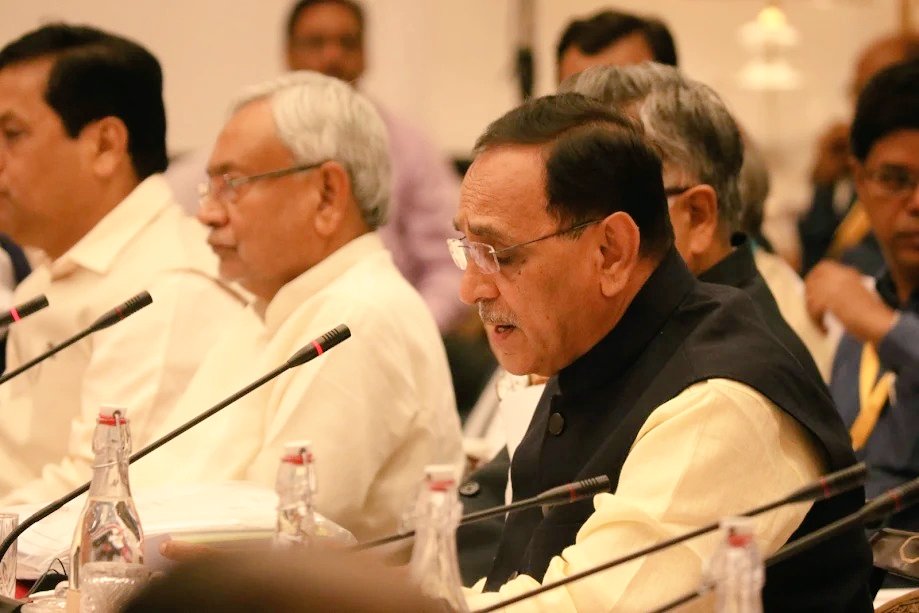 New Delhi: Gujarat Chief Minister Vijay Rupani today presented the state's achievements, made possible due to path-breaking innovations and effective implementation of social welfare plans during the last 15 years, at the 4th Governing Council meeting of NITI Aayog with Prime Minister Narendra Modi in chair at Rashtrapati Bhavan in New Delhi.
Speaking on the occasion, he said the state's agricultural sector achieved double digit growth during the last 15 years, thanks to training farmers optimum use of fertilizers by State PSUs like GSFC and GNFC, distribution of soil health card, subsidy on micro irrigation having covered 41-lakh acres, 70-85 per cent advances to marginal farmers, loans at zero per cent interest, purchasing 10.75-lakh MT of groundnut, cotton, chana and tuar dal at minimum support prices totalling Rs.4,900-crore. Gujarat Government is confident of achieving the target set by Prime Minister to double farmers' income by 2022.
Mr. Rupani said that NITI Aayog has recently declared Gujarat as the Number One State in Composite Water Index for well-planned water-grid, water conservation and management steps undertaken.
He invited the Chief Ministers of other states present at the Governing Council meeting to see for themselves the success of Sujalam Sufalam Jal Sanchay Yojna to create 12,000-lakh cubic feet additional water storage capacity, deepening 13,000 check dams and village ponds, reviving 32 rivers and cleansing 5,000-km of canal network, creating 82 man-days job for 2.62-lakh people.
Mr. Rupani listed medical tourism made possible due to healthcare infrastructure and progressive health policy, Ma Amritam and Ma Vatsalya Yojna launched by the then Chief Minister Narendra Modi to the benefit of 50-lakh families; Dudh Sanjivani Yojna to provide falvoured milk to new-borns and pregnant women in 20 districts, besides water-grid, CM Dashboard, Pocketcop App, Smart Class, Digital Payment, Namo e-tablet and Namo Wi-Fi, Gyankunj, CM's Apprenticeship and other programmes and projects being implemented in the state.
He proudly announced that 4.25-lakh new tax-payers have been registered in the state under GST. Gujarat is also a leading state in e-way bill generation, ease of doing business, direct benefit transfer (DBT). He exuded confidence in Gujarat successfully implementing Prime Minister's Ayushman Bharat Yojna.
– Information