VHP speaks on Dr. Pravin Togadia's exit in replies to media queries
July 08, 2018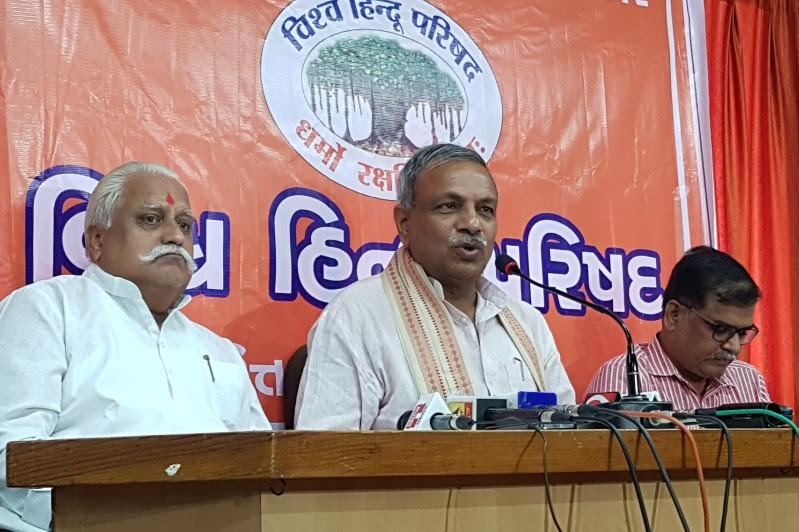 Ahmedabad: 'There's no organization that linked 13 crore people to the message of Ram Janmabhoomi. VHP work will continue like in the past' Dr. Surendra Jain, joint general secretary of Vishwa Hindu Parishad(VHP) said today when couple of journos asked him about Dr. Pravin Togadia and his organization Aantarrashtriya Hindu Parishad.
Dr. Jain didn't mention Dr. Togadia and his organization's name in his address to media. However when two-three journos asked several questions regarding Dr. Togadia, Dr. Jain in his replies said, 'It was Dr. Togadia's wish for election. Organizations keep witnessing changes. None can say he will continue to be on a post for life time. Tomorrow if organization wishes Dilipbhai Trivedi(Gujarat VHP president) to do something else, he will not resist it and argue that he is on this post for a life time.'
'Dr. Togadia said he wanted to know the opinion of entire VHP. It was he who insisted for election. The verdict of election is not Kogje's victory or Togadia's defeat. We will together do the job, that is the right stand. Dr. Togadia said he would leave VHP. He too can work. He is not competitor. If he cooperates with VHP, that's good. If not, then also it's fine. But if he harms VHP, damage VHP as he is doing by taking away VHP workers then he also appears confused. Do he wants to harm the central govt? His statements indicate that. Do he wants to harm entire Hindu agitation? His strategy indicates so. Rest people will decide his future. For us at VHP, our goal is neither Pravinbhai, nor his organization.Our goal is construction of Ram temple, establishing a Ram Rajya and protection of cows.'
In reply to a question regarding Vanikar Bhavan, the VHP headquarter building which is occupied by Dr. Pravin Togadia, Dr. Jain said, 'Vanikar Bhavan belongs to Vanikar Samiti. It had permitted VHP to utilize the building. In future, who will stay, who will use Vanikar Bhavan, that decision will be taken by Vanikar Samiti. We are leaving decision to them. We are not dependent on some building. Entire country is our building. It's not matter of concern for us. If Samiti calls us to Vanikar Bhavan, we will go there. Those two sitting on my left and right are also trustees of Vanikar Trust.'
In reply to another question regarding Dr. Togadia, Dr. Jain said, 'we didn't side track him. He himself moved to side track.'
It should be mentioned here that after his defeat with huge margin of votes in organizational election of VHP this year, Dr. Pravin Togadia decided to left the VHP and set up Antarrashtriya Hindu Parishad. Dr. Togadia took away half a dozen or more VHP office bearers and cadres with him but more importantly took over the State VHP headquarters located in Paldi area of Ahmedabad claiming that the building belonged to Vanikar Smarak Trust. Togadia is one of trustees of this trust. Out of 11 trustees, 6 are in favor of VHP while 5 are believed to be in support of Togadia. VHP however doesn't wish to confront for takeover of the office. It wants the issue to resolve in cordial manner. Barring some office buildings, VHP has absolutely no issue with departure of Dr. Togadia. When Dr. Togadia sat on fast-unto-death, not even 100 persons were there in his support. Togadia had to curtail his fast agitation within two days.
DeshGujarat