AM Naik of L&T to set up specialty cancer hospital at birth place Navsari in Gujarat; Tata Trusts to manage the operations
July 11, 2018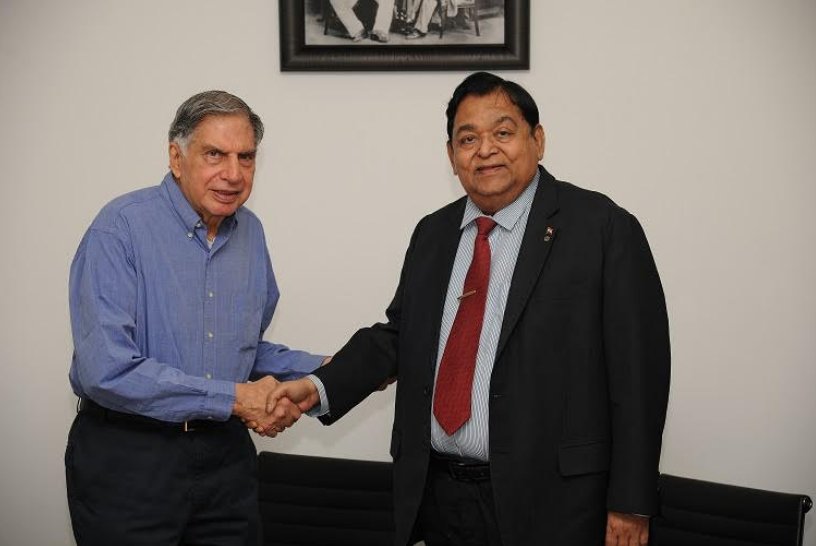 Mumbai: The Nirali Memorial Medical Trust, established by Mr. A.M. Naik, Group Chairman of Larsen & Toubro, will set up a speciality cancer hospital at Navsari, Gujarat and the Tata Trusts will manage the operations of the facility. Nirali Memorial Medical Trust and Tata Trusts today signed an agreement to this effect, in the presence of Mr. A.M. Naik and Mr. Ratan N. Tata.
The mission of the proposed hospital at Navsari, the birthplace of Mr. Naik and the Tata group founder, Jamsetji Tata, is to benefit the needy sections of society in their fight against cancer. The hospital will be built on land long associated with the Tata group.
Speaking at the occasion, Mr. A.M. Naik said, "Availability of modern health care facilities is a prerequisite for social progress and well-being. The Nirali Memorial Medical Trust is committed to bringing the benefits of advanced medical treatment to all sections of the society. The Nirali Memorial Medical Trust's initiatives are helping needy patients, especially from disadvantaged sections of the society, to get the best care at an affordable cost. Tata Trusts are well respected across India for their path-breaking initiatives in the field of cancer care and I am delighted with this partnership between Nirali Memorial Medical Trust and Tata Trusts for setting up a speciality cancer hospital at Navsari."
Mr. Ratan N Tata said: "Cancer needs to be tackled on a war footing. Mr. Naik's initiative, which should be emulated, will go a long way in making cancer care affordable and accessible."
The Nirali Memorial Medical Trust will create the hospital infrastructure with advanced facilities and install state-of-the-art equipment while Tata Trusts will be responsible for patient care and day-to-day operations.
The comprehensive cancer care hospital at Navsari will have facilities that range from clinical Pathology, High-end Linear Accelerator, Histopathology, Biochemistry, USG, Digital X-Ray and Mammography to CT simulators, Brachytherapy OPDs as well as major Operation Theatres.
The upcoming centre will also be a part of the overall network of cancer centres being established by the Tata Trusts across the country.
About Nirali Memorial Medical Trust:
Nirali Memorial Medical Trust (NMMT) is a public charitable Trust founded by Mr. A.M. Naik to carry out philanthropic activities in the areas of medical care. Named in the memory of Nirali, granddaughter of Mr. Naik who passed away due to cancer at the age of two, NMMT was set up by the Naik family to help other victims of cancer, especially those who do not have access to quality treatment. It played a pivotal role in setting up the 'Nirali Memorial Radiation Centre' in Surat. NMMT is also instrumental in augmenting the medical facilities at Kharel Hospital in Gujarat by activating 'Nicchabhai Ratnaji Naik Wing' in the facility. The Trust has also set up a sprawling new facility at Powai in Mumbai, called, 'A.M. Naik Charitable Health Centre' that focuses on providing access to best quality medical care to local communities of Mumbai at affordable prices.
Along with NMMT, Mr. Naik has also founded the Naik Charitable Trust (NCT), which is focused on providing quality education services to the underprivileged sections of the society.
About Tata Trusts:
Since its inception in 1892, the Tata Trusts, India's oldest philanthropic organization, have played a pioneering role in bringing about an enduring difference in the lives of the communities it serves. Guided by the principles and the vision of proactive philanthropy of its Founder, Jamsetji Tata, the Trusts' purpose is to catalyse development in the areas of healthcare and nutrition, water and sanitation, education, energy, rural upliftment, urban poverty alleviation, and arts, craft and culture. Tata Trusts' programmes, achieved through direct implementation, partnerships and grant making, are marked by innovations, relevant to the country.